Trading Partner Portal: European Union
Overview
Trade Overview
Administration Announces Intent to Open Trade Talks with EU, UK, Japan
CalChamber, October 18, 2018
The U.S. Trade Representative notified Congress of the Trump administration's intent to enter into trade negotiations with the European Union.President Donald J. Trump is working to open new markets for U.S. farmers and companies where they currently face significant barriers. As U.S. House Ways and Means Committee Chairman Kevin Brady (R-Texas) noted, new high-standard trade agreements with each of these countries would expand the United States' ability to sell "made in America" products around the globe and deepen partnerships with vital allies.
EU Trade in the US: Trade Data Tool
Delegation of the EU to the US, February 2019
EU trade and investment creates nearly 7 million jobs for Americans
The EU is the single biggest investor in the US
The US enjoys a trade surplus in services exports to the EU
The EU market represents 512.6 million people, and has a total GDP of $16.487 trillion, as of 2016. The United States has 323.1 million people and a Gross Domestic Product of $17.28 trillion. World Bank, as of 2017. The European Union (EU) consists of 28 countries: Austria, Belgium, Denmark, Finland, France, Germany, Greece, Ireland, Italy, Luxembourg, Netherlands, Portugal, Spain, Sweden, the United Kingdom and new members Hungary, Poland, Estonia, Lithuania, Latvia, the Czech Republic, Slovakia, Slovenia, the Mediterranean Island of Malta and Cyprus, Bulgaria, Romania and Croatia. 
Total bilateral trade between the European Union and United States was over $1 trillion in 2018, with goods trade accounting for $805.4 billion, the United States exported $318 billion worth of goods to EU member nations. 44 out of 50 U.S. states exported more to the EU than to China. Top U.S. exports to the EU were aircraft; nuclear reactors and machinery; mineral, fuel, oil etc; and optic, photo, and medical instruments. Top imports from the EU to the U.S. were nuclear reactors and machinery; pharmaceutical products; vehicles except railway; and optic, photo, or medical instruments.
The U.S. and EU transatlantic economy support 15 million jobs, accounts for 50% of world GDP, and 30% of world trade. 14.8 million EU tourists traveled to the U.S. in 2015. The top five service exports from the US to the EU are: business services including Telecom, travel including passenger fares, royalties and licensing fees, financial services including insurance, and transport. The top five agricultural exports from the US to the EU are: tree nuts, soy beans, wine and beer, prepared food, and oils. The U.S. and EU are each other's primary source and destination for foreign direct investment (FDI). THe U.S. invested $2.38 trillion in the EU and the EU invested $2.5 trillion in the U.S.
California exports to the EU were $31.8 billion in 2018. California is the top exporting state to the European Union, with computers, electronic products, transportation equipment, chemicals, and miscellaneous manufactured goods as our leading export sectors to the region. European Union countries purchase roughly 18 percent of all California exports. For California companies, the single market presents a stable market with huge opportunity.Imports from the EU to California totaled $38 billion and consisted of 35% transportation equipment followed by less than 10% in the rest of the categories including chemicals, computer products, and non-electrical machinery.
European Commission Welcomes Parliament's Support of Trade Deal with Canada February 15, 2017
The European Parliament (EP) voted in favour of the EU-Canada Comprehensive Economic Trade Agreement (CETA). Members of the EP cast 408 votes for and 254 votes against. As the consent vote is positive, the EU will now proceed with the provisional application of the agreement that should take place by April 1st, and possibly even sooner.
Brexit Explained: What's Next on the UK's Road Out of the EU
The Sacramento Bee, March 14, 2017
Capitol Report: CalChamber Voices Support for
Transatlantic Partnership Agreement
(February 4, 2015) The California Chamber of Commerce is urging United States and European Union leaders to advance the largest regional trading and investment relationship in the world.
In the latest CalChamber Capitol Report, Susanne Stirling, CalChamber vice president of international affairs explains that although these negations have been ongoing since 2013, with new EU officials in place, there is a sense of a fresh start for these particular negations which will create new opportunities for a range of companies.
Photo Release: Czech Republic Signs California-Led Under 2 MOU Climate Agreement
Governor's Office April 4, 2016
EU Agricultural Exports, Trade Surplus with U.S. Reach Record Levels in 2015 – USDA, March 2016
Trade Policy Review
World Trade Organization, July 2015
Court of Justice of the European Union (ECJ) – "patent possible on retail store layout
Apple wins in principle case on trademark registration in Europe
Jyllands-Posten, August 11, 2014
Transatlantic Economy Remains Pivotal
The Transatlantic Economy 2012, a new report by Johns Hopkins University (SAIS), the European American Business Council and the American Chamber of Commerce in the EU, details how despite the recession, the US and Europe remain each other's most important markets. No other commercial artery in the world is as integrated. The US and Europe are each other's primary source and destination for foreign direct investment.
The entire Transatlantic Economy report is available here.
Perspectives: "Buy America" and the Future of TTIP? – The European Institute, July 2013
Germany and the Euro Zone Balance of Power: Transatlantic Trade to the Rescue?? – AICGS, June 24, 2013
United States, European Union Reaffirm Commitment to Open, Transparent, and Non-Discriminatory Investment Policies April 2012
"The Case for Investing in Europe". By AmChams 2015
United States and European Union Agree to Historic New Partnership on Organic Trade – Feb 2012
A Transatlantic Zero Agreement Estimating the Gains from Transatlantic Free Trade in Goods
2010 study by the European Centre for International Political Economy
A New Trade Relationship with Europe?
The Ripon Forum, Summer 2012
Foreign Direct Investment
In 2009, EU foreign direct investment in the United States was approximately $1.5 billion. Bureau of Economic Analysis
Tourism
EU countries sent roughly 2 million tourists to California in 2010, stimulating the Californian economy.
Of all 28 countries, the British, Germans, French, and Italians came in the largest quantities.
(California Tourism and Travel Commission)
policy on corporate social responsibility (CSR). By taking steps to better meet their social responsibility, enterprises can help themselves and help society as a whole. The European Commission's strategy on CSR aims to create conditions favorable to sustainable growth and employment generation in the medium and long term.
In November, 2011, several business organizations sent a letter to EU Commissioner for and U.S. Deputy National Security Advisor for International Economic Affairs welcoming the reinvigoration of the U.S.-EU Investment Dialogue and urging support for strong principles on the treatment of foreign investment by third countries. The letter states:"The October meeting of U.S. and EU investment policy officials, the first since 2008, clearly re-established that the European Union and the United States share a common agenda on investment issues, as outlined in our July 14 letter as well as the May 2008 Joint Statement. We look forward to further active and substantive efforts by you as TEC Co-chairs and your administrations in this area."
Additional Information
Belgium
Unique investment opportunity in the Port of Antwerp
Port of Antwerp, October 9, 2014
Croatia
Croatia becomes 43rd member of the Government Procurement Agreement as it joins the EU
WTO, June 27, 2013
Denmark
Embassy Releases T-TIP 'Call to Action' Report
American Chamber of Commerce in Denmark, April 8, 2015
Søvndal and Clinton: Let's work together to stabilize fragile states
Embassy of Denmark in Washington, D.C., January 10, 2012
AmCham EU's Presidency Delegation Visits Copenhagen
AmCham Denmark, December 13, 2011
Multinational Enterprises – How important are they for the Danish Economy?AmCham Denmark, May 09, 2011
Greece
American-Hellenic Enterprise Initiative (AHEI)
American- Hellenic Chamber of Commere
The organization of the Expo is looking for public and private partners interested to engage on the issue selected as theme for the Expo: "Feeding the Planet, Energy for Life".
The Mission of the American-Hellenic Enterprise Initiative is to develop and implement Greece-U.S. actions that further bi-national trade, partnerships, investment, technology transfer, green energy solutions, R&D, and entrepreneurship through the combined efforts of AHEI Partners.
Italy
Italian Business and Investment Initiative – Feb 2013
www.italianbusiness.org
Trade Missions
The EU Made Simple
The EU Made Simple
The California Chamber of Commerce has joined forces with the American Chamber of Commerce to the European Union in Brussels to introduce many of their informative publications to our members. The most recent publication, The EU Made Simple, is offered at a discount price to CalChamber members.
The EU is one of the major players in international trade, regulatory standards, environmental policy and global security and defence. Therefore understanding the EU institutions, their processes, the key players and how decisions are made is key to business success in Europe. AmCham EU has recently published the third edition of The EU Made Simple which includes all the structural and other changes to EU governance since the implementation of the Lisbon Treaty this year.
The book is an ideal tool for those just beginning in EU Affairs, or for those more experienced practitioners by presenting all material in an easy to follow format. This publication is available to members of CalChamber at the AmCham EU member discounted rate of €15.
You can visit www.amchameu.eu/publications to find out more about this publication and the others offered by AmCham EU.
Events
Events
Trans-Atlantic Relations
The Honorable Jolana Mungengova Member of EU Commission Cabinet visits with Susanne Stirling, CalChamber Vice President for International Affairs on January 24, 2017 to discuss Trans-Atlantic relations.
On May 27, 2015, the California Chamber of Commerce held an International Forum on the Transatlantic Trade and Investment Partnership and the Transpacific Partnership with speakers including members of the United States Chamber of Commerce, representatives from five American Chambers of Commerce from abroad, and two ambassadors. Also in attendance was a delegation totaling 25 members of the AmCham community representing Bulgaria, Croatia, Denmark, Estonia, France, Greece, Ireland, Israel, Kosovo, Latvia, Lithuania, Macedonia, Norway, Poland, Romania, Serbia, Slovak Republic, Slovenia, and Turkey.
French Ambassador Highlights Innovation, Entrepreneurship
(June 11, 2012) Economic relations between France and California were the subject of the day when the Ambassador of France called on the California Chamber of Commerce in Sacramento. During his trip to Northern California, Ambassador François Delattre focused on innovation and entrepreneurship with visits to Berkeley and the Bay Area.Regarding the European Union, the Ambassador cited economic restraint, promoting growth, and improved governance as key priorities for the near future.
The United States exported $27.8 billion to France in 2011, while importing $40 billion. California exports to France totaled $2.3 billion in 2011, while imports amounted to $2.5 billion. Transportation equipment is a major import and export product. France is a major investor in California, with French companies supporting 60,000 jobs.
CalChamber Hosts European Union Ambassador 2011
(March 10, 2011) E.U. Ambassador to the United States João Vale de Almeida presented his perspectives on E.U. relations with the U.S. in response to questions from CalChamber President and CEO Allan Zaremberg and other audience members at the CalChamber-hosted International Luncheon Forum. video
CalChamber Hosts European Union Ambassador 2007
(June 28, 2007) The California Chamber of Commerce this week hosted His Excellency John Bruton, European Union Ambassador and Head of Delegation of the European Commission to the United States, at an international dinner forum and discussed ways to improve trade and business relations between Europe, the United States and California.
CalChamber Hosts German Minister of Foreign Affairs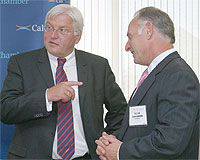 (August 31, 2007) The California Chamber of Commerce hosted the Honorable Frank-Walter Steinmeier, Minister for Foreign Affairs of Germany yesterday, for an international luncheon to discuss climate and energy policy.
More than 80 guests attended the working luncheon on August 30 and greeted Minister Steinmeier. Among the attendees were California and German government officials and business people from California and Germany, including representatives of transportation, manufacturing and technology.
CalChamber Hosts Prime Minister of Denmark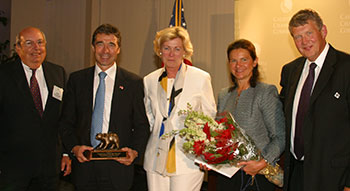 (June 12, 2006) Joining His Excellency Anders Fogh Rasmussen, Prime Minister of Denmark (second from left) at a brief reception following his international trade dinner talk at the California Chamber of Commerce are (from left) Roger Baccigaluppi, chairman of RB International and Chamber Board member; Susanne Stirling, Chamber vice president of international affairs; Anne-Mette Rasmussen, First Lady of Denmark; and The Honorable Finn Martensen, Honorary Consul of the Royal Danish Consulate.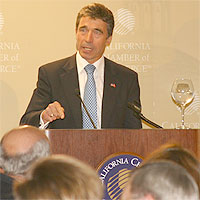 (June 13, 2006) The California Chamber of Commerce hosted His Excellency Anders Fogh Rasmussen, Prime Minister of Denmark, at an international trade dinner yesterday to discuss how research and businesses interact to play a valuable role in promoting bilateral trade between California and Denmark.