Trading Partner Portal: European Union
Overview
Trade Overview
Administration Announces Intent to Open Trade Talks with EU, UK, Japan
CalChamber, October 18, 2018
The U.S. Trade Representative notified Congress of the Trump administration's intent to enter into trade negotiations with the European Union. President Donald J. Trump is working to open new markets for U.S. farmers and companies where they currently face significant barriers. As U.S. House Ways and Means Committee Chairman Kevin Brady (R-Texas) noted, new high-standard trade agreements with each of these countries would expand the United States' ability to sell "made in America" products around the globe and deepen partnerships with vital allies.
EU Trade in the US: Trade Data Tool
Delegation of the EU to the US, February 2019
EU trade and investment creates nearly 7 million jobs for Americans
The EU is the single biggest investor in the US
The US enjoys a trade surplus in services exports to the EU
The EU market represents 447.19 million people, and has a total GDP of $17.18 trillion, as of 2021. The United States has 331 million people and a Gross Domestic Product of $23.32 trillion according to the World Bank, as of 2021. The European Union (EU) consists of 27 countries: Austria, Belgium, Bulgaria, Croatia, Cyprus, the Czech Republic, Denmark, Estonia, Finland, France, Germany, Greece, Hungary, Ireland, Italy, Latvia, Lithuania, Luxembourg, Malta, Netherlands, Poland, Portugal, Romania, Slovakia, Slovenia, Spain, and Sweden. The EU currently has 46 trade agreements with 78 countries.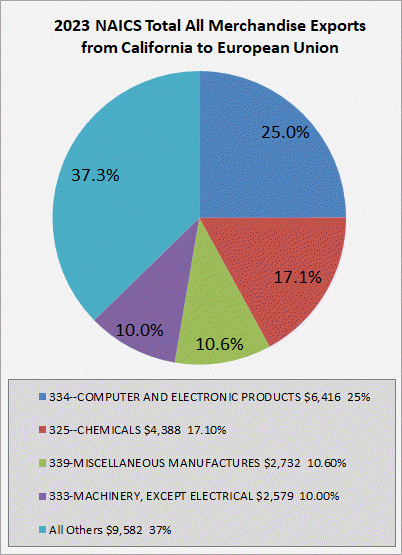 Total bilateral trade between the European Union and United States was over $1 trillion in 2022, with goods trade accounting for $902.599 brillion, up from $762.14 billion in 2021, the United States exported $349.344 billion worth of goods to EU member nations. In 2018, 48 out of 50 U.S. States exporter more to Europe than to China.  Top U.S. exports to the EU were chemicals, oil and gas, transportation equipment, and computer/electronic products. Imports into the US from the EU totaled $553.255 billion in 2022.  Top imports from the EU to the U.S. were chemicals, transportation equipment, non-electrical machinery, and computer and electronic products.
The U.S. and EU transatlantic economy support 16 million jobs, accounts for one third of world GDP, and 30% of world trade. 4.7 million jobs in the U.S. are directly supported by European companies in the U.S. (AmCham Europe Report). 14.8 million EU tourists traveled to the U.S. in 2015. The top five service exports from the US to the EU are: business services including Telecom, travel including passenger fares, royalties and licensing fees, financial services including insurance, and transport. The top five agricultural exports from the US to the EU are: tree nuts, soy beans, wine and beer, prepared food, and oils. The U.S. and EU are each other's primary source and destination for foreign direct investment (FDI). The U.S. invested $3.6 trillion in the EU in 2018, representing 61% of total U.S. investment abroad, and the EU invested $3 trillion in the U.S., representing 68% of total FDI in the U.S.(AmCham Europe Report).
California exports to the EU were $26.945 billion in 2022. California is the third largest exporting state to the European Union, with computers and electronic products, chemicals,  agricultural products, and miscellaneous manufactures as our leading export sectors to the region. European Union countries purchase almost 15 percent of all California exports. For California companies, the single market presents a stable market with huge opportunity. Imports from the EU to California totaled $38.005 billion and consisted of $10.6 billion in transportation equipment followed by computer products, non-electrical machinery, primary metal manufactures, and chemicals.
California had the most jobs supported by European FDI in 2017 totaling 447,200. European companies accounted for 56% of foreign affiliate jobs in California. On a country basis, U.K. companies operating in California  accounted for 112,900 jobs and represented 14% of total foreign affiliate employment in California; France accounted for 90,1000 jobs; and Germany accounted for 79,400 jobs (AmCham Europe Report).
The Transatlantic Economy Report 2022
AmCham European Union, March 2022
EU Unveils 300 Billion Euro Answer to China's Belt and Road
Reuters, December 1, 2021
Joint Communication To The European Parliament, The European Council and The Council: A New EU-US Agenda for Global Change
European Commission, December 2, 2020
The guiding principles of a new transatlantic agenda
The transatlantic partnership should work to advance global common goods,
providing a solid base for stronger multilateral action and institutions. It will support all like-minded partners to join.
The EU and the US should pursue common interests and leverage our collective
strength to deliver results on our strategic priorities.
We should always look for solutions that respect our common values of fairness,
openness and competition – including where there are bilateral differences
Working together on technology, trade and standards 
The EU and the US must work closely together on solving bilateral trade irritants
through negotiated solutions and lead WTO reform efforts.
Establish a new EU-US Trade and Technology Council to help, facilitate trade, develop compatible standards and promote innovation.
The EU and the US should open a transatlantic dialogue on the responsibility of online platforms and Big Tech – starting by working together to find global solutions for fair taxation and market distortions in the digital economy.
Develop a common transatlantic approach to protecting critical technologies in light of global economic and security concerns – starting by discussions on 5G.
Work on an AI Agreement and intensify cooperation to facilitate free data flow with trust.
Renew cooperation on regulation and standards, starting by re-engaging on conformity assessment negotiations and aligning positions in international bodies.
US-EU Auto Tariffs: What's at Stake?
Atlantic Council, June 14, 2019
The United States is the most important export market for European cars, accounting for 29 percent of the value of all exported cars from the EU. By comparison, US-based companies are delivering 19 percent of their car export value to Europe. European car manufacturers, such as Volkswagen and BMW, contribute to this number by exporting more than 50 percent of the cars they produce in the United States. Almost six percent of the EU's working population is employed in the car sector. On the other side of the Atlantic, the German car companies BMW, Mercedes, and Volkswagen have created almost 120,000 jobs by building manufacturing plants across the southern United States.
European Commission Welcomes Parliament's Support of Trade Deal with Canada
February 15, 2017
The European Parliament (EP) voted in favour of the EU-Canada Comprehensive Economic Trade Agreement (CETA). Members of the EP cast 408 votes for and 254 votes against. As the consent vote is positive, the EU will now proceed with the provisional application of the agreement that should take place by April 1st, and possibly even sooner.
Photo Release: Czech Republic Signs California-Led Under 2 MOU Climate Agreement
Governor's Office April 4, 2016
Tourism
EU countries sent roughly 2 million tourists to California in 2010, stimulating the Californian economy. Of all 28 countries, the British, Germans, French, and Italians came in the largest quantities.
(California Tourism and Travel Commission)
Additional Information
Croatia
Croatia becomes 43rd member of the Government Procurement Agreement as it joins the EU
WTO, June 27, 2013
Denmark
Embassy Releases T-TIP 'Call to Action' Report
American Chamber of Commerce in Denmark, April 8, 2015
Multinational Enterprises – How important are they for the Danish Economy?AmCham Denmark, May 09, 2011
Greece
American-Hellenic Enterprise Initiative (AHEI)
American- Hellenic Chamber of Commere
The Mission of the American-Hellenic Enterprise Initiative is to develop and implement Greece-U.S. actions that further bi-national trade, partnerships, investment, technology transfer, green energy solutions, R&D, and entrepreneurship through the combined efforts of AHEI Partners.
Italy
Trade Missions
The EU Made Simple
The EU Made Simple
The California Chamber of Commerce has joined forces with the American Chamber of Commerce to the European Union in Brussels to introduce many of their informative publications to our members. The most recent publication, The EU Made Simple, is offered at a discount price to CalChamber members.
The EU is one of the major players in international trade, regulatory standards, environmental policy and global security and defence. Therefore understanding the EU institutions, their processes, the key players and how decisions are made is key to business success in Europe. AmCham EU has recently published the third edition of The EU Made Simple which includes all the structural and other changes to EU governance since the implementation of the Lisbon Treaty this year.
The book is an ideal tool for those just beginning in EU Affairs, or for those more experienced practitioners by presenting all material in an easy to follow format. This publication is available to members of CalChamber at the AmCham EU member discounted rate of €15.
You can visit www.amchameu.eu/publications to find out more about this publication and the others offered by AmCham EU.
Events
Events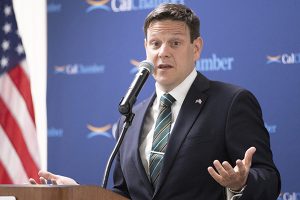 (April 25, 2019)  Brexit is the latest phenomenon in the western world presently characterized by shock and schism, a leading scholar explained yesterday at the California Chamber of Commerce.
"Brexit is the most profound crisis that Europe has had since the end of the Second World War," Dr. Matt Beech, senior fellow at the Institute of European Studies at the University of California, Berkeley, told nearly 100 guests at the CalChamber International Luncheon Forum. The luncheon was sponsored by Suburban Water Systems, a CalChamber member.
Dr. Beech provided attendees with an analysis of the potential implications for the United States and specifically, trade in California, with Britain's potential withdrawal from the European Union.
Trans-Atlantic Relations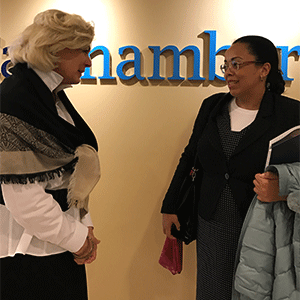 The Honorable Jolana Mungengova Member of EU Commission Cabinet visits with Susanne Stirling, CalChamber Vice President for International Affairs on January 24, 2017 to discuss Trans-Atlantic relations.
On May 27, 2015, the California Chamber of Commerce held an International Forum on the Transatlantic Trade and Investment Partnership and the Transpacific Partnership with speakers including members of the United States Chamber of Commerce, representatives from five American Chambers of Commerce from abroad, and two ambassadors. Also in attendance was a delegation totaling 25 members of the AmCham community representing Bulgaria, Croatia, Denmark, Estonia, France, Greece, Ireland, Israel, Kosovo, Latvia, Lithuania, Macedonia, Norway, Poland, Romania, Serbia, Slovak Republic, Slovenia, and Turkey.
French Ambassador Highlights Innovation, Entrepreneurship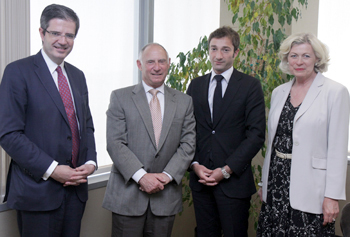 (June 11, 2012) Economic relations between France and California were the subject of the day when the Ambassador of France called on the California Chamber of Commerce in Sacramento. During his trip to Northern California, Ambassador François Delattre focused on innovation and entrepreneurship with visits to Berkeley and the Bay Area.Regarding the European Union, the Ambassador cited economic restraint, promoting growth, and improved governance as key priorities for the near future.
The United States exported $27.8 billion to France in 2011, while importing $40 billion. California exports to France totaled $2.3 billion in 2011, while imports amounted to $2.5 billion. Transportation equipment is a major import and export product. France is a major investor in California, with French companies supporting 60,000 jobs.
CalChamber Hosts European Union Ambassador 2011
(March 10, 2011) E.U. Ambassador to the United States João Vale de Almeida presented his perspectives on E.U. relations with the U.S. in response to questions from CalChamber President and CEO Allan Zaremberg and other audience members at the CalChamber-hosted International Luncheon Forum. video
CalChamber Hosts European Union Ambassador 2007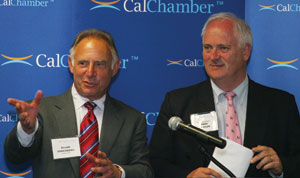 (June 28, 2007) The California Chamber of Commerce this week hosted His Excellency John Bruton, European Union Ambassador and Head of Delegation of the European Commission to the United States, at an international dinner forum and discussed ways to improve trade and business relations between Europe, the United States and California.
CalChamber Hosts German Minister of Foreign Affairs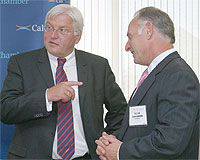 (August 31, 2007) The California Chamber of Commerce hosted the Honorable Frank-Walter Steinmeier, Minister for Foreign Affairs of Germany yesterday, for an international luncheon to discuss climate and energy policy.
More than 80 guests attended the working luncheon on August 30 and greeted Minister Steinmeier. Among the attendees were California and German government officials and business people from California and Germany, including representatives of transportation, manufacturing and technology.
CalChamber Hosts Prime Minister of Denmark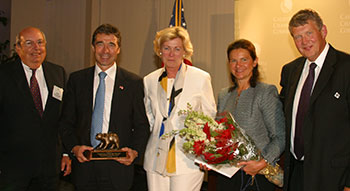 (June 12, 2006) Joining His Excellency Anders Fogh Rasmussen, Prime Minister of Denmark (second from left) at a brief reception following his international trade dinner talk at the California Chamber of Commerce are (from left) Roger Baccigaluppi, chairman of RB International and Chamber Board member; Susanne Stirling, Chamber vice president of international affairs; Anne-Mette Rasmussen, First Lady of Denmark; and The Honorable Finn Martensen, Honorary Consul of the Royal Danish Consulate.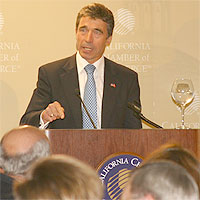 (June 13, 2006) The California Chamber of Commerce hosted His Excellency Anders Fogh Rasmussen, Prime Minister of Denmark, at an international trade dinner yesterday to discuss how research and businesses interact to play a valuable role in promoting bilateral trade between California and Denmark.