Trading Partner Portal: Italy
Overview
Trade Overview

Italy is in the southern part of Europe and is a high income country with a corresponding gross domestic product (GDP) of $1.935 trillion and a population of 60.59 million people. The country is economically split in half between the industrial north and the south, whose economy heavily relies of agriculture. Though Italy is the third largest economy in the Euro zone, it has a high percentage of public debt, hindering market activity. Nonetheless, Italy has a proven reliable and well founded trading partner of the United States. World Bank, CIA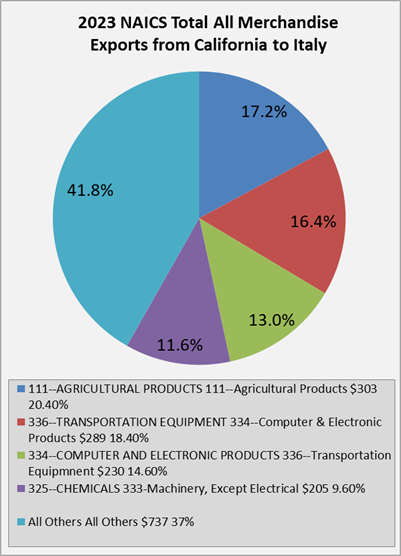 Italy is the 17th largest export destination of the United States. The US exported around $23.15 billion worth of goods to Italy in 2018. The key exports were chemicals, which totaled $5.36 billion, followed by transportation equipment, oil and gas, and non-electrical machinery. The United States is the third largest export destination for Italian goods, after Germany and France. In 2018, the US imported $54.7 billion worth of Italian products. The main imports were non-electrical machinery, transportation equipment, chemicals, and miscellaneous manufactured commodities.
The United States and Italy also have retained a symbiotic foreign direct investment (FDI) relationship. In 2017, the US had approximately $30.7 billion in FDI to Italy and Italy had roughly $29.2 billion in FDI into the US. In 2016, Italian FDI in the US supported 75,300 jobs and contributed $179 million to research and development and another $1.4 billion to expanding US exports. The top industry sectors for Italian FDI in the US were: textiles, industrial machinery, consumer products, auto components, metals, and alternative energy. Select USA
Italy- California Trade
In particular in the United States, California has a strong exporting relationship with Italy. Out of all the states, California is the third largest exporter of goods to Italy, totaling approximately $1.6 billion worth in 2018. Agricultural products make up 17.7% of all exported goods from California to Italy and totaling roughly $290 million. Other key categories of exported California goods to Italy are computer/electronic products, transportation equipment, and miscellaneous manufactured commodities. California is the third largest importer of Italian goods under New Jersey and New York. In 2018, California imported around $4.37 billion worth of Italian goods. The main imports included chemicals, transportation equipment, non-electrical machinery, and beverages and tobacco products. US Department of Commerce 
Current News
Texas Central Signs Design-Build Contract with Salini Impregilo to Build Texas High-Speed Train
Salini Impregilo, September 13, 2019
Remarks by President Obama and President Mattarella of Italy After Bilateral Meeting (02-08-2016)
Trade Agreements
Trade Agreements and Issues
Transatlantic Trade and Investment Partnership (TTIP)
Italy is one of the nations that are currently involved in negotiations for the Transatlantic Trade and Investment Partnership (TTIP) with the rest of the European Union and the United States. The United States and the European Union have a strong bilateral trade relationship totaling $698.7 billion in 2015. A free trade agreement, such as TTIP, desires to strengthen that relationship by eliminating tariffs, aligning compatible regulations to open trade, and furthering trade in the service sector.
Transatlantic Trade and Investment Partnership
USTR Transatlantic Trade and Investment Partnership
Key Country Contacts
Resources
CalChamber Resources
Business
Business
Cultural