Trading Partner Portal: Denmark
Overview
Trade Overview

Denmark is connected by bridge to southern Sweden and shares a southern border with Germany. Slightly smaller than Vermont and New Hampshire combined, it has a population of 5.85 million people and GDP of $398.3 billion (2021). The constitutional monarchy has been has been a member of the European Union (EU) since 1973.
Denmark is a rich, modern society with state-of-the-art infrastructure and distribution systems, a highly skilled labor force and a central location that makes it an excellent distribution point for the Scandinavian, Northern European and Baltic markets. Denmark is a firm advocate of liberal trade and investment policies and actively encourages foreign investment. There are more than 400 American subsidiaries established in Denmark and a strong American Chamber of Commerce with approximately 265 members.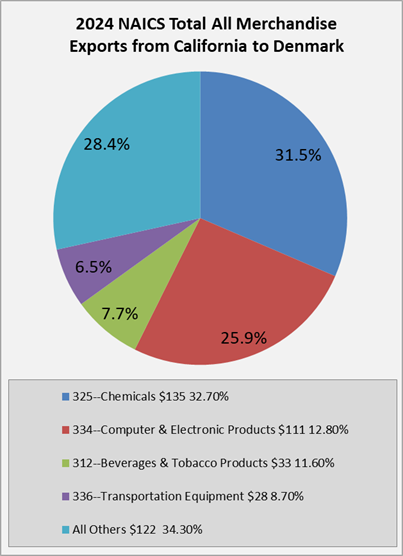 Political and commercial relations with the United States are excellent. The United States is Denmark's largest trading partner outside Europe, with about a 10% share of total Danish trade in goods in 2021. In 2022 the United States exported $4.5 billion to Denmark. Top exports were oil and gas ($1.5 billion), chemicals ($619 million), computer and electrical products ($495 million), and machinery, except electrical ($253 million). In the same year, the U.S also imported $12.98 billion from Denmark, top imports included chemicals ($7.7 billion), machinery except electrical ($1.3 billion), computer and electrical products ($928 million), and processed foods ($597 million).
California is a top exporting state to Denmark. In 2022, California exported $480 million to Denmark. This included computer and electronic products ($151 million), chemicals ($118 million), beverage and tobacco products ($44 million), and agricultural products ($25 million). California also imported $500 from Denmark in 2022 which included the following: processed foods ($96 million), non-electrical machinery ($82 million), chemicals ($75 million), and computer and electronic products ($51 million).
U.S. direct investment to Denmark was $16.4 billion in 2021. In the same year Danish investments to the U.S. totaled $35.4 billion. Denmark was the sixth fastest growing source of FDI in the U.S. in 2021. Danish FDI in the US supported 46,000 jobs and contributed $510 million to research and development; as well as, $1.3 billion to expanding US exports. The top industry sectors for Danish FDI into the US were: software and IT services, renewable energy, industrial equipment, transportation, business services, and pharmaceuticals. Select USA
2023 AmCham Yearbook & Membership Directory
AmCham Denmark, April 2023
New Report: Denmark Has Become Less Attractive for FDI
AmCham Denmark, December 9, 2021
2021 AmCham Denmark Yearbook & Membership Directory
AmCham Denmark, May 11, 2021
Denmark's Numbers: The Transatlantic Economy 2021: Annual Survey of Jobs, Trade and Investment between the U.S. and Europe
AmCham Denmark, March 24, 2021
California and Denmark Sign MOU on Climate Smart Dairy Collaboration
California Department of Food and Agriculture, January 22, 2021
2019 Nordic-U.S. M&A Study
Alston & Bird, April 8, 2020
DG Azevêdo: Denmark an 'important partner' in strengthening global trading system
WTO, June 22, 2016
Embassy Releases T-TIP 'Call to Action' Report
American Chamber of Commerce in Denmark, April 8, 2015
Multinational Enterprises – How important are they for the Danish Economy?
AmCham Denmark, May 09, 2011
U.S. Census Bureau Trade in Goods – Denmark
Events
Dinner Honoring Former Danish Prime Minister – October 19, 2016
On Wednesday, October 19, 2016, CalChamber Vice President of International Affairs, Susanne Stirling, attended a dinner hosted by the Danish-American Chamber of Commerce honoring former Danish Prime Minister and former NATO Secretary General Mr. Anders Fogh Rasmussen. Mr. Rasmussen presented his new book "The Will to Lead," defending American leadership in the global struggle for freedom and democracy.
First Danish American Frontier Award Dinner, April 3, 2016
On Sunday, April 3, 2016, the Danish-American Chamber of Commerce hosted the First Danish American Frontier Award Dinner at the Mark Hopkins Hotel in San Francisco with approximately 300 Danish-American Business leaders attending. Ulla Tørnæs, Danish Minister of Science and Higher Education presented the winner of the Danish American Frontier Award during the gala event to Jorgen Vig Knustorp, CEO and President of the Lego Group. Based on the iconic Lego brick, the company is one of the world's leading manufacturer of play materials.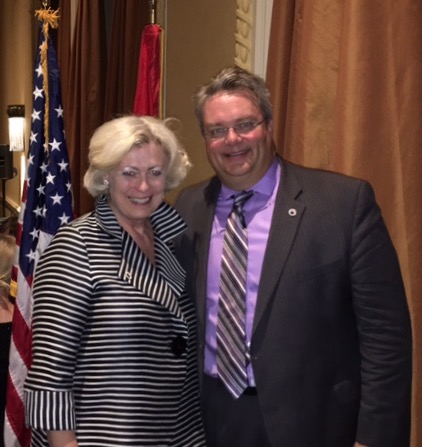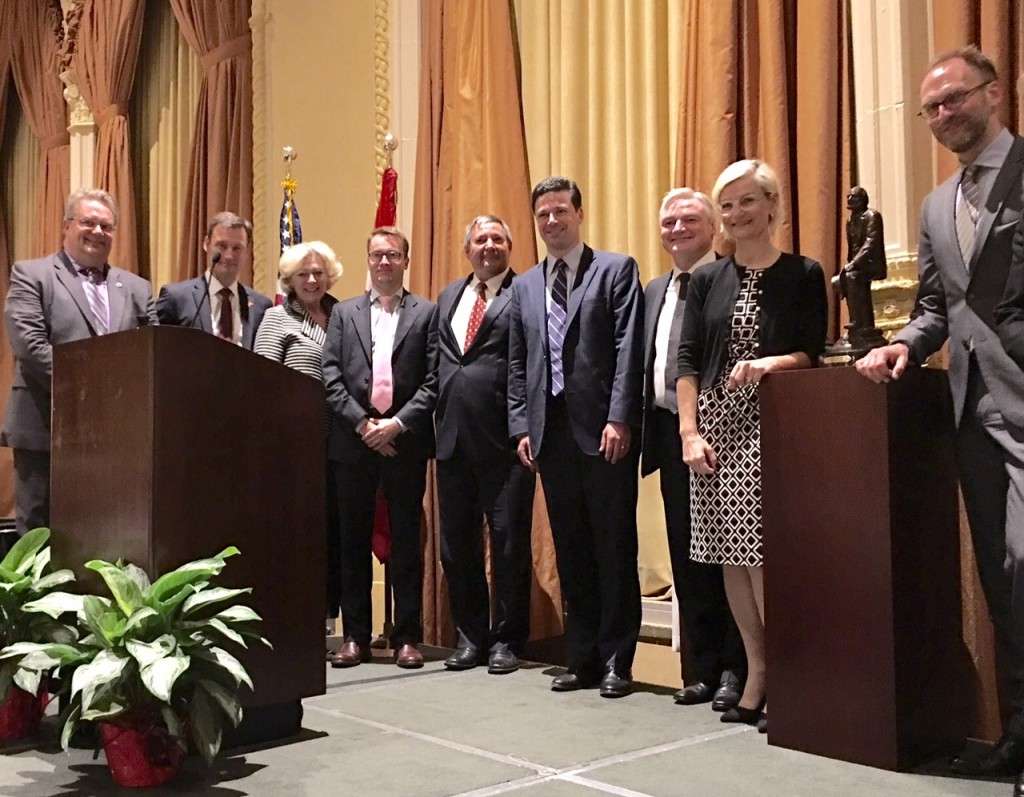 The Danish American Frontier Award is the most prestigious honor awarded by the Danish American community in the western United States.
The DAF Award is presented to a person or group of persons who have distinguished themselves by their actions, exploration or presence in areas of leadership, business, commerce, service, science, technology, invention, arts or humanitarian ventures. The recipient will have exhibited daring curiosity in their pursuits, often standing alone in their convictions, while maintaining integrity throughout their enterprise.
The DAF Award celebrates the pioneer spirit with which Danish-Americans have explored, and are still exploring the boundaries of themselves, their enterprise and their world today and actively shape the world of the future.
The recipient is honored with a statuette by the Danish-American sculptor, Dennis Smith, depicting Peter Lassen, the most important of early Danish-American pioneers and frontiersmen. The statuette is handmade and numbered exclusively for recipients of the award.
About Peter Lassen
Peter Lassen was born in Farum, Denmark on October 31, 1800, and while he did not arrive in America until he was 30, the early days of California's history would become closely linked to Peter Lassen as a legendary pioneer, as an explorer of the wild country, trailblazer and as settlor and cultivator.
He was a restless entrepreneur. He built the first saw-mill in California. He mapped the earliest trails and helped immigrants into California where he build several communities and helped pave the way to what would become San Francisco. Among Peter Lassen's friends were Johan Sutter, John Bidwell, and Kit Carson, but he befriended all people and everyone regardless of stature, color or creed were welcome in his home. The Indians called him Uncle Peter and that was his preferred title.
He was a generous helpful man to all he encountered, but he loved the magnificent nature of California the most, and his last day, the 26th of April 1849, he was killed while exploring northern California. A few decades later John Muir would come to California and profoundly shape our understanding of our natural wonders.
To this day, the largest land area named after a Dane outside of Denmark is named after Peter Lassen. The Lassen County, Lassen National Volcanic Park and Lassen Peak (Mount Lassen, the largest plug dome volcano in the world) stand as monuments to this first California Naturalist.
CalChamber Hosts Danish Prime Minister Anders Fogh Rasmussen, June 2006
Alert Story – CalChamber Hosts Visit from Danish Prime Minister – June 12, 2006
Key Country Contacts
Resources
CalChamber Resources
Business
Business
Cultural