Trade Update Newsletter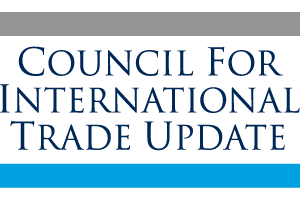 The Council for International Trade Update (CITU,) an e-newsletter from the CalChamber Council for International Trade, is an easy-to-scan digest of the latest news and information about trade policy.
Each weekly newsletter features:
International headlines
U.S. trade policy updates
Relevant information compiled from:

the White House;
U.S. Department of State;
U.S. Department of Commerce;
U.S. Trade Representative;
World Bank;
International Monetary Fund;
World Trade Organization;
CalChamber Alert;
CalChamber Daily Headlines; and
Hundreds of newspapers worldwide.

CalChamber Companies in the News
Country Spotlights
The Council for International Trade Update expands California's voice on trade. The Trade Update e-newsletter is sent to members of the CalChamber Council for International Trade; CalChamber members with international interests; the consular corps; California congressional delegation; selected U.S. and California government officials; representatives of business and trade associations; and local, bi-national and American chambers of commerce abroad.
Note: Some newspapers listed require the viewer to register for free in order to view the entire article. After some time, most papers file older stories in their archive section. Access to those stories may require that you pay to view them.
See What Our Readers Say About Us
"It's a wonderful publication that provides a great source of information and updates in the global universe of international trade and related fields. I always look forward to each edition. Many thanks to you and your team for putting together such an important and useful compilation of current news and developments."
Brian Peck
Executive Director, Center for Transnational Law and Business
Adjunct Assistant Professor of Law, University of Southern California
"I enjoy reading your Trade Update…just reading the headlines is a help in keeping me aware of global activities in this area. You do a great job of getting important items listed."
Dr. Lovell "Tu" Jarvis
Professor, UC Davis
Former Chair, Chile-California Council
"The Chamber's Council for International Trade Update is still one of the most thorough international news summaries I've seen. The compilation of the different feeds is extraordinary."
Paul V. Oliva
Commercial Officer
U.S. Commercial Service, Department of Commerce
"I always enjoy reviewing your online newsletter, even when traveling. It offers me a better scope of observation of the world, and more angles on what is happening on trade policy, world trade, and California government."
William Cheng
Vice President
Westlake International Group
"Thank you for always sending this most informative newsletter."
Isao Steve Matsuura
Chairman of the Board (Ret.)
Japan Society of Northern California
"Nice to receive one email with all the relevant links to trade issues 0f the date. A valuable service."
Mitch Larsen
Executive Director, Office of Europe & Eurasia
U.S. Commercial Service, U.S. Department of Commerce
"A handy snapshot of what is happening around the world in any given week."
Robin Gentz
Director, Government Affairs-North America
The Clorox Company
Oakland
"The e-newsletter is a convenient way to catch upon trade issues."
Susan Corrales-Diaz
President and CEO
Systems Integrated
"Scanning the headlines gives me a good sense of what is happening in many global markets."
Mark Jansen
President and CEO
Blue Diamond Growers
"Your newsletter is always very well done: loaded with good info, links and resources."
Tim Bennett
Director General/CEO (Ret.)
Trans-Atlantic Business Council
Recent Trade Updates
Sign Up Today
Subscribe to this free e-newsletter or view our other free e-newsletters.