2023 California Japan Trade Mission – March 12-17, 2023
Overview
California is the fifth largest economy in the world with a gross state product (GSP) of more than $3 trillion. International-related commerce (including exports and imports of goods and services, plus investments) accounts for approximately one-quarter of the state's economy. Although trade is a nationally determined policy issue, its impact on California is immense. California exports to over 226 foreign markets.
The California Chamber of Commerce supports expansion of international trade and investment, fair and equitable market access for California products abroad, and elimination of disincentives that impede the international competitiveness of California business.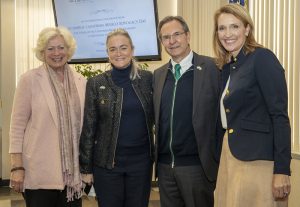 (May 2, 2023) In celebration of the bicentennial anniversary of diplomatic relations between Mexico and the U.S. this year, Mexico's Ambassador to the U.S. Esteban Moctezuma highlighted our countries' past trade relationships and stressed the importance of our continuing trade partnership at the 14th Annual Mexico Advocacy Day luncheon yesterday.
The luncheon is hosted each year by the California Chamber of Commerce in conjunction with the Consulate General of Mexico in Sacramento.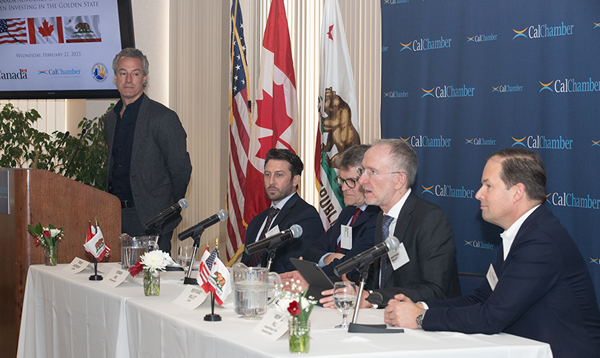 (February 28, 2023) Ways in which investments from Canada and California pension programs are advancing the move toward a green, sustainable economy were the focus of a recent luncheon discussion at the California Chamber of Commerce.
The February 22 gathering was presented by the Consulate General of Canada in San Francisco in partnership with the CalChamber and the Governor's Office of Business and Economic Development.
On Monday, March 21 the California Chamber of Commerce hosted a reception for the Japanese Ambassador to the United States.
Ambassador Koji Tomita was accompanied by a delegation including Hiroshi Kawamura, Consul General of Japan in San Francisco, and representatives from the business community together with California state government officials.
The Ambassador was escorted to the CalChamber offices by the Lieutenant Governor of California, Ambassador Eleni Kounalakis, and Dee Dee Myers, Director of the Governor's Office of Business and Economic Development (GO-Biz), following the signing of a Memorandum of Cooperation (MOC) on climate change and energy earlier in the day.
CalChamber International Trade Issues and Priorities
There are numerous trade issues that affect the United States and consequently, California. Each region and issue page gives an overview, and links to related organizations and documents. To view the trade issues, please click here.
CalChamber Council for International Trade
CalChamber Council for International Trade hosts trade events, forums, and guests.
International Activities
Overview
Trade Missions
Cuba Policy Trip
Awards
Recent News
International COVID-19 Information Page, click here.
Diplomacy Matters:
California Leading the Way
NorCal World Trade Center Webinar featuring Lt. Governor Eleni Kounalakis; Consul General of Mexico in Sacramento, Liliana Ferrer; and Susanne Stirling, VP International Affairs, CalChamber; February 2021
Celebrating International Women's Day Webinar with Women in International Trade, Los Angeles
Featuring Bella Heule, VP of Business Development, California Closets; Audrey Glover-Dichter, General Counsel, Organization of Women in International Trade; and Susanne Stirling, VP International Affairs, CalChamber; March 2021




News and Publications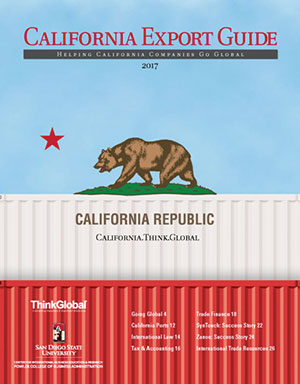 Resources
International Contacts
Councils
Coalitions
International Events
Jan
1
Sun
2023 Taiwan Trade Shows
Jan 1 @ 6:36 pm – Dec 31 @ 7:36 pm
Apr
11
Tue
Access Africa Now Webinar Series
Join the U.S. Commercial Service for Access Africa Now!
Every Second Wednesday from February to September 2023
Why attend this webinar series?
Companies that successfully export to Africa always "know before they go" by gathering market intelligence and talking to others who have been there. This series of webinars will share business opportunities in Kenya, South Africa, Ghana, Nigeria, Tanzania, Mozambique, Angola and Ethiopia. The presentations will include market information, as well as opportunities and challenges.
Participants will meet on-the-ground U.S. Department of Commerce staff who can assist you in entering the sub-Saharan Africa markets.
Participants will also hear the stories of other U.S. companies that have succeeded on the continent and will have an opportunity to ask questions to tie their experiences to your own company goals.
Jun
13
Tue
Export Compliance: Best Practices 2023
Jun 13 @ 1:00 pm – 2:00 pm
Export control compliance entails making sure you have control over your export from start to finish. It also means that you have checked it against the local and international laws and regulations that guide global, regional or country-specific trade. Please attend this webinar to learn the latest best practices in setting up your company's Export Compliance Program.
Speaker:
Jennifer Diaz
President·Diaz Trade Law
Jun
14
Wed
Trade is a Four-Letter Word (But It Doesn't Have to Be a Bad One)
Jun 14 @ 5:30 pm – 8:00 pm
Not that kind of four-letter word, but you know the ones: Hold, Deny, Regs, Govt, SNAP, Pain. Slow. John McPeak has heard it too, and he knows it doesn't have to be that way. In his more than 20 years as a trade compliance professional, John has shipped computer hardware and oilfield equipment, helped get specialty medicines to patients who need them, and learned a thing or two about building a compliance culture. Join us for a lively discussion of how you can add value, grow in your trade compliance career, and feel good doing it.
Bring your thoughts and questions! This will be a highly interactive session, with topics including (but almost certainly not limited to):
No more "Department of No": How trade teams can add value without shortchanging compliance;

Getting comfortable with general licenses: What to do when the law says you can ship but the carrier is skeptical;

Bringing your whole self to work: Making the case for curiosity and problem-solving as key parts of your compliance toolkit.
Jun
20
Tue
Infosecurity Europe
Jun 20 – Jun 22 all-day
Infosecurity Europe keeps you connected with everyone in information security. The brightest minds, from engineers to innovators.
We keep you up to date on everything about information security. From the past, challenges we've overcome and battles we've won to the present.
How information security moved from the back rooms to the boardrooms. We shed light on the future. The advances and innovations.
Join us as we rethink the power of infosecurity and discover what that may mean to you.
Staff Contact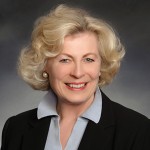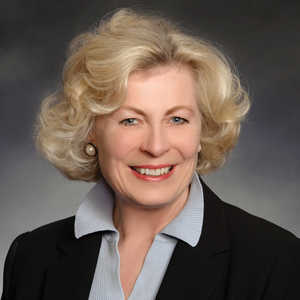 Susanne Stirling
Vice President, International Affairs