Overview
California is the fifth largest economy in the world with a gross state product (GSP) of more than $3 trillion. International-related commerce (including exports and imports of goods and services, plus investments) accounts for approximately one-quarter of the state's economy. Although trade is a nationally determined policy issue, its impact on California is immense. California exports to over 226 foreign markets.
The California Chamber of Commerce supports expansion of international trade and investment, fair and equitable market access for California products abroad, and elimination of disincentives that impede the international competitiveness of California business.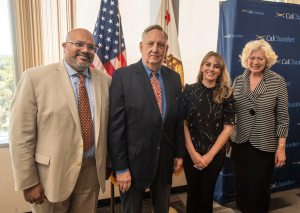 (June 7, 2022) Common challenges facing the global community were the focus of an enthusiastic audience at the California Chamber of Commerce-hosted in-person International Forum last week.
Speaking to the 175 attendees at the June 1 forum were:
Arun Venkataraman, assistant secretary of commerce for global markets and director general at the U.S. Department of Commerce;
Emily Desai, deputy director for international affairs and trade at the Governor's Office of Business and Economic Development (GO-Biz);
Dan Walters, longtime political columnist, CalMatters.
On May 3, the California Chamber of Commerce hosted a luncheon for the 13th Annual California Mexico Advocacy Day in conjunction with the Consulate General of Mexico in Sacramento.
The luncheon focused on the future of the bilateral relationship between California and Mexico as the bilateral partners emerge from the global COVID-19 pandemic. The California-Mexico relationship has remained strong, as Mexico continued to be California's No. 1 export market in 2021.
On Monday, March 21 the California Chamber of Commerce hosted a reception for the Japanese Ambassador to the United States.
Ambassador Koji Tomita was accompanied by a delegation including Hiroshi Kawamura, Consul General of Japan in San Francisco, and representatives from the business community together with California state government officials.
The Ambassador was escorted to the CalChamber offices by the Lieutenant Governor of California, Ambassador Eleni Kounalakis, and Dee Dee Myers, Director of the Governor's Office of Business and Economic Development (GO-Biz), following the signing of a Memorandum of Cooperation (MOC) on climate change and energy earlier in the day.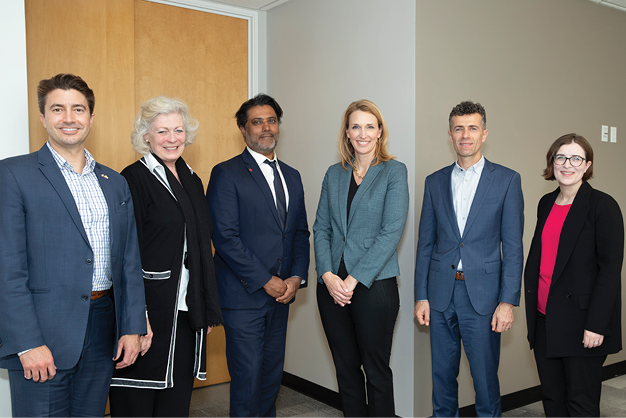 (March 14, 2022) Post-pandemic return-to-work policies, energy resources, climate change and trade issues were among the topics of discussion when a team from the Canadian Consulate General in San Francisco visited the California Chamber of Commerce on March 14.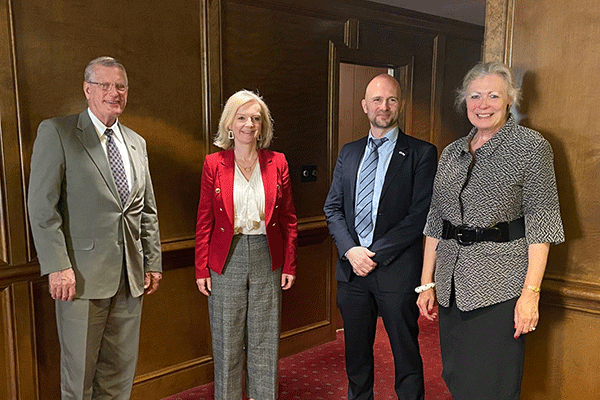 (July 16, 2021) Technology, agriculture and the California and British economies were among the topics discussed when the California Chamber of Commerce hosted a small luncheon for Britain's trade secretary on July 14.
The Sacramento stop by the Right Honorable Elizabeth Truss, member of Parliament, was part of a five-day visit to the United States.
The CalChamber luncheon included Secretary Truss; the Honorable Joe White, British Tech Envoy and Consul General in San Francisco; and James Crean, Head of Trade Policy at the British Consulate General San Francisco.
Susanne Stirling, CalChamber vice president for international affairs, welcomed the British guests together with CalChamber Board member Rick Fowler, chief operating officer at Kronick Moskovitz Tiedemann & Girard.
CalChamber International Trade Issues and Priorities
There are numerous trade issues that affect the United States and consequently, California. Each region and issue page gives an overview, and links to related organizations and documents. To view the trade issues, please click here.
CalChamber Council for International Trade
CalChamber Council for International Trade hosts trade events, forums, and guests.
International Activities
Overview
Trade Missions
Cuba Policy Trip
Awards
Recent News
International COVID-19 Information Page, click here.
Diplomacy Matters:
California Leading the Way
NorCal World Trade Center Webinar featuring Lt. Governor Eleni Kounalakis; Consul General of Mexico in Sacramento, Liliana Ferrer; and Susanne Stirling, VP International Affairs, CalChamber; February 2021
Celebrating International Women's Day Webinar with Women in International Trade, Los Angeles
Featuring Bella Heule, VP of Business Development, California Closets; Audrey Glover-Dichter, General Counsel, Organization of Women in International Trade; and Susanne Stirling, VP International Affairs, CalChamber; March 2021




News and Publications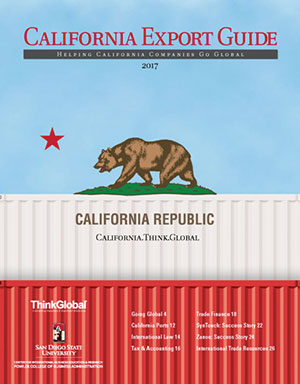 Resources
International Contacts
Councils
Coalitions
International Events
Dec
4
Sun
2022 WUSATA Mexico Outbound Mission to Mexico City & Monterrey With Buyers from Central America
Exports from the United States of agricultural and related products to Mexico totaled $26.5 billion in 2022. Mexico is still one of the largest and most consistent markets for U.S. agricultural products. With the geographical advantage of a long land border and a new Foreign Trade Agreement that has eliminated duties on all agricultural and food products, Mexico is a natural market for U.S. exporters.
In addition to meeting with Mexican buyers, WUSATA participants will have the opportunity to meet with Central American buyers. Central American retail buyers will be flown into Mexico City to participate in the two-day conference/meetings between WUSATA companies and the category buyers of leading retailers in the region. Each participating WUSATA company will have tailored business meetings to showcase products to potential buyers. Business meetings will also be combined with networking events and speakers highlighting U.S. trends in the featured product category.
Please see the event website for further details.
Dec
5
Mon
VI International InvestChile Forum 2022
InvestChile is organizing its 6th International #InvestChileForum 2022, where attendees can find out about emerging investment opportunities and Chile's new economic strategies and FDI policies.
The Forum will take place on December 5, 6 and 7 and will be attended by high-level company directors and executives, Chilean economic authorities, representatives from the public sector and local businesspeople.
👉 If you are an international investor interested in participating in breakout sessions & B2B meetings, you can apply until October 21.
👉 To join us at the Inaugural Conference & International Seminar in Santiago or watch it on our streaming platform, pre-register now!
Don't miss Chile's most important investment forum!
Dec
13
Tue
U.S. EXIM Bank 2022 Annual Conference
After two years as a virtual event, EXIM is excited to return for a one day, in-person program filled with high level speakers, matchmaking, practical tools and resources, and more. This year's Annual Conference will also feature a hybrid option allowing participants to attend virtually from around the world.
The 2022 conference will feature opportunities to network with peers, find potential sales, and hear from key industry executives, government leaders and other key stakeholders. Discussions will highlight major initiatives happening in export finance and the global export credit landscape – like the Make More in America initiative and the Partnership for Global Infrastructure, as well as the role EXIM is playing to support U.S. jobs and strengthen economic security through deeper commercial partnerships.
The conference will help U.S. companies make more in America, export more from America and expand their exporting opportunities in clean energy, high-tech transformational export sectors and other sectors and regions. Throughout the conference, attendees will hear from distinguished speakers representing the business, academic and government sectors and learn about EXIM's support for companies large and small, product enhancements, and new tools to help U.S. exporters export worldwide.
More details will follow over the coming months, and registration will open in early July 2022. You can follow along for program updates on EXIM's website: www.exim.gov.
Setting the Stage For a Successful 2023 A Look Back and Forward at Global Trade
Dec 13 @ 1:00 pm – 2:00 pm
Trade is a driver of economic prosperity.  Join us as we set the stage for a successful 2023 for Northern California's businesses. Our expert panel from the agri-business, technology, transportation and regulatory industries will review the top global regulatory, supply chain, and sourcing developments from this past year.  They will also share their global business predictions to help you prepare for 2023.  Don't miss our last event of 2022!
ExIm 2022 Hybrid Annual Conference
Dec 13 @ 5:22 pm – 6:22 pm
EXIM's 2022 Annual Conference is fast-approaching and is shaping up to be an excellent event you won't want to miss!
This year's theme —"A Brighter Future Through Exporting"— highlights the importance of U.S. manufacturing, supply chains, the global energy transition, and economic security through exports, and it will emphasize how public-private partnerships can fuel economic growth and commercial trade. The event will also shine a spotlight on diversity, equity, and inclusion in exporting.
The conference will feature discussions with leaders in business, finance, government, policy, and media as well as one-on-one consultation opportunities with EXIM staff and networking with other trade professionals in attendance.
Register now to take advantage of our early bird registration and visit the conference website for agenda and speaker updates.
Staff Contact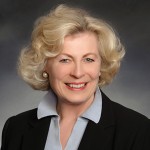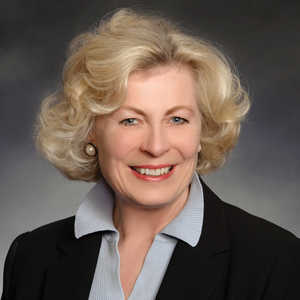 Susanne Stirling
Vice President, International Affairs