Trading Partner Portal: Germany
Overview
Interview with AmCham Germany – Startup Culture in Berlin Finds Inspiration in California Entrepreneurial Spirit
CalChamber, January 7, 2022
Interview Series Featuring California's Key Trading Partners – Featuring Consuls General of Germany Stefan Schneider in Los Angeles and Hans-Ullrich Südbeck in San Francisco – Similar Positions in Tech Revolution Inspire Climate Actions for a Sustainable Future
CalChamber, December 1, 2020
Trade Overview

Since the reunification over 30 years ago, the German economy has grown steadily to become Europe's largest economy, and the fourth largest in the world. Germany has a GDP of $4.26 trillion in 2021 and a population of 83.1 million in 2021 according to data from the World Bank. CIA Factbook, World Bank
Bavaria is the largest German state by land area and second largest by the size of its economy. Bavaria's GDP is almost $716 billion, making it the sixth largest economy in the EU. Bavaria has strong commitments to funding and support for innovation and entrepreneurship and is known for its industry. Bavaria has branded itself as Germany's Silicon Valley, positioning itself as a major global tech hub.
Germany holds the spot as the United States' sixth top export destination, with exports steadily increasing over the past decade.
The United States exported $72.5 billion to Germany in 2022, with $17.2 billion being transportation equipment. This was followed by chemicals, computer/electronic products, and non-electrical machinery. Germany exported $146.6 billion to the US, with $32.4 billion in transportation equipment, and $30 billion in chemicals.
As California's 8th largest export destination, Germany imported $6.25 billion in goods. Top exports included computer/electronic products, chemicals, and agricultural products. Imports from Germany into California totaled $14.2 billion in 2022. Transportation equipment made up $6.2 billion of the total.  (US Department of Commerce)
Characteristics of Travellers from Germany to California
Visit California
Foreign Direct Investment
Ranking as the second largest investor in the United States in 2021. In 2021, Germany accounted for more than $636.5 billion. U.S. FDI into Germany totaled $170.2 billion in the same year. U.S. Department of Commerce, Bureau of Economic Analysis)
German FDI in the US supported 885,100 jobs and invested $12.7 billion into research and development. $47.5 billion went to expanding U.S. exports. The top industry sectors for German FDI in the US were: industrial equipment, software and IT services, auto components, transportation, chemicals, and electronic components. Select USA
In California, Germany was the fifth largest source of FDI through foreign-owned enterprises (FOEs) in 2022. German FOEs provided over 45,060 jobs through 1,305 firms amounting to $5.3 billion in wages in 2022. The top jobs by sector are: manufacturing, professional/business services, financial activities, wholesale trade, and retail trade (World Trade Center Los Angeles FDI Report).
Tourism
The California Travel and Tourism Commission unveiled a German Web site to attract more German-speaking travelers to the Golden State. Visit California (Deutsch)

Approximately 416,000 German visitors came to California in 2018 spending approximately $911 million in California. The primary purpose of trip for German visitors to California was leisure (77%), spending $204 a day with a 10 night average stay. Los Angeles and San Francisco were both in the top 3 places visited in the U.S. by German visitors (Visit California).
Hessen Slide Show
Hessen Slide Show
Hessen – one of Europe's most successful and welcoming global business regions. For inspiring images of successful companies, continental Europe's leading airport and financial center in Frankfurt, historical buildings, as well as some of the cultural events across Hessen, please view the link below:
Hessen Slide Show
Investors, business development executives, and government representatives at international trade fairs and events, are invited to preview Hessen's major location advantages such as multicultural diversity, an outstanding and innovative business location for diverse industries and a unique landscape with high quality of life.
Darmstadt – Hessen's Top ICT Location & Germany´s IT Security hub
Hessen Trade & Invest, August 2014
"Hessen has a remarkable track record when it comes to leading the way in the Information and Communications Technology (ICT) Sector. Darmstadt was ranked 7th in a study European ICT Poles of Excellence (April 2014) by the European Commission. 34 European ICT locations were considered out of 1,300 European regions across 12 countries. Germany, not surprisingly, is in the forefront with 12 locations out of the 34 considered (UK trails with 7)."
"Darmstadt is one of the largest and fastest growing IT Security locations in Europe with over 200 scientists in the area of IT security."
Events
Events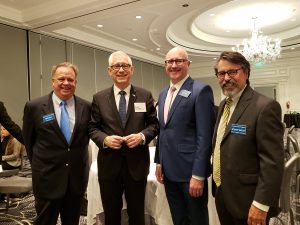 (December 14, 2021) California and Germany have many ongoing cooperative efforts underway already and there are more opportunities to come, German Consul General Oliver Schramm told a California Chamber of Commerce gathering last week.
Areas of mutual interest include energy policy and climate change, Schramm said at the December 10 international breakfast hosted by the CalChamber Council for International Trade and sponsored by CSAA Insurance Group.
CalChamber Hosts Delegation from Germany
(July 13, 2009) CalChamber-hosted meeting with business and government officials from the state of Baden Württemberg in Germany are (from left): Dr. Hans-Dieter Frey, Ministry of Economics, Baden Württemberg; Acting Consul General Eberhard Brockmann, German Consulate General in San Francisco; Karlheinz Bechtle, Ministry of Economics, Baden Württemberg; Dr. Peter Kulitz, president, Ulm Chamber of Commerce; Dr. Dieter Salomon, mayor, City of Freiburg; The Honorable Ernst Pfister, minister, Ministry of Economics, Baden Württemberg; Dr. Bernd Dallmann, president, German Economic Developers Association; CalChamber President and Chief Executive OfficerAllan Zaremberg; Dr. Michael Hagenmeyer, chief executive officer, Baden Württemberg International; Susanne Stirling, CalChamber vice president, international affairs. Full Article
CalChamber Hosts German Minister of Foreign Affairs
California Partners with CeBIT

(August 31, 2007) The California Chamber of Commerce hosted the Honorable Frank-Walter Steinmeier, Minister for Foreign Affairs of Germany yesterday, for an international luncheon to discuss climate and energy policy.

(March 3, 2009) Governor Arnold Schwarzenegger pictured with German Chancellor Angela Merkel. Photo Courtesy Governor's Office

California Business, State's Leadership in Technology on Display at World's Largest Technology Trade Fair
Key Country Contacts
Resources
CalChamber Resources
Business
Cultural