2010 Asia Trade Mission -2 010 Trade Mission to Asia
Governor Arnold Schwarzenegger – September 9 – 15, 2010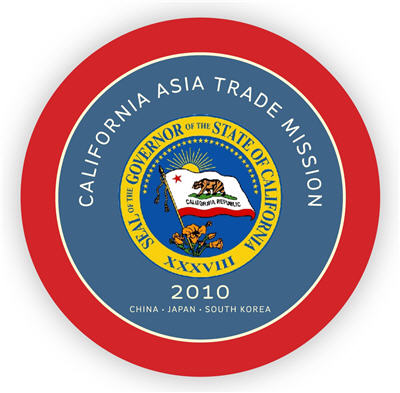 Click on a city to see the itinerary
California Business Delegation
CalChamber Joins Governor on Successful Asia Trade Mission 
CalChamber, September 21, 2010
"The business and trade mission to Asia led by California Governor Schwarzenegger served to strengthen ties and increase economic opportunities among our major trade and investment partners"… "In particular, the Governor's enthusiastic support of the pending US-Korea Free Trade Agreement will add to the momentum for the eventual passage of this important trading relationship."
-Susanne Stirling, Vice President of International Affairs, CalChamber

"Intalio, a software company based in Palo Alto,  is the leading provider of Private Cloud Computing solutions for Global Fortune 500 companies and Telecommunications Service Providers. We do a third of our business in Asia Pacific, and expect this ratio to increase to over 50 percent by the end of next year. While most business has been done in Japan so far, we expect China, South Korea, and Singapore to drive the majority of our growth in the region moving forward.  Furthermore, as the Chinese economy continues to expand, we expect more and more technology transfers to take place between China and the United States. In such a context, I viewed this trade and investment mission as an excellent platform for developing new relationships in China, Japan, and Korea, while sharing experiences with other business leaders from California. I  was also interested in sharing ideas with Government officials from California and the United States, while doing our part to promote the State of California as a great place to do business and a strategic partner for Asia-Pacific organizations".
-Ismael Chang Ghalimi. CEO & President, Intalio, Inc.
"Participating in the Governor's recent mission to Asia, assisted me in my quest to promote a better business cultural understanding between the U.S. and China to enhance economic opportunities between both countries which I call home.  My own story from the time I immigrated to the U.S. to working with U.S. companies to becoming a successful US-China entrepreneur in California represents the classic American dream in itself. I founded McWong International, Inc. in 1984 and since that time, have been fortunate to create one of the west coast's most successful China trade companies in the electrical and lighting products industry – followed by the 1997 founding of McWong Environmental and Energy Group, specializing in the export of environmental and energy related technology and equipment for wastewater treatment projects in China.  With offices and multiple factories in China and headquarters located in West Sacramento, I am continually promoting strong business and government connections in China. Being a part of this mission has helped me with my success in linking multi-million dollar businesses between California and China".
-Margaret Wong, President & CEO  (identified by the Sacramento Bee as "Business Empress")