Trading Partner Portal: France
Overview
Interview Series Featuring California's Key Trading Partners – Featuring Consuls General of France Julie Duhaut-Bedos in Los Angeles and Frederic Jung in San Francisco – Economic Diversity, Foreign Investment Ties Inspire Long-Lasting Partnership in Trade
CalChamber, December 8, 2020
Trade Overview

According to the World Bank, France is a high income developed country in Europe. It has a population of 66.98 million people with a corresponding gross domestic product (GDP) of $2.77 trillion. It is the most visited country in the world, with 89 million tourists in 2018. France is a member of the European Union (EU). The EU and US trade relationship is the largest in the world. The European Union is the largest merchandise and service trading partner of the United States and they have succeeded with healthy flows of foreign direct investment both ways. France has a diverse economy with various sectors. The government has successfully privatized numerous companies in a variety of markets, such as telecommunication and Air France. World Bank
France is the 10th largest export destination of goods for the United States. In 2019, the United States exported around $37.7 billion worth of products to France. The main exports were transportation equipment, chemicals, computer/electronic products, and oil and gas. Transportation equipment totaled roughly $14.7 billion and 38.9% of total exports to France. The United States is the 5th largest export destination for France. The United States imported approximately $57.49 billion worth of goods in 2019. Transportation equipment was the top import into the U.S. from France, totaling $16.9 billion. The US also imported around $8.7 billion dollars worth of chemicals from France in 2019. Other key imported goods were beverages and tobacco products as well as reimports.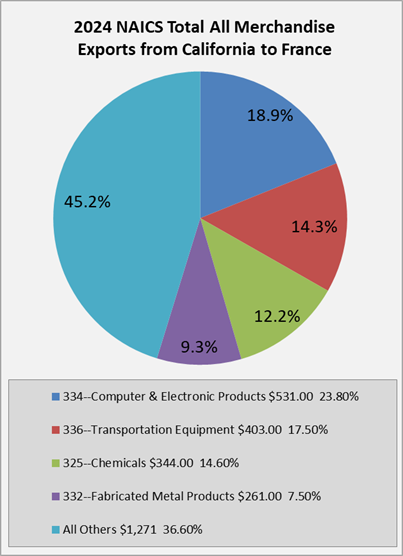 France and the United States also have a strong foreign direct investment (FDI) relationship. In 2018, the US had approximately $86.8 billion dollars of FDI flow into France. On the other hand, France had a little over $326.4 billion worth of FDI flowing into the United States in 2018. BEA
France was the 6th largest source of FDI in the U.S. in 2018 which supported 734,200 jobs. $5.4 billion went to investing in research and development and another $27.3 billion went to expanding U.S. exports. the top industry sectors for French FDI in the US were: textiles, software and IT services, consumer products, business services, financial services, and chemicals. Select USA
France- California Trade
California is one of the top exporting states to France with $2.9 billion worth of goods being exported to France in 2019. The main export categories include transportation equipment, computer and electronic products, chemicals, and non-electrical machinery. California is also the second largest state importer from France, importing $4.6 billion worth of goods from France. Similar to the key import for the United States as a whole, California's #1 import from France is transportation equipment totaling around $1.55 billion in 2019. Other key imports from France to California are beverages and tobacco products, used or second-hand merchandise, and computer and electronic products. US Department of Commerce
In California, the number three country for FDI through foreign-owned enterprises (FOEs) is France. French FOEs in California provide over 69,458 jobs through 1,888 firms amounting to $5.69 billion in wages. The top jobs by sector are: manufacturing, leisure/hospitality, retail trade, professional/business services, and wholesale trade (World Trade Center Los Angeles FDI Report, May 2020).
Trade Agreements
Trade Agreements and Issues
Transatlantic Trade and Investment Partnership (TTIP)
France is one of the nations  currently involved in negotiations for the Transatlantic Trade and Investment Partnership (TTIP) with the rest of the European Union and the United States. The United States and the European Union have a strong bilateral trade relationship totaling $698.7 billion in 2015. A free trade agreement, such as TTIP, aims to strengthen that relationship by eliminating tariffs, aligning compatible regulations to open trade, and furthering trade in the service sector.
Transatlantic Trade and Investment Partnership
Events
Events
On May 27, 2015, the California Chamber of Commerce held an International Forum on the Transatlantic Trade and Investment Partnership and the Transpacific Partnership with speakers including members of the United States Chamber of Commerce, representatives from five American Chambers of Commerce from abroad, and two ambassadors. Also in attendance was a delegation totaling 25 members of the AmCham community representing Bulgaria, Croatia, Denmark, Estonia, France, Greece, Ireland, Israel, Kosovo, Latvia, Lithuania, Macedonia, Norway, Poland, Romania, Serbia, Slovak Republic, Slovenia, and Turkey.
French Ambassador Highlights Innovation, Entrepreneurship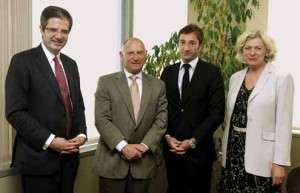 (June 12, 2012) Economic relations between France and California were the subject of the day when the Ambassador of France called on the California Chamber of Commerce in Sacramento this week.
During his trip to Northern California, Ambassador François Delattre focused on innovation and entrepreneurship, visiting a business incubator and meeting with researchers and U.S. firms in Berkeley and the Bay Area.
Regarding the European Union, the Ambassador cited economic restraint, promoting growth, and improved governance as key priorities for the near future. The United States exported $27.8 billion to France in 2011, while importing $40 billion. California exports to France totaled $2.3 billion in 2011,while imports amounted to $2.5 billion.
Transportation equipment is a major import and export product. France is a major investor in California, with French companies supporting 60,000 jobs.
French Ambassador Highlights History of Shared Concerns with U.S.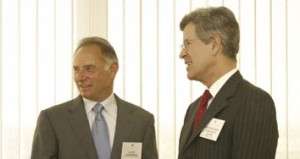 California Chamber President Allan Zaremberg (left) and His Excellency Jean-David Levitte, Ambassador of France to the United States, greet guests at the Chamber International Luncheon Forum this week featuring remarks by Levitte. The ambassador noted that California is the state with the most exports to France and called attention to the role of trade and economic ties in the evolution of the European Union and the longest peaceful era in the history of Europe. He also highlighted the long history of shared interests between France and the United States and applauded the role of U.S. veterans in the liberation of France at the close of World War II
Key Country Contacts
Resources
CalChamber Resources
Business
Business
Cultural