Trading Partner Portal: Sweden
Overview
Trade Overview

Sweden is a high income county in Northern Europe and is slightly larger than California in relative size. Sweden has a population of 10.18 million people and a gross domestic product (GDP) of $556 billion. Sweden has one of the highest standards of living in the world with a strong capitalist system and welfare state. Sweden is one of the 28 countries in the European Union. World Bank, CIA
The United States is Sweden's 5th largest export destination. The United States imported $12 billion worth of Swedish goods in 2019. The key imported goods from Sweden into the US were transportation equipment, non-electrical machinery, chemicals, and computer and electronic products. Transportation equipment and non-electrical machinery totaled over $2.5 billion each. Sweden is the 46th largest export destination for goods for the United States. In 2019, the United States exported $4.35 billion worth of products to Sweden. The main exports included chemicals, which composed 22% of all exports to Sweden, and was worth roughly $959 million dollars. Other main product exports from the US to Sweden were transportation equipment, computer and electronic products, and non-electrical machinery.
Direct investment from the United States into Sweden totaled around $39.3 billion in 2018, while FDI from Sweden into the US was approximately $55.4 billion of the same year. In 2017, Swedish FDI supported 218,700 jobs in the US, contributed $679 million to research and development and another $7.2 billion to expanding US exports. The top industry sectors for Swedish FDI in 2018 were: textiles, software and IT services, industrial equipment, consumer products, communications, and business services. (Select USA)
Sweden- California Trade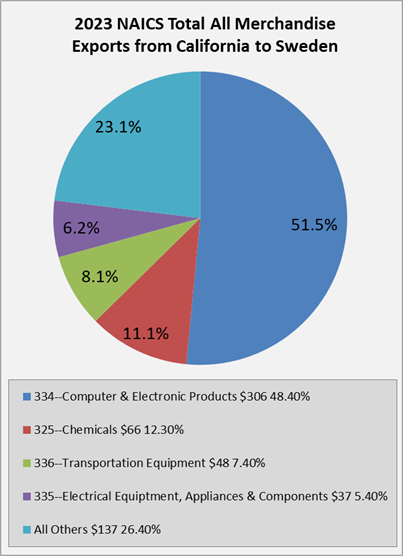 California is the fourth largest importer of Swedish goods out of all the States with the US. In 2019, California imported around $859 million worth of goods from Sweden. In 2019, transportation equipment equated to 53.6% of all imports from Sweden and totaled approximately $460 million. Other goods imported into California from Sweden were computer and electronic products, non-electrical machinery, and chemicals. Though Sweden is California's 34th largest export destination, California is the top exporting state to Sweden in the US. California exported $603.7 million of products to Sweden in 2019. The key exports from California were computer and electronic goods, transportation equipment, miscellaneous manufactured commodities, and chemicals. Exported computer and electronic products to Sweden made up 30.5% of the total and were valued at $184 million. US Department of Commerce
In California, the number nine country for FDI through foreign-owned enterprises (FOEs) is Sweden. Swedish FOEs in California provide 17,849 jobs through 244 firms amounting to $1.363 billion in wages. The top jobs by sector are: professional/business services, information, manufacturing, wholesale trade, and construction (World Trade Center Los Angeles FDI Report, May 2020).
2019 Nordic-U.S. M&A Study
Alston & Bird, April 8, 2020
Trade Agreements
Trade Agreements and Issues
Transatlantic Trade and Investment Partnership (TTIP)
Sweden is one of the European nations that are currently involved in negotiations for the Transatlantic Trade and Investment Partnership (TTIP) with the rest of the European Union and the United States. The United States and the European Union have a strong bilateral trade relationship totaling $698.7 billion in 2015. A free trade agreement, such as TTIP, desires to strengthen that relationship by eliminating tariffs, aligning compatible regulations to open trade, and furthering trade in the service sector.
Transatlantic Trade and Investment Partnership 
USTR Transatlantic Trade and Investment Partnership
Key Country Contacts
Resources
CalChamber Resources
Business
Business
Cultural