Trading Partner Portal: Spain
Overview
Trade Overview

Spain is arguably California's first trading partner, dating back to colonial times when Spanish explorers colonized the area. Even today, a strong Spanish influence can be felt throughout the state in linguistic, cultural, and sociological areas. Although California's trading partners have grown considerably, Spain continues to be an important player in the state's imports and exports.
According to the White House in July 2016, "U.S. subsidiaries of Spanish firms employ over 80,000 U.S. workers in fields such as banking, wind and solar power, bio-fuels, road construction, and food.  The United States is one of Spain's largest investors; U.S. companies employ more than 160,000 Spaniards, notably in the automotive and chemical industries.  More than one million U.S. tourists visit Spain each year."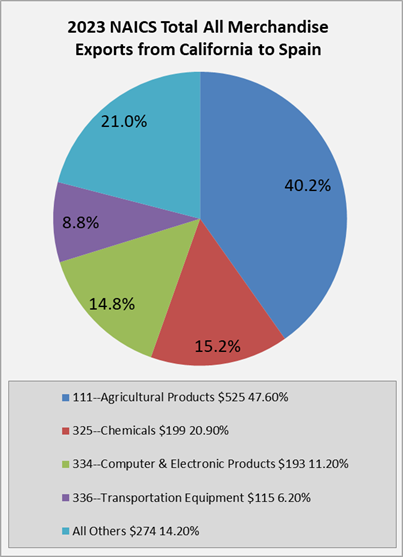 In 2022, the United States exported over $26.695 billion to Spain. Exports consisted of over $11.2 billion in oil and gas, $6.7 billion in chemicals, $1.7billion in transportation equipment, and $1.35 billion in agricultural products. Imports from Spain were roughly $22.99 billion in 2022, with the top category being chemicals at $5.5 billion. Other top imports included processed foods, petroleum and coal products, transportation equipment, and non-electrical machinery.
Foreign Direct Investment
U.S. direct investment to Spain totaled $38.95 billion in 2021. Foreign direct investment from Spain into the United States was $808.5 billion. In 2021, Spain was the tenth largest source of FDI in the U.S. In 2020, Spanish FDI in the US supported 93,100 jobs and invested $208 million in research and development. Another $1.1 billion went expanding US exports. The top industry sectors for Spanish FDI are: software and IT services, financial services, business services, renewable energy, communications, and industrial equipment. (Select USA)
In California, the twenty-second largest source of FDI through foreign-owned enterprises (FOEs) is Spain. Spanish FOEs in California provided 4,449 jobs through 136 firms amounting to $428 million in wages in 2022. The top jobs by sector are: manufacturing, construction, professional/business services, retail trade, and transportation/warehousing/utilities (World Trade Center Los Angeles FDI Report).
California – Spain Relations
In 2022, California was a top state exporter to Spain with over $1.52 billion. Spain is California's 25th largest export destination. Agricultural products were credited with a third of the total, and $665 million of exports.  Chemical products totaled $318 million and computer and electrical products totaled another $150 million. Imports to California from Spain totaled $1.38 billion in 2022. Top import categories were processed foods, chemicals, fabricated metals, and nonmetallic mineral products.
Spain: U.S. Department of Commerce is developing the Service Solutions USA Directory
The California Chamber of Commerce is a member of the US Commercial Service Partner Program in Spain
Cultural Bonds
"Cultural exchange between the U.S. and Spain has historically been strong, and continues to reinforce the friendship between the two countries.  The United States and Spain have a longstanding commitment to educational and cultural exchange, exemplified through both governments' support for the U.S.-Spain Fulbright Program.  Almost 10,000 Spanish and U.S. students and scholars have benefitted from the program since its inception nearly 60 years ago.  Each year, nearly 27,000 U.S. students study abroad in Spain, making Spain the third most popular destination for U.S. students worldwide.  There are more than 6,000 Spaniards studying in the U.S. each year.  More than 2,000 Spaniards have also participated in the International Visitor Leadership Program sponsored by the United States."
Source – White House Fact Sheet, July 2016
Governor Brown Meets with Spain's Prime Minister in Sacramento
Office of Governor Edmund G. Brown, Jr., September 28, 2018
Catalonia - California's Sister State
Catalonia – California's Sister State
Background
The autonomous community of Catalonia is one of composed of four provinces, Gerona, Barcelona, Tarragona, and Lleida with a Mediterranean that consist of hot, dry summers and mild, relatively rainy winters. Although present day Catalonia was established under the statute of autonomy on Dec. 18, 1979, the region had a rich cultural history dated back millennia. Historically the California has strong ties with Catalonia as much of the development of California can be contributed to two Catalans, Junipera Serra and Gaspar de Portola. Serra founded several missions on the Golden State with the chapel at Mission San Capistrano being considered the oldest building still standing in California. Gaspar de Portola was a Catalan who led an expedition to explore present San Diego and Monterrey throughout the coast of California and later became one of it first governors. Additionally California and Catalonia share a similar geography, natural beauty and common culture. In May 1986, Catalonia became California's 3rd sister state with the passing of Senate Concurrent Resolution 71. Many of our universities in California share agreements with universities in Catalonia; working together to enrich the lives of their respective communities.
(Lewis, Lowell. Catalonia and California Sister States. Bloomington: Authorhouse UK, 2013)
Trade and Investment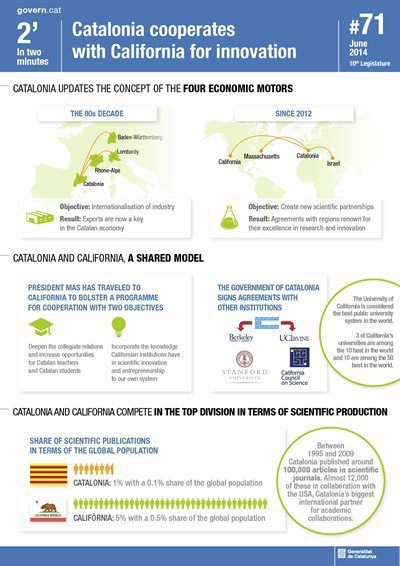 Barcelona is the Mobile World Capital, an initiative to make Barcelona a benchmark for innovation and development in mobile transformation. This is a project backed by GSMA representing the top companies in the broader mobile industry.
Mobile World Congress – Barcelona is an annual tech conference at Fira Gran Via venue that features prominent companies in the tech industry and keynote speakers many of them which are Californian companies like Facebook, Google and Intel.
According to ACC10 Silicon Valley, Catalonia is the leader in Spain in the chemical, pharmaceutical, packaging, food, automotive and consumer-electronics industries. More than 3,000 foreign companies are located in Catalonia and they account for 36 percent of Spain's total exports. Barcelona is the capitol of Catalonia and was ranked 4th best European city in which to locate a business.
(Healey & Baker's European Cities Monitor)
Trade News:

Google Returns to Barcelona With Launchpad, Their Pre-acceleration Program
Mobile World Capital-Barcelona, April 24, 2015
Hewlett Packard's Catalonia Facility is a Goal Benchmark for Printing Technology
Government of Catalonia
Government of Catalonia
The Initiatives by Facebook, GSMA and Google to Connect the World
Mobile World Capital-Barcelona, March 04, 2015
Catalonia – California Relations
Catalonia – California Agreement
On Monday, April 6th, 2015 Foreign and E.U. Affairs Secretary, Roger Albinyana, and the Director of the California Governor's Office of Business and Economic Development signed a Memorandum of Understanding to facilitate greater business and economic cooperation between the two territories in key areas. Memorandum of Understanding will also facilitate the organization of future trade missions and business activities, as well as the collaboration between universities, organizations and research centers working together on climate change, water preservation and increased student exchange program.
Topics of discussion during the meeting between Secretary Albinyana and Director Rajan included the severe drought that has affected California in recent years. Secretary Albinyana states California's interest "in knowing how the Government of Catalonia, with a territory that has had similar problems … has been able to deal with the problem of water scarcity," and extended the Government's experience in efficient water resource management to its Californian counterpart.
Government of Catalonia, April 06, 2015
Governor Brown, International Leaders Form Historic Partnership to Fight Climate Change
On May 19, 2015, Governor Brown, along with international leaders from 11 other states and provinces including Catalonia signed the Global Climate Leadrship Memorandum of Understanding, the first-of-its-kind agreement to limit the increase in global average temperature to below 2 degrees Celsius – the warming threshold at which scientists say there will likely be catastrophic climate disruptions.
Under today's agreement, the signatories commit to either reduce greenhouse gas emissions 80 to 95 percent below 1990 levels by 2050 or achieve a per capita annual emission target of less than 2 metric tons by 2050. These targets allow each individual government to tailor emission reduction plans to fit regional needs.
For more information on the agreement, please visit: www.under2mou.org. The full text of the agreement signed today can be found here.
Governor's Office, May 09, 2015
Events
Events
Spanish Delegation Speaks on California-Spain Trade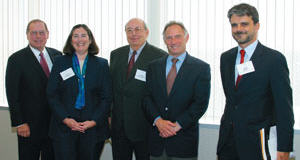 (October 5, 2004) The California Chamber of Commerce hosted a delegation of Spanish executives and officials at a luncheon on California-Spain trade relations last week. The visiting delegation included top Spanish executives as well as U.S. Ambassador George Argyros and the heads of sponsoring Spanish business associations.
U.S Ambassador to Spain Touts Abundant Business Opportunities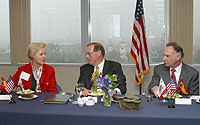 (February 26, 2004) California must continue the trend of U.S. businesses that are establishing major plants and offices in Spain, urged George L. Argyros Sr., U.S. ambassador to Spain and Andorra, at a California Chamber of Commerce International Luncheon Forum yesterday.
Trade Mission to Spain
(November 3, 1989) A California delegation traveled to Spain in October of 1989 in preparation for Expo '92, to be held in Seville. Members of the delegation represented the California 92 Board, the non-profit corporation recently established to organize California's participation at the world exposition.
Read Full Article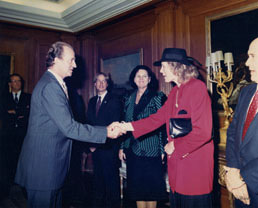 Key Country Contacts
Resources
Business
Cultural