Foreign Direct Investment

SelectUSA is a U.S. government-wide program led by the U.S. Department of Commerce. Since its inception, SelectUSA has facilitated more than US$64 billion in investment, creating and/or retaining over 86,000 U.S. jobs. In 2018 alone, SelectUSA facilitated $20.8 billion.
SelectUSA's mission is to facilitate job-creating business investment into the United States and raise awareness of the critical role that economic development plays in the U.S. economy.
SelectUSA assists U.S. economic development organizations to compete globally for investment by providing information, a platform for international marketing, and high-level advocacy. SelectUSA also helps companies of all sizes find the information they need to make decisions, connect to the right people at the local level, and navigate the federal regulatory system.
Select USA's Foreign Direct Investment in California Factsheet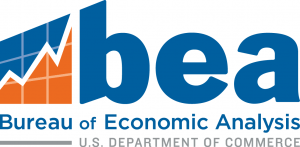 BEA's economists produce some of the world's most closely watched statistics, including U.S. gross domestic product, better known as GDP. We do state and local numbers, too, plus foreign trade and investment stats and industry data. The Bureau of Economic Analysis (BEA) promotes a better understanding of the U.S. economy by providing the most timely, relevant, and accurate economic accounts data in an objective and cost-effective manner. BEA is one of the world's leading statistical agencies. Although it is a relatively small agency, BEA produces some of the most closely watched economic statistics that influence the decisions made by government officials, business people, households, and individuals. BEA's economic statistics, which provide a comprehensive, up-to-date picture of the U.S. economy, are key ingredients in critical decisions affecting monetary policy, tax and budget projections, and business investment plans. BEA : Interactive Data
Impacts of Foreign Direct Investment in the U.S. Economy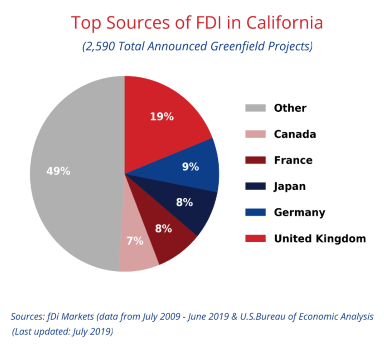 The United States is the world's largest recipient of foreign direct investment. Foreign direct investment impacts the U.S. economy in many positive ways. For example, FDI:
Creates New Jobs
Boosts Wages: U.S. affiliates of foreign companies tend to pay higher wages than the US average.
Increases U.S. Exports: U.S. companies use multinationals' distribution networks and knowledge about foreign tastes to export into new markets.
Strengthens U.S. Manufacturing.
Brings in New Research, Technology, and Skills.
Contributes to Rising U.S. Productivity: Inward investment leads to higher productivity growth through an increased availability of capital and resulting competition. Productivity is a key factor that increases U.S. competitiveness abroad and raises living standards at home.
FDI Resources:
In California:
Governor's Office of Business and Economic Development (GO-Biz)
California welcomes foreign investment. Services for foreign investors include site selection, logistical assistance, demographic/wage/tax/utility cost data, quality of life facts for workers and families, and networking opportunities.GO-Biz provides resources on popular incentives including tax credits, training panels and other programs. They offer incentives for investors to get started in California.
U.S. Resources:
U.S. Investment Advisory Council (IAC)
The United States Investment Advisory Council initiated in June 2016 advises the Secretary of Commerce on the development and implementation of strategies and programs to attract and retain foreign direct investment in the United States and on ways to support the United States remaining the world's preeminent recipient of foreign direct investment.
The U.S. Investment Advisory Council (IAC) was established by the Secretary of Commerce to solicit private sector advice on the promotion and retention of foreign direct investment (FDI) to the United States. The IAC advises the Secretary of Commerce on U.S. government policies and programs that affect FDI; identifies and recommends programs and policies to help the United States attract and retain FDI; and recommends ways to support the United States remaining the world's preeminent destination for FDI. The IAC acts as a liaison among the stakeholders represented by the membership and provides a forum for the stakeholders on current and emerging issues regarding FDI. Specific priorities and recommendations are determined by IAC members, all of whom are appointed for two‐year terms.
Committee on Foreign Investment in the United States (CFIUS)
The Committee on Foreign Investment in the United States (CFIUS) is an inter‐agency committee authorized to review transactions that could result in control of a U.S. business by a foreign person ("covered transactions"), in order to determine the effect of such transactions on the national security of the United States. CFIUS operates pursuant to section 721 of the Defense Production Act of 1950, as amended by the Foreign Investment and National Security Act of 2007 (FINSA) (section 721) and as implemented by Executive Order 11858, as amended, and regulations at 31 C.F.R. Part 800.
CFIUS and the U.S. Department of the Treasury releases an annual report to Congress. This mandated report consists of a review of inward Foreign Direct Investment in relation to national security and the investigations conducted during the year.
U.S. Government Accountability Office (GAO)
The U.S. Government Accountability Office (GAO) is an independent, nonpartisan agency that works for Congress. Often called the "congressional watchdog," GAO investigates how the federal government spends taxpayer dollars. The head of GAO, the Comptroller General of the United States, is appointed to a 15‐year term by the President from a slate of candidates Congress proposes. Gene L. Dodaro became the eighth Comptroller General of the United States and head of the U.S. Government Accountability Office (GAO) on December 22, 2010, when he was confirmed by the United States Senate. He was nominated by President Obama in September of 2010 from a list of candidates selected by a bipartisan, bicameral congressional commission. He had been serving as Acting Comptroller General since March of 2008.
U.S. Office of Information and Regulatory Affairs (OIRA)
The Office of Information and Regulatory Affairs (OIRA) is a statutory part of the Office of Management and Budget within the Executive Office of the President. OIRA is the United States Government's central authority for the review of Executive Branch regulations, approval of Government information collections, establishment of Government statistical practices, and coordination of federal privacy policy. The office is comprised of five subject matter branches and is led by the OIRA Administrator, who is appointed by the President and confirmed by the United States Senate.
Organization for International Investment (OFII)
Created more than two decades ago, the Organization for International Investment (OFII) is a non‐profit business association in Washington, D.C. representing the U.S. operations of many of the world's leading global companies, which insource millions of American jobs. OFII works to ensure the United States remains the top location for global investment. As such, OFII advocates for fair, non‐discriminatory treatment of foreign‐based companies and promotes policies that will encourage them to establish U.S. operations, increase American employment, and boost U.S. economic growth.
FDI Facts:
U.S. foreign direct investment (FDI) is defined as the ownership or control, directly or indirectly, by one foreign
person, or entity, of 10 percent or more of the voting securities of an incorporated U.S. business enterprise or
an equivalent interest in an unincorporated U.S. business enterprise.
For more key foreign direct investment terms and concepts click here.  (SelectUSA)
Facts About International Investment
(U.S. Chamber of Commerce)
International investment drives U.S. economic growth
Investment from abroad creates millions of American jobs
Companies that invest abroad are great employers for American workers
Investing abroad makes American companies resilient
U.S. companies invest in foreign markets to serve those markets – not as a substitute for domestic production
International investment is a powerful driver of U.S. exports
Earnings from foreign investments help U.S. companies innovate here at home
Earnings U.S. multinational companies are overwhelmingly focused on the U.S.
Most U.S. investment abroad goes to developed countries with higher wages and labor standards
Investors from abroad a big buyers locally
Recent News:
Foreign Investment Drives California Manufacturing Jobs, According to 5th Annual FDI Report from WTCLA
Los Angeles County Economic Development Corp., May 26, 2020

BEA's Latest FDI Data (Again) Confirms It: There's No Better Place to Invest and Do Business Than the United States
The United States has consistently remained the largest recipient of FDI in the world.
Select USA, December 12, 2019
Activities of U.S. Affiliates of Foreign Multinational Enterprises, 2017
Bureau of Economic Analysis, November 15, 2019
Statistics released in November 2019 showed that majority owned U.S. affiliates (MOUSAs) of foreign multinational enterprises employed 7.4 million workers in the U.S. in 2017, which is a 2.8% increase from 2016. Majority owned U.S. affiliates accounted for 5.8% of total private-industry employment in the U.S. Employment by MOUSAs was largest in the manufacturing and retail trade sectors. MOUSAs with ultimate beneficial owners in the United Kingdom, Japan, and Germany were the largest contributors to total MOUSA employment.
FDI into the U.S. and California from the EU
Delegation of the EU to the US, February 2019
In 2018, US exports $528 billion to the EU. Trade with the EU has created 2.7 million jobs for the U.S. In 2018, EU investment in the US totaled $2.37 trillion, which created 4.07 million jobs. The EU is the single biggest investor in the U.S. Nationwide, revenue from EU visitors to the U.S. totals $37.11 billion. There are 66, 247 students from the EU studying in the United States.
California exports to the EU totaled $66.23 billion in 2018, which has created 377, 491 jobs. The EU has invested $138.96 in California which has created 379, 526 jobs. California earned $5.07 billion in revenue from EU visitors in 2018. The EU is California's biggest source of foreign investment. An infographic can be found here.
CFIUS and Silicon Valley: We're Still Trying to Find a Cure!
Center for Financial Stability, January 10, 2019
By Charles G. Schott, Former Senior Advisor, Invest in America, U.S. Department of Commerce
High-Tech Industries: The Role of FDI in Driving Innovation and Growth
Select USA, September 2017
New Foreign Direct Investment in the United States in 2016 BEA, August, 2017
Spending by foreign direct investors to acquire, establish, or expand U.S. businesses totaled $373.4 billion in 2016, down from $439.6 billion in 2015. Employment at these businesses was 480,800 workers, down from 483,800 in 2015. The 2016 decrease in new foreign direct investment in the United States reflected a decrease in global mergers and acquisition activity. There are 715,800 jobs in California that are directly supported by majority foreign-owned affiliates.