2023 California Japan Trade Mission
Lieutenant Governor Eleni Kounalakis Leads California Trade Delegation to Japan
Office of Lt. Governor Eleni Kounalakis, March 22, 2023
From March 12 – March 17, 2023 a delegation of California businesses and state agencies led by Lieutenant Governor Ambassador Eleni Kounalakis and Dee Dee Myers, Senior Advisor to Governor Gavin Newsom and Director of the Governor's Office of Business and Economic Development, traveled to Tokyo and Osaka for a trade mission to advance business, collaboration and partnership between California and Japan.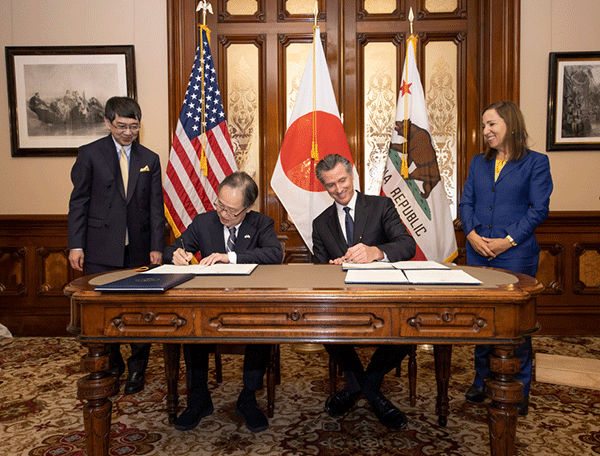 The delegation was made up of 55 private sector leaders from the agriculture, airlines, energy, and clean-technology sectors, as well as approximately 20 representatives from an array of state agencies. There was an additional group of tourism companies and associations, as well – bringing the entire California delegation to 100.
The trade mission builds on the Memorandum of Cooperation signed between California Governor Gavin Newsom and Japanese Ambassador Koji Tomita in March 2022 to tackle climate change and strengthen trade relations.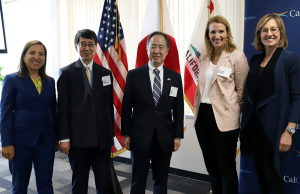 On March 21, 2022 the California Chamber of Commerce hosted a reception for Japan's Ambassador to the U.S., Koji Tomita, at our offices.
This trade mission presents a unique opportunity for California participants to explore business opportunities, showcase products and services, and build new partnerships in Japan.
Welcome Letter from Lt. Governor Kounalakis and Director Dee Dee Myers
California and Japan have longstanding ties and a historic relationship. In recognition of our important bond, we are delighted to lead a delegation of California leaders – policymakers, business executives, and key decisionmakers – on a trade mission to Japan. We are focused on strengthening our partnership with Japan to tackle climate change, bolstering the clean energy economy, and kickstarting new investments and trade opportunities between California and Japanese businesses. Together, we can build a sustainable future for all.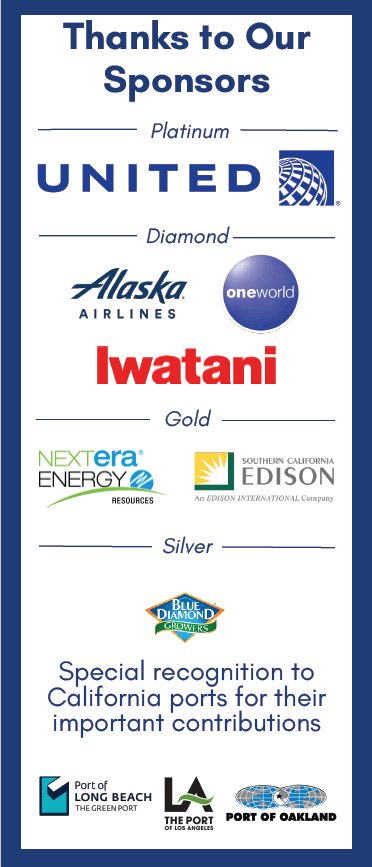 Trade Overview
Japan is the world's third largest economy and the United States' fourth largest export partner. The U.S. is a large supplier of chemicals, transportation equipment, and computer and electronic products to Japan. Japan is also one of the largest U.S. foreign markets for agricultural products.
U.S. exports to Japan were $80.317 billion in 2022, a 7.7% increase from 2021. While U.S. imports from Japan to the United States were $148.33 billion in 2022, representing a 9.9% increase from 2021.
Trade & Investment with California
Japan is also California's fourth largest export partner. California exports totaled $11.607 billion in 2022, representing a 1.6% decrease from 2021. Imports into California from Japan were $29.367 billion in 2022, representing a 31.21% increase from 2021.
In California, Japan is the largest source of FDI through foreign-owned enterprises (FOEs). Japanese FOEs in California in 2021 provided 105,053 jobs through 3,523 firms amounting to $10.978 billion in wages.
In 2018, the U.S. and Japan announced negotiations towards a potential U.S.-Japan FTA. The first round of U.S.-Japan trade talks began in April 2019 and by September a limited free trade agreement was reached. In early December, Japan's upper house of parliament approved the limited trade deal. No ratification was needed by the U.S. Congress, allowing the deal to go into effect on January 1, 2020.
The limited agreement opened market access for certain U.S. agricultural and industrial goods in Japan. Now that the agreement has been implemented, over 90% of U.S. food and agricultural products imported into Japan are either duty free or receive preferential tariff access. The agreement gave American farmers and ranchers the same advantages as CP-TPP countries selling into the Japanese market. In return, the U.S. reduced or eliminated tariffs on agricultural and industrial imports from Japan.
There was also a separate agreement between the U.S. and Japan reached on high-standard digital trade. The agreement contained prohibitions on imposing customs duties on digital products sent electronically, as well as ensure barrier-free cross-border data transfers in all sectors, among other things. The U.S.-Japan Digital Trade agreement was approved by Japan's Diet concurrently, and also went into effect on January 1, 2020.
Tourism
Prior to the pandemic in 2019, there were 555,000 visitor trips from Japan to California which accounted for $1.37 billion of spending in the state. In 2019, there were 511 monthly non-stop flights between California and Japan. As of September 2022, 75% of airlift from Japan to California has recovered. (Visit California)
Press Releases:
Lieutenant Governor Eleni Kounalakis Leads California Trade Delegation to Japan
Office of Lt. Governor Eleni Kounalakis, March 22, 2023
RECAP: Lieutenant Governor Eleni Kounalakis and GO-Biz Director Dee Dee Myers Lead California Trade Delegation to Japan
GO-Biz, March 22, 2023
California and Japan Partner to Bolster Economic Relations and Trade, Tackle Climate Change
Office of Governor Gavin Newsom, March 21, 2022
From the CEO: Japan Mission
Visit California, April 2023
Memorandums of Understanding:
California and Japan to Collaborate on Clean Ports and Shipping
CalSTA, March 15, 2023
Port of Los Angeles Signs Agreements with Tokyo and Yokohama Ports to Establish Green Shipping Corridor
Port of Los Angeles, March 16, 2023
Memorandum of Understanding between Keidanren (Japanese Business Federation) and the California Governor's Office of Business and Economic Development
GO-Biz, March 14, 2023
Memorandum of Cooperation on Strengthening Efforts to Combat Climate Change and Economic and Trade Relations Between the Government of Japan and the State of California, the United States of America
March 21, 2022