Trading Partner Portal: Belgium
Overview
Interview Series Featuring California's Key Trading Partners – Featuring Gunther Sleeuwagen, Consul General of Belgium in Los Angeles:
Highly Diversified, Shared Connections Form Network for Growing Trade Relations
CalChamber, October 16, 2020
Trade Overview

Belgium is a high income nation with a gross domestic product (GDP) of $542.7 billion. As a relatively small country, Belgium is comparatively dense with a population roughly 11.4 million people.  World Bank
Being in Western Europe and a member of the European Union, has allowed Belgium to establish strong trade relationships. Belgium has been a member of the World Trade Organization (WTO) since 1995 and before that was a member of the General Agreement on Tariffs and Trade (GATT) since 1948. Belgium's main exports are chemicals, machinery, and equipment. They are also large importers of raw materials, machinery, and equipment. In addition, they are a substantial importer of raw diamonds and an exporter of finished diamonds. BEA
Belgium is the 11th largest export destination for the United States, with exports in goods totaling approximately $34.7 billion. A majority of exports from the United States into Belgium include chemicals, transportation equipment, miscellaneous manufactured commodities, and non-electrical machinery. The United States imports around $20 billion of merchandise from Belgium. The top categories of imported goods from Belgium include chemicals, petroleum and coal products, miscellaneous manufacture goods, and transportation equipment. US Department of Commerce 
Total stock of foreign direct investment (FDI) into the United States from Belgium totaled $84.6 billion in 2018, making it the eight fastest-growing source of FDI in the U.S. Belgian FDI supported 59,400 jobs in the United States. $365 million went to investing in research and development and another $2.3 billion went to expanding U.S. exports. The top industry sectors in the US that receive FDI from Belgium are: software and IT services, chemicals, food and beverages, plastics, business services, and metals. Select USA.
FDI from the U.S. into Belgium totaled $64 billion in the 2018. Bureau of Economic Analysis, U.S. Department of Commerce
In California, the number twenty-four country for FDI through foreign-owned enterprises (FOEs) is Belgium. Belgian FOEs in California provide 5,064 jobs through 93 firms amounting to $396 million in wages. The top jobs by sector are: manufacturing, leisure/hospitality, wholesale trade, natural resources, and professional/business services (World Trade Center Los Angeles FDI Report, May 2020).
Belgium-California Trade
California was the top exporting state in the US for exports to Belgium with $6.3 billion in goods exported in 2019. Transportation equipment was the top export to Belgium at $3.69 billion and 58.5% of the total. Followed by chemicals, which constituted 10.9% and $689 million of all goods exported to Belgium from California. Other key Californian exports to Belgium are miscellaneous manufactured commodities and non-electrical machinery. Furthermore, California imports roughly $1.19 billion of goods from Belgium; including, transportation equipment, food, computer and electronic products, and petroleum and coal products. US Department of Commerce
Trade Agreements
Trade Agreements and Issues
Transatlantic Trade and Investment Partnership (TTIP)
Belgium is one of the nations that is currently involved in negotiations for the Transatlantic Trade and Investment Partnership (TTIP) with the rest of the European Union and the United States. The United States and the European Union have a strong bilateral trade relationship totaling $698.7 billion in 2015. A free trade agreement, such as TTIP, desires to strengthen that relationship by eliminating tariffs, aligning compatible regulations to open trade, and furthering trade in the service sector.
Transatlantic Trade and Investment Partnership
USTR Transatlantic Trade and Investment Partnership
Events
Events
Belgium Consul General Reviews Trade/ Investment with CalChamber 2009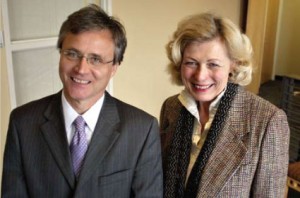 Consul General Geert M. Criel with the Consulate General of Belgium in Los Angeles, visits with Susanne Stirling, CalChamber vice president of international affairs, as part of a February 11 stop in Sacramento to meet with government officials, private sector companies and business associations to discuss trade and investment opportunities. California exports more than $2 billion to Belgium with a 36 percent increase of computer and electronic exports last year.
Key Country Contacts
Resources
CalChamber Resources
Business
Business
Cultural