The People's Voice
California Voters Worried about Their Future
Increasing cost of living and fear of falling further behind add up to California voters apprehensive about their future. The seventh annual CalChamber poll, The People's Voice, 2021, found that voters remain focused on economic security, personal safety, and bread-and-butter issues.
More than 8 of 10 voters report feeling the effects of inflation, with more than a third stating they are buying less because prices are higher. These cost pressures color voter attitudes about general well-being, prospects for the future, and state policies.
Since 2015, more than 8 out of 10 Californians have regularly reported that "earning enough income to enjoy a middle- class lifestyle is becoming almost impossible in my part of California." In 2021, 85% of Californians agreed with that statement.
Voters also report that the American Dream — that if you work hard, you'll get ahead — is fading for them. A majority of voters responded that while the American Dream once held true, it does not anymore, compared with 37% who believe it still holds true. This ratio has flipped in just three years, when a plurality of Californians believed the American Dream still held true.
California Exodus
This anxiety feeds on reports of a California Exodus, and in turn stokes that very impulse.
News and social media have reported anecdotes of high-profile companies leaving the state, as well as the historic slowdown in
California's population growth, fueled in large part by domestic migration of middle- and working-class Californians to opportunities in other states.
Voters are well acquainted with this trend.
Asked if they are aware of "any major employers or businesses leaving your community in recent years to relocate to another state," nearly half of voters statewide, including 59% of voters in the Bay Area, answered "yes."
Some 44% of voters statewide reported that in the past year they knew someone personally who moved out of California because of job loss or cost of living. In the Inland Empire and Central Valley, 58% of voters said they knew someone personally who moved for these reasons.
Continuing a troubling trend, among voters with kids living at home, 62% agree with the statement that "my children would have a better future if they left California." Since 2015, a growing proportion of parents have agreed with this sentiment.
Personal Security
Along with economic insecurity, Californians are concerned about personal security.
Asked about public safety, more than two-thirds of voters say crime in California has increased "some" or "a lot." Eighty-five percent (53% strongly) of voters agree that "homelessness and criminal behavior have become rampant throughout California," and 59% of voters agree with the statement, "I no longer feel safe because of the danger and disorder in society today."
Homelessness remains top-of-mind for Californians. Nearly three-quarters of voters say homelessness has gotten worse in the state, up six points since last year, and 63% say homelessness has gotten worse in their own communities, up seven points since last year.
This pessimism is maybe related to the visibility of the issue. Nearly half of voters report that they see someone homeless on the streets at least five days a week.
Telecommuting
The California economy — and the livelihoods of millions of Californians — survived the worst of the pandemic because thousands of employers implemented work from home arrangements, also known as telecommuting. But devising a telecommuting policy can be complicated and risky because of California's treacherous employment laws. In overwhelming numbers, voters want to change that.
For starters, telecommuting got a big vote of confidence from the electorate. By a 9 to 1 margin, voters support changing labor laws or policies to make it easier for employees to work from home.
They also supported the details.
Nearly 9 of 10 voters support changing overtime requirements to allow an alternative schedule (for example, four 10-hour days or three 12-hour days, instead of a typical five 8-hour days).
More than 8 out of 10 voters supported allowing employees to take the required 10-minute rest breaks any time of their choosing, rather than one break every four hours.
Eighty percent of voters supported allowing employees, at their own choosing, to forgo the required half-hour meal break in exchange for ending their workday a half-hour earlier.
By the same margin, voters supported allowing an employee, at their own choosing, to split their shifts to accommodate personal needs.
Home Ownership/Property Taxes
A majority of Californians believe the housing shortage in California is very significant, up from 35% five years ago. Not surprisingly, younger voters are most emphatic in this belief.
Among voters who are not homeowners, 36% say owning a home is a very high priority, an increase of 10 percentage points since 2016. Another 16% say it is a somewhat high priority, meaning a majority of renters make homeownership a personal priority. Again, younger voters most strongly express this aspiration, as do voters in the Los Angeles region and Central Valley.
When asked if another state offered a greater opportunity for homeownership than California, would you move to improve your ability to purchase a home, a majority of non-homeowners answered "yes." More than two-thirds of renters for whom home ownership is a high priority reported that they would move if another state offered a greater opportunity for homeownership than California.
Integral to the cost of homeownership is the expense of property taxes. Proposition 13 has been a buttress against higher taxes, although special interests, as recently as last year, have attempted to partially remove Proposition 13 protections — so far unsuccessfully.
When voters were asked about their view of the 43-year-old property tax cap, half answered "very favorable," with another third saying "somewhat favorable." The favorability of Proposition 13 has been remarkably consistent over the years, ranging between 80% and 84%, but the 2021 response was the highest ever for the "very favorable" choice.
Climate Change
Californians strongly agree about the importance of addressing climate change, but are not convinced that costly, disruptive policies are the right approach.
Asked whether they agree that "climate change is happening and the state of California must act now," 62% of voters strongly agreed, with another 20% agreeing somewhat. The strong agreement has increased by six percentage points over the past two years. Notably, a majority of California Republicans agree with this sentiment.
When it comes to the two weather phenomena most implicated by climate change, California voters are highly motivated. Addressing the drought and wildfires were top of mind for voters both for legislative attention and budget priority. It's fair to conclude California voters view these issues as existential to their quality of life.
Drought and Water
Asked about the drought in California, three-quarters rated it "very significant," with another 21% saying "somewhat significant."
Four policies garnered between 85% and 90% of voter support: expedited permitting of desalination plants (90%, 51% strongly), expedited permitting of off-stream water storage reservoirs (89%, 42% strongly), voluntary water reductions by residential users and mandatory reductions by other users (86%, 42% strongly) and expedited permitting of recycling plants that treat wastewater into drinking water (85%, 50% strongly).
Even mandatory water rationing for all users was supported by two-thirds of voters, a quarter of them strongly.
Wildfires
When it comes to policy proposals to address climate change effects, the most popular were either directly or indirectly related to wildfire mitigation.
The four policies garnering the highest "strongly support" responses were:
Require homeowners living in fire-prone areas to keep their land clear of flammable brush, upgrade to safe building materials, and create personal evacuation plans (64% strong support).
Modernize the electrical grid and spend more on electrical equipment maintenance (56%).
Allow controlled burning to eliminate the dry underbrush on federal, state, or privately owned land (52%).
Limit future housing development in areas prone to wildfires (40%).
Lifestyle Sacrifices Less Popular
On the other hand, the least popular strategies to address climate change involved personal lifestyle sacrifices. A majority of voters opposed policies that:
Require that any new highway expansion include only carpool or toll lanes (54% opposed).
Ban the sales of automobile engines that run on gasoline or diesel by 2030 (57% opposed).
Increase taxes on gasoline or diesel to discourage use of internal combustion engines (61% opposed).
Discourage people from driving cars by intentionally designing roads to be more congested and not expanding existing highway capacity (78% opposed, 56% strongly).
That each of these very unpopular policies (except the tax increase) is already being implemented in some way speaks to the disconnect between climate change rhetoric and policy implementation by state and local officials.
Aggressive adoption of electric vehicle mandates and inhibition of gasoline- and diesel-fueled cars and trucks will inevitably starve the transportation system off its primary source of revenues, the gasoline and diesel tax.
Voters clearly do not like paying higher gas taxes. But when asked whether California should change the way the state pays for road repair and operation, by replacing the current gasoline tax with a fee based on miles driven, voters supported this approach by a 58% to 42% margin.
Poll Methodology
The CalChamber poll was conducted by Core Decision Analytics and Pierrepont Consulting and Analytics with online interviews from October 9–12, 2021 with 1,003 online inter- views of California 2022 general election voters. The margin of error for this study is +/- 3.09% at the 95% confidence level and larger for subgroups. This is the seventh year CalChamber has published a voter survey.
January 2022
Business Issues Guide
Policy Contact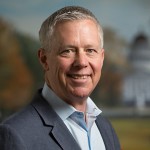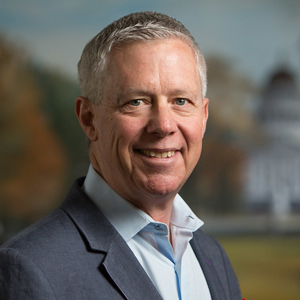 Loren Kaye
President
California Foundation for Commerce and Education