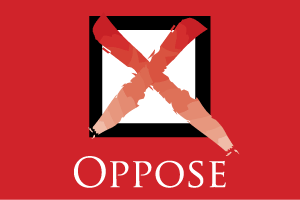 A California Chamber of Commerce-opposed bill that will increase prices at counter-service restaurants and further burden working families faces a vote in the California Senate in the coming days. If the proposal passes out of that house, it will face one final vote in the Assembly as amended in the Senate.
The bill, AB 257 (Holden; D-Pasadena), undermines the existence of the franchise model by holding franchisors responsible for all conduct by individual franchisees. The bill also establishes a Fast Food Sector Council that would have unprecedented authority to write its own labor and employment laws for fast food restaurant employees, circumventing the California Legislature and other regulatory agencies' authority in establishing such laws.
This legislation would apply to a large and incredibly diverse industry. Tens of thousands of restaurants, including coffee shops, ice cream parlors, salad bars, taquerias, delis, pizzerias, bakeries, burger houses and other fast food and quick service restaurants, which employ hundreds of thousands of workers and serve millions of California customers daily, will be impacted.
Raises Costs
In a letter sent to legislators, the CalChamber and a broad coalition of business organizations warned that AB 257 singles out the restaurant industry for the creation of a "sectoral council" that will raise the cost to operate a counter service restaurant in California.
These increased costs will inevitably pass on to consumers at the same time as inflation has pushed up grocery prices by up to 12% over the past year and restaurant prices by nearly 8%. Between skyrocketing food and gas prices, working families can't afford to pay another government-mandated cost increase every time they eat a meal.
But the fiscal burden of this bill doesn't stop there. AB 257 will also cost taxpayers. After conducting a bill analysis in June, the California Department of Finance (DOF) stated it opposed AB 257 given the "significant but unknown ongoing fiscal impact" to convene the Fast Food Sector Council, respond to local Councils, and produce the reports required by the bill. The DOF also pointed out that in addition to these costs, "it is not clear that this bill will accomplish its goal."
State Labor Laws Already Apply to Restaurant Industry
AB 257 is unnecessary because the restaurant industry already must follow California's strict labor laws and high minimum wage. Moreover, the counter service restaurant industry does not flout existing law and does not have disproportional violations compared to other industries that necessitate the creation of a sectoral council, the coalition argued.
In 2021, California's Department of Industrial Relations issued 16 citations to limited-service restaurants, which given the thousands of restaurants in business is well below 1% of the industry. There are other industries (some of which are unionized) that have double or triple the number of citations during this time, and sector councils are not being proposed for those industries, the coalition pointed out.
Additionally, under existing law, franchisors already are liable for a franchisee's violation of labor, employment, wage and hour and worker safety laws where either: 1) the franchisor directly commits or participates in the illegal act; or 2) the franchisor exercises control over the essential terms and conditions of employment such that it is a joint employer.
This comports with the foundational principles of the legal system—that liability should be imposed based on fault.
Empowers Unelected Political Appointees
Under AB 257, the Fast Food Sector Council would have the authority to issue entirely new and different labor, employment, wage and hour, and health and safety standards that apply exclusively to counter-service restaurants, superseding those established by the legislature, the coalition explained in its letter.
This is problematic because it delegates the authority that is reserved to the California Legislature to a council of unelected persons who have no accountability to voters. This means that voters will have no say on laws that affect thousands of businesses and employers throughout the state.
Staff Contact: Ashley Hoffman