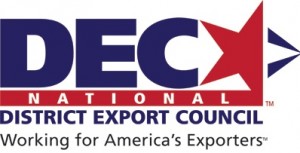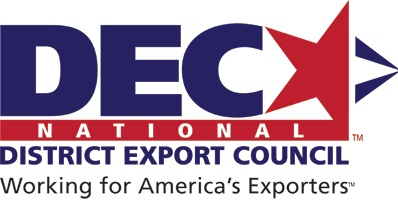 The California Chamber of Commerce was well represented at recent gatherings of export and international trade specialists nationwide in Washington, D.C.
CalChamber Vice President of International Affairs Susanne Stirling attended the 2014 District Export Council (DEC) Forum and the International Trade Symposium, October 1–3. Stirling is a longtime member of the Northern California DEC.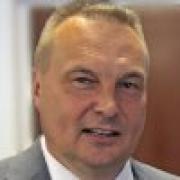 District Export Council
Re-elected as chair during the National DEC meeting was Roy Paulson, a​ CalChamber member and longtime member of the CalChamber Council for International Trade (CCIT). He serves on the Inland Empire DEC and is President of Paulson Manufacturing Corporation in Temecula.
Another longtime CCIT member, Donald Sovie, vice chair of the Southern California DEC, accepted the 2014 award for DEC of the Year. Three of the four California DECs (including the Inland Empire and San Diego) were among the seven nominees for the award.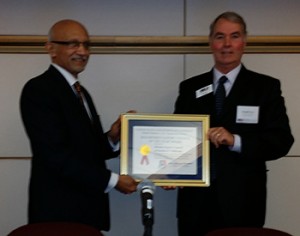 Other highlights of the DEC gathering included:
Welcome remarks by Antwaun Griffin, deputy assistant secretary of the U.S. and Foreign Commercial Service in the U.S. Department of Commerce. He highlighted the National Export Initiative (NEI) "Next". Launched in May, NEI Next is using improved information and a customer-service strategy to help U.S. companies increase exports.
Keynote remarks by Arun Kumar, director general of the U.S. and Foreign Commercial Service (who visited the CalChamber in Sacramento in July).
Panel discussions on DEC best practices and exporting best practices.
Trade Symposium
CalChamber priority issues were on the agenda at the 2014 International Trade Symposium, jointly presented by the National DEC and the U.S. Chamber of Commerce.
Among those priorities were trade issues of importance to U.S. exporters, such as market access, Trade Promotion Authority, Trans-Pacific Partnership, and the Transatlantic Trade and Investment Partnership.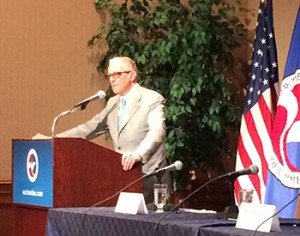 ​Symposium keynote speaker Fred Hochberg, chairman of the Export-Import Bank, highlighted another CalChamber priority, reauthorization of the Ex-Im Bank, the official export credit agency of the United States. He emphasized the need for continued interest in reauthorizing the bank.
Bank funding had been scheduled to end on September 30, but on Thursday, September 18, Congress approved a nine-month extension to June 30, 2015.
Ex-Im Bank enables U.S. companies— large and small— to turn export opportunities into real sales that help to maintain and create U.S. jobs and contribute to a stronger national economy. In 2013, nearly 90% of the Ex-Im transactions were for U.S. small businesses.
Exports Support Jobs
In 2013, U.S. exports hit an all-time record of $2.3 trillion and supported 11.3 million U.S. jobs. According to the most recent figures, almost 305,000 U.S. firms now export a record high and an increase of 28,000 from 2009.
Since 2009, exports have driven nearly a third of economic growth and now account for nearly 14% of the economy.
Jobs supported by exports increased to 11.3 million in 2013, up 1.6 million since 2009. Of these 11.3 million jobs, 7.1 million were supported by goods exports, while services exports supported 4.2 million.
Because roughly 95% of the potential customers for U.S. goods and services live outside U.S. borders, increasing exports will generate critical economic growth.
Multilateral agreements like the Trans-Pacific Partnership and the Transatlantic Trade and Investment Partnership, currently being negotiated, ensure that the United States may continue to gain access to world markets, which will result in an improved economy and additional employment of Americans.
All trade agreements are critical elements of the U.S. strategy to liberalize trade. Passage of the free trade agreements means the elimination of billions of dollars in tariffs for U.S. exports, as well as increased market visibility and benefits to California and the United States as a whole.
Ex-Im Bank supported nearly 400 California exporters for a total of $5 billion in sales in 2013 alone. Since 2009, the bank has supported 1.2 million private sector jobs, 205,000 in 2013 alone.
Global Leader
America's standing as a world leader depends directly upon its competitive success in the global economy. For more than half a century, the United States has led the world in breaking down barriers to trade and in creating a fairer and freer international trading system based on market economics and the rule of law.
Increased market access achieved through trade agreements has played a major role in the nation's success as the world's leading exporter.
The CalChamber supports expansion of international trade and investment, fair and equitable market access for California products abroad, and elimination of disincentives that impede the international competitiveness of California business.
Staff Contact: Susanne Stirling​