Political Action Handbook
Key Strategies for Business Success in State and Local Elections
Included inside CalChamber's Political Action Handbook are the basic nuts and bolts of establishing political action committees, commonly known as "PACs," and Independent Expenditure Committees, commonly known as "IECs." This handbook is intended to provide the basic facts about the formation of these committees and to help you identify which committee may be best suited for your organization's needs.
We have developed this handbook to respond to the many inquiries that we have received from local chamber of commerce executives and business owners throughout the state. Examples include:
How can local chambers of commerce and business organizations be more effective in the election process?
What is a PAC and what is an IEC?
How can forming a PAC and an IEC help us defeat local and state efforts that are harmful to businesses and the local economy?
If these questions sound familiar to you, we hope this handbook will help answer these and many other questions.
Contact the CalChamber Public Affairs Department for more information.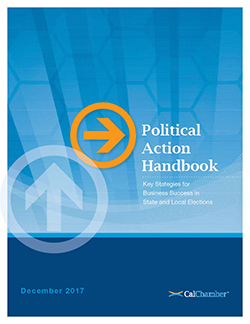 Download Handbook – PDF
(Membership Login Required)