Trading Partner Portal: China
Overview
In May 2017, Chinese President Xi Jinping announced at the Belt and Road Forum for International Cooperation that China will hold a China International Import Expo (CIIE) November 5 – 10, 2018 at the National Exhibition and Convention Center in Shanghai. It is a significant move for the Chinese government to hold CIIE to give firm support to trade liberalization and economic globalization and actively open the Chinese market to the world. It facilitates countries and regions all over the world to strengthen economic cooperation and trade, and to promote global trade and world economic growth in order to make the world economy more open.
The Hosts, the Ministry of Commerce of the People's Republic of China and Shanghai Municipal People's Government are joined by supporters including the World Trade Organization, United Nations Conference on Trade and Development, and United Nations Industrial Development Organization.
The Chinese government is welcoming government officials, business communities, exhibitors and professional purchasers across the world to participate in CIIE and to explore the Chinese market. The  China International Import Expo Bureau National Exhibition and Convention Center (Shanghai) Co., Ltd. would like to work with all countries, regions and international organizations to make CIIE a world-class Expo, providing new channels for countries and regions to do business, strengthen cooperation and promote common prosperity of the world economy and trade. China International Import Expo
Trade Overview

According to the U.S. State Department, China has been one of the world's fastest growing economies over the past several years, and its efforts to reform and modernize have helped transform China into a large trading economy.
U.S.-China trade has risen rapidly over the past several decades. Total trade in goods between the two nations has increased from $4.8 billion in 1980 to $578.6 billion in 2016. U.S. exports to China in 2016 were approximately $115.7 billion.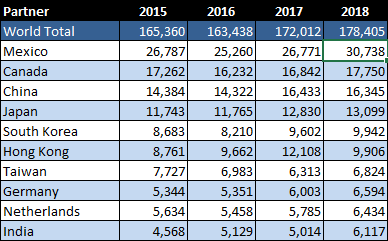 In 2016, China continued as California's 3rd largest export destination, with approximately $14.4 billion in exports. Computer and electronic products accounted for 29.9 percent of exports, totaling $4.3 billion. Transportation equipment brought in $1.7 billion with 11.9 percent and non-electrical machinery brought in $1.6 billion, accounting for 11.4 percent. This was followed by waste and scrap with $1.6 billion and 11.3 percent. U.S. Dept. of Commerce
China was the third fastest-growing source of FDI in the U.S. in 2016, investing $58 billion in the U.S. U.S. FDI into China totaled $92 billion in 2016. Chinese FDI into the U.S. supported 43,800 jobs and contributed $3.5 billion to expanding U.S. exports and another $545 million to research and development. The top industry sectors of Chinese FDI are software and IT services, electronic components, communications, industrial machinery, business services, and auto components. Select USA
Understanding the U.S.-China Trade Relationship
US-China Business Council and Oxford Economics, January 2017
GO-Biz Launches California-China Trade Network
Governor's Office of Business and Economic Development, April 13, 2016
California-China Office of Trade and Investment
Governor's Office of Business and Economic Development
According to a report by the Bay Area Council Economic Institute from 2006 to 2012, U.S. exports to China doubled to $110.5 billion; imports from China increased by nearly 48 percent, to $425.6 billion. The report also noted that China is the no. 2 ranked country for Bay Area businesses abroad, with 795 Bay Area affliliates there.
Characteristics of travelers from China to California – 2014
Visit California
Read more about the importance of U.S.-China Trade Relations
WTO Trade Profile – China
WTO Trade Policy Review – China

Governor's Office Hosts Chinese Delegation Convenes First California-Jiangsu Joint Economic Committee
May 2012
Trade Missions
Trade Missions
2013 China Trade Mission with Governor Brown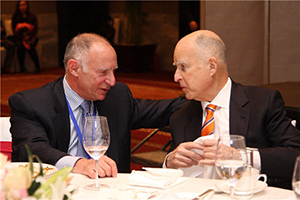 California Chamber of Commerce members joined Governor Edmund G. Brown Jr. in April 2013 on a eight-day mission to China with a goal to expand trade and investment between California and China by identifying opportunities of mutual benefit.
With more investment deals from China than any other state, California is positioned to capture China's growing foreign investment.
The delegation traveled throughout China and opened a California Trade and Investment Office in Shanghai. This is California's first official permanent presence in China in nearly a decade. As ambassadors for California, the delegation took the next step to ensure the state's leading role in attracting Chinese investment.
Governor Brown Leads Successful Trade/Investment Mission to China,
CalChamber Top Story, April 19, 2013
2013 China Trade Mission Information Hub
April 2013 Press Release from Governor's Office
California to Open New Trade and Investment Offices in China
CalChamber, February 21, 2012
2013 Trade Mission Blog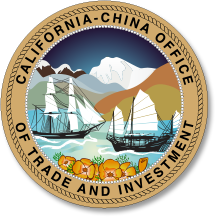 2010 Asia Trade Mission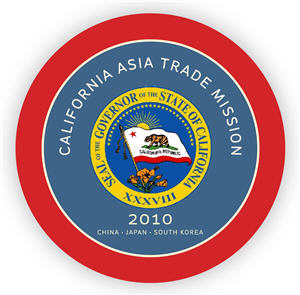 2010 Trade Mission to Asia with Governor Arnold Schwarzenegger
September 9 – 15, 2010
Hangzhou ~ Shanghai ~ Tokyo ~ Seoul
(Click on a city to see the itinerary)
California Business Delegation
CalChamber Joins Governor on Successful Asia Trade Mission
CalChamber, September 21, 2010
2005 China Trade Mission
Strengthening Trade Ties, Building New Opportunities
CalChamber President Allan Zaremberg joined Governor Arnold Schwarzenegger, members of the press and other members of the business delegation six-day trade mission to China to market California agriculture, encourage tourism, discuss intellectual property rights and promote business investment in the state.
"The business and trade mission to mainland China led by Governor Schwarzenegger will serve to strengthen ties and increase economic opportunitiesin the world's largest marketplace of 1.2billion people," said Susanne Stirling, vice president of international affairs for the Chamber and member of the business delegation.
Related Artices:
Events
Events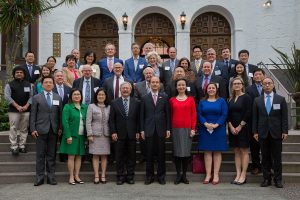 Dinner Celebrates U.S.-China Trade Relations
(April 18, 2017) A dinner hosted by Chinese Consul General, Ambassador Luo Linquan last week celebrated recent trade talks between President Donald Trump and Chinese President Xi Jinping.
Trump and Jinping agreed on a new 100-day plan for trade talks that will boost U.S. exports and reduce the United States' trade deficit with China. See a PowerPoint on China's economic performance from the event.
Read the Full Story
CalChamber Welcomes Visitors from Consulate General of China in San Francisco
On Wednesday, October 19, The Honorable Mengyuan (Mary) Hao, Vice Consul and The Honorable Yihang Yang, Economic and Commercial Counselor visited the CalChamber offices from the the Consulate General of China in San Francisco.
China Round-Table Dinner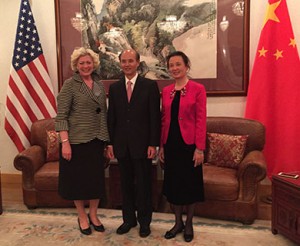 On April 5, 2016 the Consul General of China in San Francisco, Ambassador Luo Linquan hosted a friendly "round-table" dinner to promote China-California relations. Mrs. Susanne Stirling, the CalChamber Vice President of International Affairs, attended the dinner together with other business and chamber representatives, and special guest Mayor Ed Lee to discuss the future of U.S.-China economic and business cooperation.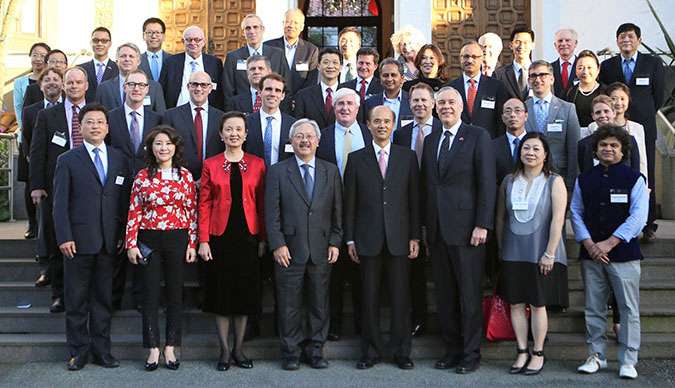 CalChamber Forum Gets Preview of Topics for U.S.-China Summit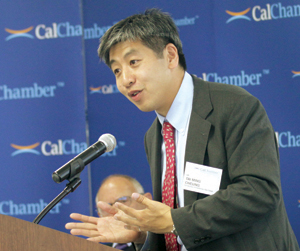 (June 4, 2013) China's quest to become a global science, technology and innovation leader was the subject of an international forum yesterday hosted by the California Chamber of Commerce and the California Council on Science and Technology. Dr. Tai Ming Cheung, director of the Institute on Global Conflict and Cooperation (IGCC) at the University of California, San Diego, touched on many topics that will be discussed later this week in Rancho Mirage, California when U.S. President Barack Obama and Chinese President Xi Jinping meet. Top Story
Dr. Tai Ming Cheung, director of the Institute on Global Conflict and Cooperation (IGCC) at the University of California, San Diego.
CalChamber President, Chinese Vice Minister: Foster Strong Ties Between California and China
(July 24, 2012) Fostering business and cultural relationships between the California business community and China was the focus when Chinese Vice Minister of Commerce Wang Chao and his delegation gathered at the California Chamber of Commerce International Luncheon Forum yesterday. Read the Full Story
Chinese Vice Minister of Commerce Wang Chao (left) and CalChamber President and CEO Allan Zaremberg.
(December 20, 2012) Mr. Rongquiang Yu visited with Mrs. Susanne Stirling of the California Chamber of Commerce.
They discussed several China – California trade issues, as well as Mr. Yu's connections with the Chambers of commerce in Quinghai Province and Shandong Province, China.
Chinese Delegation Visits CalChamber
(June 20, 2012) A courtesy call was made by the San Francisco Chinese Consulate General on Wednesday, June 20, 2012, to discuss State – Province Cooperation between California and Chinese provinces, as well as, to introduce key members of the Chinese Enterprise Association – California

Key Country Contacts
Resources
CalChamber Resources
Business
Cultural