Job Killers
2016 Job Killer List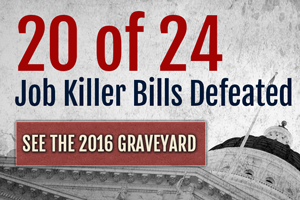 The California Chamber of Commerce released a preliminary list of job killer bills on March 29 to call attention to the negative impact that 18 proposed measures would have on California's job climate and economic recovery if they were to become law. Six more job killer bills were subsequently identified, bringing the total to 24.
CalChamber will periodically release job killer watch updates as legislation changes.
Readers are encouraged to track the current status of the "job killer" list on www.cajobkillers.com or by following @CAJobKillers on Twitter.
Overview
Each year the California Chamber of Commerce releases a list of job killer bills to identify legislation that will decimate economic and job growth in California. The CalChamber tracks the bills throughout the rest of the legislative session and works to educate legislators about the serious consequences these bills will have on the state.
Recent News
Previous Years