Job Killers
2017 Job Killer List
The California Chamber of Commerce identified four job killer bills on January 13 to call attention to the negative impact that the proposed measures would have on California's job climate and economic recovery if they were to become law. Two more job killer bills were subsequently identified, bringing the total to six.
CalChamber will periodically release job killer watch updates as legislation changes.
"These job killer bills represent the worst of the worst legislative proposals currently under consideration by lawmakers," said CalChamber President and CEO Allan Zaremberg. "As everyone knows, California has areas that are booming economically and other areas that are stagnating. Each part of California has unique problems and these job killers will negatively impact future economic growth. Whether they create barriers to providing affordable housing for workers, or increase costs for companies trying to grow or stay in business, these job killer bills should not become law."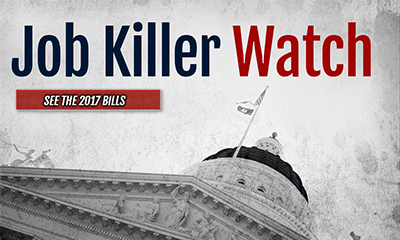 Readers are encouraged to track the current status of the job killer list on www.cajobkillers.com or by following @CAJobKillers on Twitter.
Overview
Each year the California Chamber of Commerce releases a list of job killer bills to identify legislation that will decimate economic and job growth in California. The CalChamber tracks the bills throughout the rest of the legislative session and works to educate legislators about the serious consequences these bills will have on the state.
Related News
Previous Years