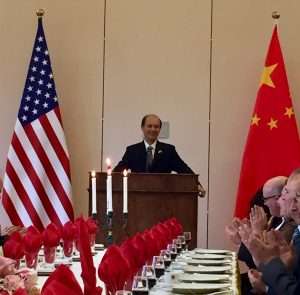 A dinner hosted by Chinese Consul General, Ambassador Luo Linquan last week celebrated recent trade talks between President Donald Trump and Chinese President Xi Jinping.
Trump and Jinping agreed on a new 100-day plan for trade talks that will boost U.S. exports and reduce the United States' trade deficit with China.
The Consulate-General of the People's Republic of China in San Francisco, which also has responsibility for Nevada, Oregon, Washington and Alaska, covers 35% of U.S. trade with China.
Attending the April 11 dinner were 30 Northern California government and business leaders. Several California Chamber of Commerce member companies were represented, in addition to Susanne Stirling, vice president of International Affairs for the CalChamber.
Guest Speakers
Following a welcome by Ambassador Linquan and a California-China economic report by Yihang Yang, economic and commercial counselor, San Francisco Mayor Ed Lee added his welcome. Panorea Avdis, director of the Governor's Office of Business and Economic Development (GO-Biz), further emphasized the importance of the California-China relationship.
Tom Larkins, Applied Materials, spoke of his company's foray into China. Senior Vice President Dr. Fariba E Alamdari, Boeing, addressed China's need over the next 20 years for 7,000 airplanes, valued at $1 trillion.
Trade Relationship
According to the U.S. State Department, China has been one of the world's fastest-growing economies over the last several years, and its efforts to reform and modernize have helped transform China into a large trading economy. U.S.-China trade has risen rapidly over the past several decades. Total trade in goods between the two nations has increased from $4.8 billion in 1980 to $578.6 billion in 2016. U.S. exports to China in 2016 were approximately $115.7 billion.
In 2016, China continued as California's third largest export destination, with approximately $14.4 billion in exports. Computer and electronic products accounted for 29.9% of exports, totaling $4.3 billion. Transportation equipment brought in $1.7 billion (11.9%) and nonelectrical machinery brought in $1.6 billion, accounting for 11.4%. This was followed by waste and scrap with $1.6 billion, 11.3% of exports.