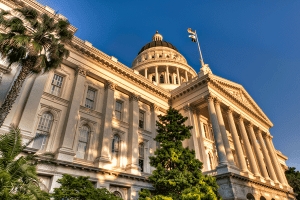 Governor Gavin Newsom laid down his lawmaking pen Friday night after signing 890 new laws into effect, and vetoing another 156, including three California Chamber of Commerce job killer bills.
The CalChamber tracked more than 700 bills this year, formally opposing more than 100. Most of the legislation the CalChamber opposed was either stopped or amended to address concerns.
Out of 19 job killer bills identified this year, the Legislature sent seven to the Governor, who signed four of those bills into law. At the urging of the CalChamber, the Governor rejected three job killer bills.
In one of labor's major defeats of the year, the CalChamber led a large coalition to secure a veto of SB 799 (Portantino; D-Burbank), which would have provided unemployment compensation to striking workers. The Governor also vetoed several other onerous labor-supported bills, including SB  627 (Smallwood-Cuevas; D-Los Angeles), setting a stringent recall process for certain employers to return former employees to the workforce; AB 1356 (Haney; D-San Francisco), a WARN Act expansion; and SB 725 (Smallwood-Cuevas; D-Los Angeles), requiring grocery stores to pay mandatory severance. He also vetoed a plaintiff attorney-sponsored bill, AB 524 (Wicks), which would have subjected employers, especially small employers, to litigation.
Below is a sampling of the CalChamber priority bills that were either stopped or signed into law.
Job Killer Bills
The Governor signed the following job killer bills:
The Governor vetoed the following bills:
Oppose Bills
The following CalChamber-opposed bills were vetoed:
Water-Related Opposed Bills
The following opposed bills were defeated for the year, but may be brought up again in 2024:
Amended Bills
CalChamber opposition to the following proposals were removed after amendments were made to the bills. The Governor signed both bills:
Support Bills
The following CalChamber-supported bills have been signed: