A California Chamber of Commerce-opposed job killer bill that would charge employers to provide unemployment insurance (UI) compensation to striking employees during labor disputes awaits action in the state Senate next month. AB 1066
[...]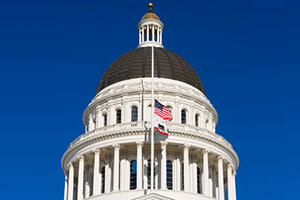 When legislators began their summer recess last week, the ultimate outcome on many priority business issues remained uncertain.
[...]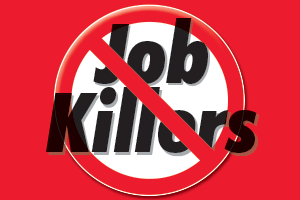 Five job killer bills that will significantly increase costs for California businesses continued to move through the legislative process as lawmakers headed home for the summer recess last week. This year, the California Chamber
[...]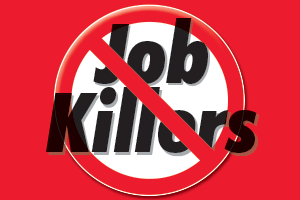 Identical job killer bills that will substantially disrupt the state's economy by placing an overly broad, unrealistic source reduction, recyclability and compostable mandate on virtually all manufacturers of single-use packaging used in California are
[...]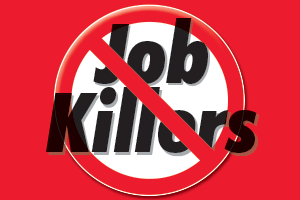 Legislation that threatens water supply reliability for millions of Californians passed the Assembly Environmental Safety and Toxic Materials Committee on Tuesday. The California Chamber of Commerce has labeled SB 1 (Atkins; D-San Diego) as
[...]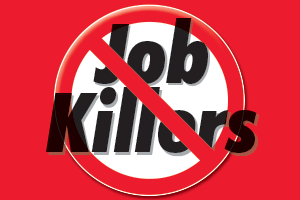 Opposition from the California Chamber of Commerce and allied groups has stopped a number of job killer bills in recent weeks while amendments have removed the most onerous aspects of other job killer bills.
[...]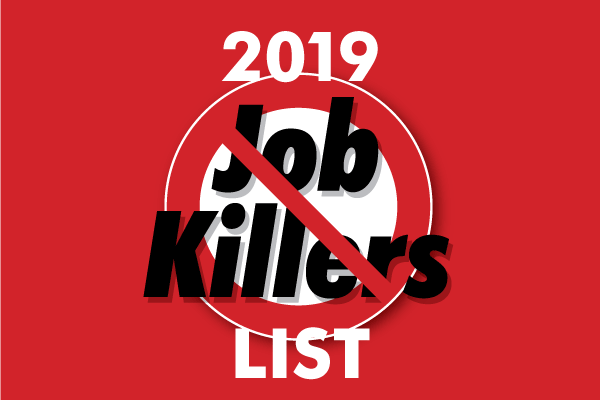 SACRAMENTO, CA — The California Chamber of Commerce today added three more bills to its Job Killer list. The new additions to the list are: AB 1080 (Gonzalez; D-San Diego) Unprecedented Product Regulation In California  — Would
[...]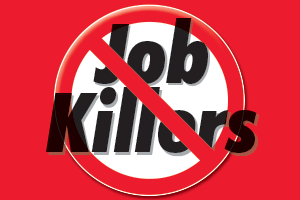 Strong opposition from the California Chamber of Commerce and its pro-jobs allies prevented four job killer bills from advancing beyond legislative fiscal committees yesterday. The CalChamber is pleased that lawmakers recognized the detrimental impact
[...]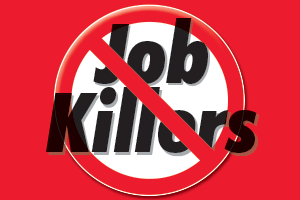 The fate of 12 bills identified by the California Chamber of Commerce as job killers depends on decisions today by fiscal committees in the Assembly and Senate. The Assembly and Senate Appropriations committees face
[...]
CalChamber has released its 9th episode of The Workplace, a podcast on issues important to California employers and our economy.  The subject of this week's episode is proposed legislation that threatens to establish new challenges
[...]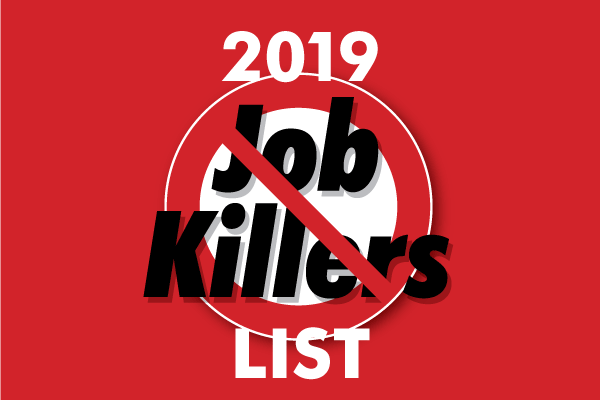 The California Chamber of Commerce yesterday added four more bills to its Job Killer list, bringing the total number of bills to 28. The new additions to the list are: AB 345 (Muratsuchi; D-Torrance)
[...]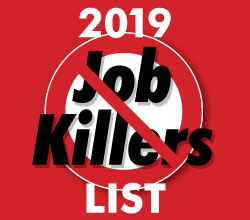 An Assembly policy committee this week postponed action on a cosmetic product ban identified by the California Chamber of Commerce as a job killer. The ban will hurt California manufacturers, retailers, and the more
[...]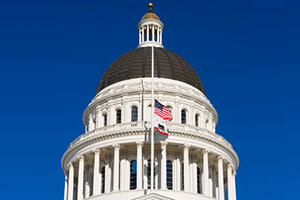 Several California Chamber of Commerce-opposed Job Killer bills are set for policy committee hearings this week. CalChamber is urging businesses to contact their legislators and urge them to oppose these bills. For the majority
[...]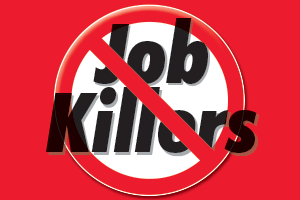 The California Chamber of Commerce yesterday released its annual Job Killer list, which includes 24 bills that would harm California's economic growth and job creation should they become law. "These bills represent some of
[...]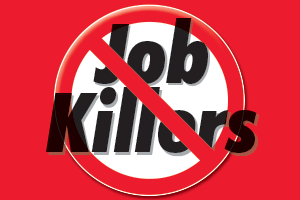 The California Chamber of Commerce today announced its first identified job killer of 2019 — AB 51 (Gonzalez; D-San Diego). The bill, which is scheduled for hearing on March 6 in the Assembly Labor and
[...]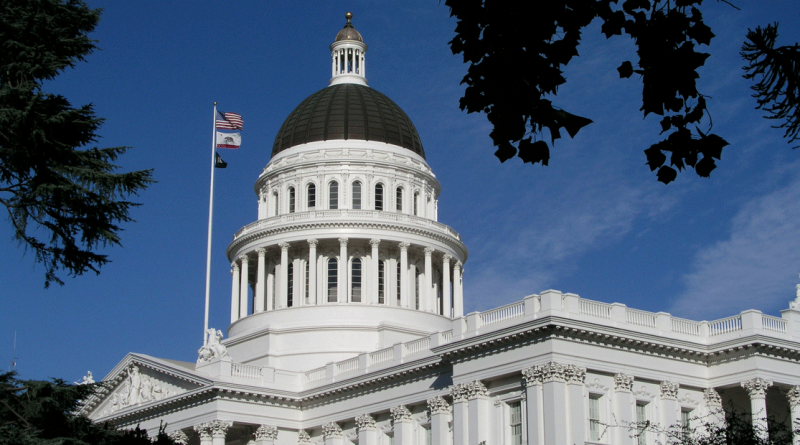 Stops All 29 Job Killer Bills The 2018 legislative session was especially busy for the California Chamber of Commerce policy advocates. CalChamber policy advocates, together with members, allied associations and local chambers of commerce,
[...]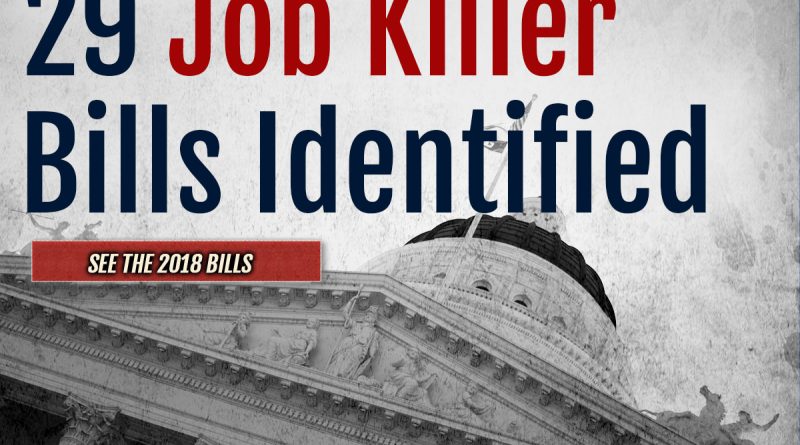 AB 3080 Would Have Banned Arbitration Agreements Beneficial to Employees, Employers, Courts The last CalChamber identified Job Killer bill of the 2017-2018 Legislative Session, AB 3080 (Gonzalez Fletcher), has been vetoed by Governor Edmund
[...]
AB 3080 Would Have Banned Arbitration Agreements Beneficial to Employees, Employers, Courts SACRAMENTO, CA – The last CalChamber identified Job Killer bill of the 2017-2018 Legislative Session, AB 3080 (Gonzalez Fletcher), has been vetoed
[...]
The following list summarizes top priority bills for the California Chamber of Commerce and their status as of August 31, when the Legislature began its final recess. Within each subject area, the list presents
[...]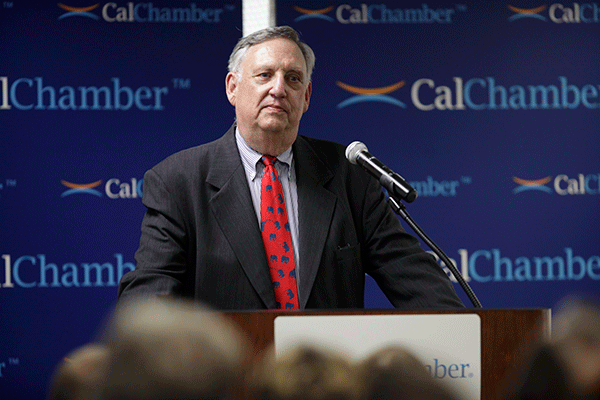 The just-ended biennial session of the California Legislature was arguably the most liberal in California. Dan Walters in CALmatters.org
[...]