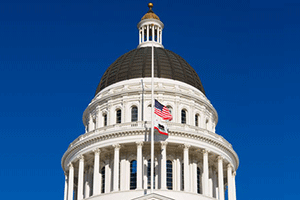 California legislators yesterday approved six bills designated by the California Chamber of Commerce as job killers, which will increase labor costs and create more liability for employers.
Legislators also approved a number of harmful bills, including two California constitutional amendment proposals that will make it easier to raise taxes on Californians. The proposals, ACA 1 and ACA 13, will appear before California voters on the 2024 ballot.
Two CalChamber-supported bills, SB 326 (Eggman; D-Stockton) and AB 531 (Irwin; D-Thousand Oaks), were approved and now await the Governor's decision. These bills will help transform California's behavioral health care system and provide the resources needed to care for and house those with the most severe mental health needs and substance use disorders.
Governor Gavin Newsom has until October 14 to sign or veto bills passed by the Legislature in the closing days of the session.
Job Killer Bills
The following job killer bills were sent to the Governor's desk:
Former Job Killers
Two former job killer bills also passed:
Opposed Bills
Some of the CalChamber-opposed bills passed by the Legislature include:
CalChamber-Supported Bills
The following are some of the CalChamber-supported bills that were passed: