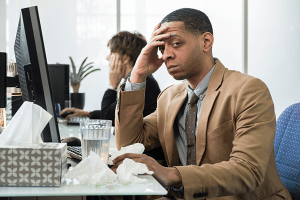 After COVID-19 dominated our lives for the last few years, other highly contagious respiratory illnesses — like colds, flus and respiratory syncytial virus (RSV) — are hitting California hard. Since influenza season tends to start in October and then peak between December and February, the flu and other respiratory illnesses could still hit both businesses and employees especially hard — and some employers may be wondering if they can do anything to potentially help reduce workers' exposure.
The U.S. Centers for Disease Control and Prevention (CDC) shows that in California, the number of visits for respiratory illnesses that includes fever plus a cough or sore throat are at a very high activity level — and it's straining California's hospitals. Already, the CDC estimates that between October 1 and November 19, there've been between 6.2 million and 14 million flu cases.
Employers are obligated to provide a safe and healthy workplace, and businesses can prepare to handle this flu season by:
Encouraging employees to stay home when they're sick;
Providing resources and a work environment that promotes preventative actions to reduce the spread of the flu (e.g., tissues, hand sanitizer and no-touch trash cans); and
Encouraging respiratory etiquette by reminding employees to cover coughs and sneezes with tissues and wash their hands frequently.
The best way to reduce your risk — and your employees' — from the flu and its potentially serious complications is to get vaccinated each year, according to the CDC, which recommends that employers consider offering free onsite flu vaccinations and encourage their employees to be vaccinated. Employers need to be careful though — while they can encourage and promote flu vaccinations, in most circumstances, they cannot make them mandatory for employees.
Mandatory flu shot policies most likely affect health care workers, but employees may have objections to the flu shot for medical or religious reasons, and employers must accommodate any such exemptions. Over the last few years, the U.S. Equal Employment Opportunity Commission (EEOC) has settled several religious discrimination lawsuits when employers have refused to grant religious-based exemptions from a mandatory flu shot requirement. For instance, one hospital paid $75,000 for refusing to hire a medical transcriptionist whose sincerely held religious beliefs required her to forgo vaccinations.CDC
Employers with questions regarding setting up flu vaccination programs should consultflukatie legal counsel.
Katie Culliton, Editor, CalChamber
CalChamber members can read more about Paid Sick Leave in the HR Library. See what being a CalChamber member can do for you; for instance, CalChamber members receive special pricing from Occuvax.