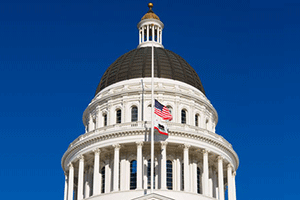 California's legislative session in 2022 was quite active and Governor Gavin Newsom signed numerous bills into law that will have a broad impact on all California businesses in 2023. The courts and regulatory agencies were equally active in issuing rulings and setting standards that also will affect employers, with workplace safety related to COVID-19 remaining a priority.
Learn about how these recent laws, regulations and court decisions will impact your business in the new year from CalChamber's top legal experts. The 2023 Employment Law Updates Seminar will cover:
Mandatory bereavement leave;
Pay scale requirements on job recruitment materials;
Pay data reporting changes;
The future of COVID-19 workplace safety regulations;
Updates to California Family Rights Act (CFRA) and CA paid sick leave eligibility;
New marijuana drug testing rules;
How the California Privacy Rights Act (CPRA) impacts employee data;
Relevant court cases from 2022 impacting all employers and cases to watch on the horizon;
Poster and pamphlet changes; and
Best practices
This year, the 2023 Employment Law Updates seminars will be offered in two formats: three online virtual events and two in-person seminars.
Virtual Seminars
The 2023 Employment Law Updates virtual seminars will run on:
January 6, 2023: 9:00 a.m. to 12:30 p.m. PT
January 10, 2023: 9:00 a.m. to 12:30 p.m. PT
January 24, 2023: 9:00 a.m. to 12:30 p.m. PT
These virtual seminars will not be recorded, so be sure to attend the live training. Downloadable seminar slides and supplemental training material will be provided. Participants will be able to submit questions during the seminar.
In-Person Events
The in-person seminars, back for the first time since 2020,  will be held on:
January 12, 2023, in Sacramento: 9:00 a.m. to 12:30 p.m. PT
January 19, 2023, in Costa Mesa: 9:00 a.m. to 12:30 p.m. PT
The in-person events are held in a conversational, interactive format that allows attendees to raise questions throughout the seminar, providing an opportunity for attendees to learn from the experiences of colleagues, as well as the seminar presenters. Copies of seminar slides, plus supplemental materials on important cases and new laws will be provided.
For more information or to register, visit the CalChamber Store.