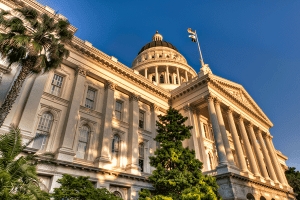 In the final hours of the legislative session, CalChamber advocates and a large coalition of allies were successful in stopping a last minute climate-related job killing bill and ensuring passage of a bill to relicense the Diablo Canyon Nuclear Power Plant. A CalChamber-identified job killer bill, SB 1137, which hampers oil and gas development jeopardizing thousands of high-paying jobs, moved to the Governor's desk over a huge outpouring of opposition by a diverse coalition of Californians.
Job Killer AB 2133 Stopped
AB 2133 (Quirk; D-Hayward) was an attempt to arbitrarily change the State's greenhouse gas reduction goal from 40% of 1990 levels by 2030 to 55%. In the final week of the legislative session the bill was gutted and amended to undermine the existing public and transparent process underway at the California Air Resources Board (CARB) where hundreds of stakeholders have been engaged in a months-long inclusive Scoping Plan review.
CalChamber President and CEO Jennifer Barrera expressed appreciation for all who worked tirelessly to educate lawmakers on the pitfalls of the proposal.
"AB 2133 posed a serious threat to California's economy through increased costs for businesses and consumers and would likely have forced 17 million gas powered cars off the road according to state estimates. We are grateful to those legislators who were courageous in voting against this proposal," she said.
Bill to Re-license Diablo Canyon Goes to Governor
In other good news, in the final hours of session, legislators passed and sent to the Governor a CalChamber-supported bill, SB 846 (Dodd; D-Napa) that provides the mechanism to re-license the Diablo Canyon Nuclear Power Plant (DCPP).  The bill will ensure a source of essential carbon-free electricity to California.
"The need to ensure reliability—and the unacceptable consequences of not having enough electricity available at the right time of day—makes the operations extension of DCPP an obvious short-term solution to a possible power shortfall, said Barrera.
SB 846 extends for a limited time the operation of the Diablo Canyon Nuclear Power Plant, which supplies 8.6% of California's total electricity supply and 17% of the state's carbon-free electricity supply. It ensures supply reliability and safeguards residential health and safety, as well as investment in new industries that depend on a reliable electricity supply.
In a letter sent to legislators on August 30, the CalChamber pointed out that with the well-known difficulties in the supply chain, project permitting, and the availability of new technologies, many in the business community are deeply concerned that the electricity generation resources later this decade will not keep up with anticipated load growth and necessary power reserves.
Job Killer Moves to Governor
Over the objections of a huge and diverse coalition of concerned Californians, SB 1137 (Lena Gonzalez; D-Long Beach), a CalChamber-identified job killer bill that will hamper oil and gas development in the state was passed by lawmakers. The bill is expected to be signed into law by Governor Gavin Newsom.
In a statement released this morning, Barrera expressed concern about the consequences of SB 1137 becoming law.
"SB 1137 was passed by lawmakers over the objections of a large and diverse coalition of Californians. This policy will not not only kill an estimated 8,000 jobs in the state, it will drive oil production out of California and force us to rely on even more foreign oil imports that are produced in locations with less environmental and human rights protections than California. We are tremendously concerned about the fact that SB 1137 threatens the state with up to $4 billion in lost revenue and poses a significant risk of legal liability under the takings clause of the U.S. Constitution," she said.