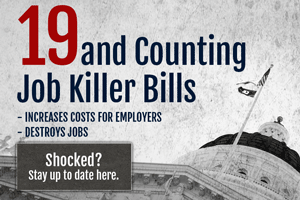 Legislation to require warnings on certain sugar-sweetened beverages sold in California fell short of votes needed to pass the Senate Health Committee this week.
The California Chamber of Commerce opposed SB 203 (Monning; D-Carmel) as a "job killer" because it would have exposed beverage manufacturers and food retailers to lawsuits, fines and penalties based on state-only labeling requirements for sugar-sweetened drinks.
SB 203 would have required certain beverages to contain this warning: "STATE OF CALIFORNIA SAFETY WARNING: Drinking beverages with added sugar(s) contributes to obesity, diabetes, and tooth decay."
The bill was very specific about the size of type, placement of warning and characters per linear inch on each product according to the amount of beverage contained. Vending machines, self-serve dispensers and sit-down restaurants all were to provide the warning.
SB 203 would have exposed manufacturers and retailers of sweetened beverages to significant liability. Consumers would have been able to sue for a violation of the labeling requirement under California's Unfair Competition Law. A business therefore could have incurred a civil penalty of up to $500, and also would have had to defend itself against lawsuits.
It is conceivable that a class action lawsuit would have been filed based on the assertion that consuming sugar-sweetened beverages contributes to a person's obesity, diabetes and tooth decay, and that companies would be held liable for millions of dollars of awards for a person's choice to consume the beverage.
Manufacturers make and sell products nationwide and globally. SB 203 would have unfairly burdened companies with the requirement to label products specially for the California market. Small ethnic businesses would have been particularly vulnerable as more of their profits are from products made in other countries whose manufacturers might have chosen not to do a label just for the California market.
Key Vote
The April 29 vote in Senate Health was 4-1, one short of the aye votes needed for the bill to pass:
Ayes: Mitchell (D-Los Angeles), Monning (D-Carmel), Pan (D-Sacramento), Wolk (D-Davis).
Noes: Nielsen (R-Gerber).
No vote recorded: Hernandez (D-West Covina), Nguyen (R-Garden Grove), Hall (D-Los Angeles), Roth (D-Riverside).
Staff Contact: Valerie Nera​