Trading Partner Portal: Panama
Overview
Trade Overview

Panama is an emerging Central American economy that is shaping to be a beneficial trading partner for California. The U.S. is one of Panama's most important trading partners, importing almost 50% of Panamanian goods, and U.S. products enjoy a high degree of acceptance in Panama.
Panama has historically served as the crossroads of trade for the Americas.  Its strategic location as a bridge between two oceans and the meeting of two continents has made Panama not only a maritime and air transport hub, but also an international trading, banking, and services center.
Panama's is enhancing its global and regional prominence through trade liberalization and privatization and it is participating actively in the hemispheric movement toward free trade agreements. Panama's dollar-based economy offers low inflation in comparison with neighboring countries and zero foreign exchange risk. Its government is stable and democratic and actively seeks foreign investment in all sectors, especially services, tourism and retirement properties (U.S. Department of Commerce).
With a population of 4.35 million and a GDP of $63.61 billion in 2021, roughly 80 percent of Panama's GDP is created within its services sector. Operation of the Panama Canal, the banking industry, container ports, and medical and health are the largest factors of this service economy. U.S. Department of State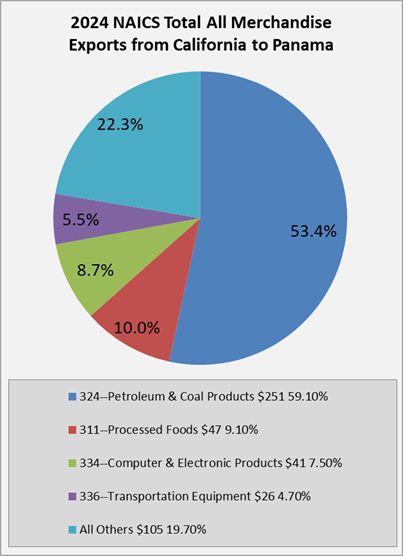 In 2022, the United States exported $12 billion to Panama, an increase from $8 billion in 2021. Top exports included petroleum & coal, oil and gas, transportation equipment, processed foods, and chemicals. Panama is currently the U.S.'s 31st export partner. The United States imports $523 million from Panama including re-imports, fish, waste and scrap, processed foods, and agricultural products. U.S. Department of State
In 2022, Panama was California's 28th largest export partner, up from 45th in 2021. Panama imported $891 million worth of goods in 2022, an increase from $332 million in 2021. Top categories included petroleum and coal products ($684 million), processed foods ($49 million), computer and electronic products ($32 million), and chemicals ($28 million). California imported approximately $54 million from Panama in 2022. Top imports included processed foods, reimports, agricultural products, and fish and other marine products. U.S. Department of Commerce
U.S. FDI into Panama totaled $3.4 billion in 2021, and FDI from Panama into the U.S. totaled $510 million in the same year (Bureau of Economic Analysis).
Preliminary Overview of the Economies of Latin America and the Caribbean
ECLAC, December 2019
Trade Agreements
Trade Agreements
Yes, Really: It's Time to Revive Hemispheric Trade Talks
Latin Trade, August 6, 2020
U.S.-Panama Free Trade Agreement
UPDATE
The California Chamber of Commerce supported US-Panama Trade Promotion Agreement went into effect on October 31, 2012. The agreement significantly increases the ability of American companies to export their products to one of Latin America's fastest-growing economies, while dramatically reducing the tariff rates across the range of US industrial and agricultural goods.
United States, Panama Set Date for Entry into Force of United States-Panama Trade Promotion Agreement
U.S. Trade Representative, October 22, 2012
---
In June 2007, the United States and Panama signed a Free Trade Agreement (also referred to as a Trade Promotion Agreement). The Panamanian government approved the FTA in 2007.
On October 12, 2011, the US House passed the FTA with a vote of 300 – 129 and the US Senate passed the measure with a vote of 77-22.
U.S. – Panama FTA:2011
Final Votes
House: 300 Ayes – 129 Noes
Senate: 77 Ayes – 22 Noes
California Delegation:
Ayes: Becerra, Berman, Bilbray, Bono Mack, Calvert, Campbell, Cardoza, Costa, Davis, Denham, Dreier, Eshoo, Farr, Gallegly, Herger, Hunter, Issa, Lewis, Lungren, Matsui, McCarthy, McClintock, McKeon, Miller, Nunes, Pelosi, Rohrabacher, Royce, Schiff, Thompson, Waxman, Feinstein
Noes: Baca, Bass, Capps, Chu, Filner, Garamendi, Honda, Lee, Lofgren, McNerney, Miller, Napolitano, Richardson, Roybal-Allard, Sanchez (Linda), Sanchez (Loretta), Sherman, Speier, Stark, Waters, Woolsey, Boxer
On Friday, October 21, 2011, the President signed into law: H.R. 3079, the "United States-Panama Trade Promotion Agreement Implementation Act"
Presidential Proclamation – Implementation of the United States-Panama Trade Promotion Agreement
Per the U.S. Department of Commerce, International Trade Administration, the U.S.-Panama FTA offers tremendous opportunities for California's exporters. Panama's strategic location as a major shipping route and the massive project underway to expand the capacity of the Panama Canal enhance the importance of the U.S.-Panama FTA for California's exporters.
The Agreement guarantees expanded access for U.S. manufactured and agricultural products, as well as to Panama's $22 billion services market, including in priority areas such as telecommunications, computer, distribution, express delivery, energy, environmental, and professional services.
The U.S.‐Panama TPA is expected to increase U.S. exports to Panama by removing or reducing trade barriers in the Panamanian market and by leveling the tariff playing field. Ninety‐eight percent of Panama's exports to the United States entered duty‐free in 2010, while fewer than 40 percent of U.S. goods entered Panama without tariffs.
According to the USTR, Panama will eliminate tariffs on more than 86 percent of U.S. industrial and consumer goods. Almost half of U.S. agricultural goods, which currently face average tariffs of 15 percent, will immediately become duty-free. All tariffs on industrial goods will be eliminated within 10 years, and most of the remaining tariffs on agricultural goods will be eliminated over the next 15 years. Panama is one of the fastest growing economies in Latin America, expanding 10.6 percent in 2011, with forecasts of between five to eight percent annual growth through 2017.
CalChamber Position
The California Chamber of Commerce, in keeping with long-standing policy, enthusiastically supports free trade worldwide, expansion of international trade and investment, fair and equitable market access for California products abroad and elimination of disincentives that impede the international competitiveness of California business. New multilateral, sectoral and regional trade agreements ensure that the United States may continue to gain access to world markets, resulting in an improved economy and additional employment of Americans.
The Trade Agreement is a critical element of the US National Export Initiative (NEI) and strategy to liberalize trade through multilateral, regional and bilateral initiatives. Further, the Agreement will increase momentum toward lowering trade barriers and set a positive example for other small economies in the Western Hemisphere.
Events
Events
CalChamber Meeting Highlights Need to Pass U.S. – Panama FTA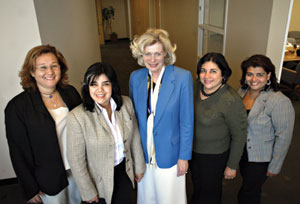 (March 26, 2009)The pending U.S.-Panama Free Trade Agreement (FTA) was among the many topics discussed on March 26 when a delegation from Panama, led by Minister of Commerce Cristina Torres, visited the California Chamber of Commerce.
Key Country Contacts
Resources
Business
Business
Cultural
Cultural/Educational