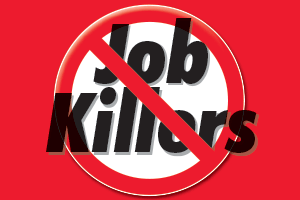 Governor Gavin Newsom has signed a California Chamber of Commerce job killer bill that will impose significant costs on all California businesses by increasing the number of paid sick days employers are required to provide workers.
SB 616 (Gonzalez; D-Long Beach) disproportionally affects small businesses, which cannot spread additional work among many employees, and can ill afford the increased cost of additional paid sick leave days.
In a statement yesterday, CalChamber President and CEO Jennifer Barrera said many businesses in California already provide more than three days of paid sick leave and can afford to do so. Small businesses, however, operate on very slim margins.
"Our concern is that far too many small employers simply cannot absorb this new cost, especially when viewed in context of all of California's other leaves and paid benefits, and they will have to reduce jobs, cut wages, or raise consumer prices to deal with this mandate," she said. "Small businesses are crucial to our local communities and the overall success of our economy. Continuing to add costs to their price of doing business creates a threat to California's long-term competitiveness."
Expansion to 5 Paid Sick Days
SB 616 amends the Healthy Workplaces, Healthy Families Act to increase the number of paid sick leave days afforded to employees from three to five.
While one more paid benefit may not seem significant in isolation, many employers will view this additional requirement in the context of the many other leaves and paid workplace benefits mandated by California. SB 616 adds to the proliferation of often overlapping leaves approved by California's elected leaders.
Small Business in 'Survival Mode'
Many businesses in California that can afford to offer more than three days of sick leave are doing so, but many other employers will find it difficult to absorb that cost. According to the San Francisco Chronicle, many small businesses are "in survival mode" as they reel from the financial impacts of COVID-19 and rising inflation.
The new mandate will take effect even as existing problems with the usage of paid sick leave have become known. Specifically, the Healthy Workplaces, Healthy Families Act prohibits employers from requiring documentation when sick leave is used, even though local ordinances such as in Los Angeles and San Diego allow employers to ask for reasonable documentation.
Employers have discovered employees using paid sick leave for non-sick leave-related purposes, but there is nothing they can do because otherwise the employers face an alleged violation for interfering with or discouraging the use of leave.
SB 616 will increase labor costs and these increases will inevitably either be passed on to consumers as higher prices for goods and services, or force employers to reduce jobs.