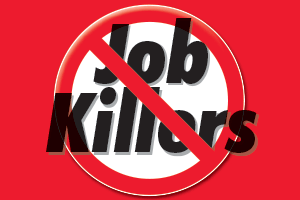 Six California Chamber of Commerce job killer bills that threaten jobs and, if passed, will increase the cost of doing business in California remained active as state legislators headed home for the summer recess last week.
Two job killer bills, one imposing an onerous return to work mandate and another undermining arbitration, were placed on the Assembly Appropriations Committee Suspense File.
The Legislature will reconvene from summer recess on August 14.
Active Job Killer Bills
The following job killer bills are actively moving in the legislative process:
Job Killers in Suspense
The following bills are already on the Assembly Appropriations Suspense File:
SB 365 (Wiener; D-San Francisco): Discriminates against use of arbitration agreements by requiring trial courts to continue trial proceedings during any appeal regarding the denial of a motion to compel, undermining arbitration and divesting courts of their inherent right to stay proceedings.
SB 723 (Durazo; D-Los Angeles): Imposes an onerous and stringent process for specific employers to return employees to the workforce for specified industries, including hotels and restaurants that have been disproportionally impacted by this pandemic, and removes guardrails on existing law by making mandate permanent and significantly broadening the applicability of the law.