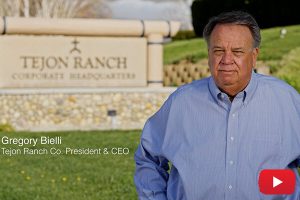 California Chamber of Commerce Board Chair Greg Bielli highlighted the importance of collaboration and leadership for a better California at the 97th Annual Sacramento Host Breakfast this morning.
Bielli, president and CEO of Tejon Ranch Company, thanked the California business community for their leadership and commitment to the state. He also expressed gratitude for the sacrifices made by members of the Armed Forces and veterans in attendance.
The annual Host Breakfast, attended by close to 1,000 civic and business leaders from throughout the state, offers decision-makers in California finance, government, education, agriculture and industry the opportunity to exchange views, establish and renew friendships, and create statewide atmospheres of good will and understanding at a common table.
Tejon Ranch
During his remarks, Bielli highlighted Tejon Ranch's rich historical significance, including its connection to the California gold rush, and its strategic location as a vital link between Southern and Northern California.
Spanning 270,000 acres in Kern and Los Angeles Counties, Tejon Ranch is the largest single expanse of private property in California. In 2008, Tejon Ranch Company made an agreement with environmental organizations to set aside 240,000 acres (90%) for conservation while allowing for development on 10% of the land.
Bielli acknowledged the challenges in the entitlement process but mentioned the successful local approvals for 35,000 residential units. He emphasized Tejon Ranch's commitment to conservation and its positive impact on carbon capture.
California a Leader in Innovation
While the state has its challenges, Bielli said, it is important to remember that California does a lot of things well.
"California is a global crossroads, for people, goods and services," he said.
International trade, for example, is California's "lifeblood" and contributes to a quarter of all jobs in the state, he said. Bielli highlighted the successful 2023 California Japan trade mission led by Lieutenant Governor Eleni Kounalakis, which showcased the state's commitment to international trade and collaboration.
Bielli also lauded the University of California, California State University, and California's 116 community colleges as being the reason why California is a leader in innovation.
Productive Solutions
While acknowledging the challenges of doing business in California, Bielli emphasized that the CalChamber is focused on offering productive solutions on public policies.
He highlighted a 2024 ballot initiative to address burdensome Private Attorneys General Act (PAGA) lawsuits, which often result in significant liabilities for employers for trivial mistakes.
"The business community is working to educate voters and policymakers about the fact that workers aren't winning PAGA claims—trial attorneys are," he said.
Bielli also addressed the state's water supply challenges, noting that despite recent rainfall, long-term solutions are necessary to meet the diverse needs of farmers, residents, and industries while supporting natural habitats. Comprehensive improvements in the state's water reliability, he said, include off-stream storage, desalination, recycling, basin management with direct injection projects to stabilize basins and efficiencies that can serve the state's growth.
Lastly, Bielli touched on the state's high cost and low availability of housing, which is a significant cause of poverty and contributes to the state's population exodus.
"Growing the net worth of our families through home ownership needs to be a goal that we all embrace," he said. "We have all enjoyed it in our lives. Why then can't we pass this joy and financial security on to our children?"
In closing, Bielli urged leaders to approach the state's issues with a determination to find practical solutions that benefit all Californians.
"Let's get down to the serious work of finding the common ground—the pathway—that will provide more and better opportunities for California and Californians," he said.