The California Chamber of Commerce joins the business community, friends and family in mourning the loss of Rex S. Hime, who served as president and CEO of the California Business Properties Association (CBPA) for 37 years, retiring at the end of 2021.
"Rex was one of a kind," said CalChamber President and CEO Jennifer Barrera. "He was an incredible advocate for California business and a mentor to so many of us. Rex's humor and his direct approach to issues were two of his best qualities. Rex was a champion on significant issues that we worked on together including ADA [Americans with Disabilities Act] reform. He was a great friend to CalChamber and we will miss him tremendously."
Hime had remained involved with CBPA as a senior adviser after stepping away from overseeing day-to-day operations.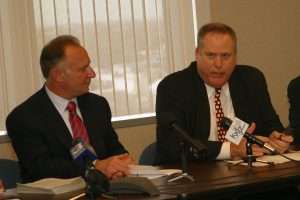 As head of the CBPA he fought taxes and worked with the CalChamber on coalitions to stop split roll property taxes, job killers and other proposals harmful to the state's economy.
He provided leadership to the coalition that won passage of the law prohibiting commercial rent control in California, making it the only state to enact such legislation. He also brought together a coalition of business and the community of persons with disabilities to win passage of legislation redefining the approval process for drive-throughs in California.
He was involved in all statewide school construction bonds, serving either on the steering committee or finance committee. Those bond measures have generated nearly $50 billion for building K–12 and higher education facilities. He was involved in drafting major water bond efforts, working for Proposition 204 (1994) and Proposition 13 (1999) and Proposition 84 (2006), serving on the steering and executive committees, as well as finance co-chair.
A native Californian, Hime earned a B.A. in political science from the University of California, Davis and his law degree from the UCD School of Law.
He was the Governor's appointee to the Board of Directors of the California State Fair and was its chair for two years. He served as a trustee and was a former chair for the Greater Sacramento Valley Leukemia & Lymphoma Society. He also was a past president of the Cal Aggie Alumni Association and served on various finance committees for the campus, the association and student campaigns. He recently served as a UC regent and was the presidential and California State Assembly representative on the Tahoe Regional Planning Agency and a member of the California Task Force on Violence Prevention.
Before joining the CBPA, he served on then-Governor Ronald Reagan's educational staff and as assistant to the director for the State Department of Consumer Affairs. Later, Hime was executive director of the California State Commission for Economic Development, director for the California Commission on Agriculture, and a special assistant to the Lieutenant Governor. He served as senior assistant to the minority leader of the California State Assembly.
He is survived by his wife, Gwyn Bicker Hime, and sons Rex W. and Reagan.