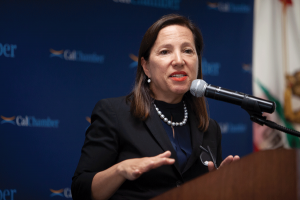 On Friday, December 30, Governor Gavin Newsom redesignated Lieutenant Governor Eleni Kounalakis as his top representative to advance California's economic interests abroad.  Lieutenant Governor Kounalakis, a former U.S. Ambassador, has served as the Governor's International Affairs and Trade Representative since 2019.
"The CalChamber is delighted that the Governor is renaming Lieutenant Governor Kounalakis as his international representative," said Susanne Stirling, CalChamber vice president for international affairs. "She is a wonderful advocate for the international trade and investment community. Lieutenant Governor Kounalakis' natural diplomatic abilities and State Department training make her an outstanding choice for this important role.
"We've seen the Lieutenant Governor in action over the last four years. Whether the occasion was one of the numerous online seminars and webinars during COVID, or the post-pandemic in-person events hosting delegations from all around the world, the Lieutenant Governor has been a gracious and energetic spokesperson. The California Chamber of Commerce was pleased to be part of the administration's first international delegation to Mexico in October 2019."
Lt. Governor Eleni Kounalakis
Lieutenant Governor Kounalakis is the first woman elected Lieutenant Governor of California. From 2010 to 2013, Lieutenant Governor Kounalakis served as Ambassador to Hungary, making her the first Greek woman and one of America's youngest to serve as a U.S. Ambassador. Lieutenant Governor Kounalakis was then appointed chair of the California Advisory Council for International Trade and Investment in 2014 by Governor Jerry Brown.
As the Governor's International Affairs and Trade Development Representative, Lieutenant Governor Kounalakis chairs the International Affairs and Trade Development Interagency Committee, which serves as the coordinating body for the administration on the promotion and expansion of trade, investment and international relations.
California's Role in Global Trade
California is the world's fifth largest economy with a gross state product (GSP) of more than $3 trillion. International-related commerce (including exports and imports of goods and services, plus investments) accounts for approximately one-quarter of the state's economy. Although trade is a nationally determined policy issue, its impact on California is immense.
California exports to more than 226 foreign markets and accounts for almost 10% of the nation's total exports. International trade, including exports and imports, supports more than 5 million California jobs — which translates to 1 in 4 jobs.
The CalChamber supports expansion of international trade and investment, fair and equitable market access for California products abroad, and elimination of disincentives that impede the international competitiveness of California business.
The California Chamber of Commerce looks forward to continuing joint endeavors alongside Lieutenant Governor Kounalakis to promote trade and investment opportunities in California and with our global partners.