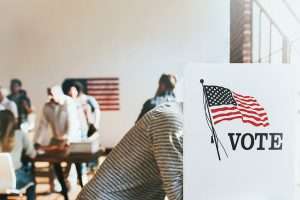 California's General Election will be held tomorrow, with polls opening at 7 a.m. and closing at 8 p.m.
Registered voters in California were sent a ballot in the mail about a month ago, but voters may also choose to vote at a polling place instead. To be counted, mailed ballots must be postmarked by November 8 and county election officials must receive them by November 15.
At in-person voting locations, people may register to vote, drop off a mail-in ballot, obtain a replacement ballot, access voting machines, and get language assistance if needed.
California voters wishing to track their mailed ballots may register at https://www.sos.ca.gov/elections/ballot-status/wheres-my-ballot.
California Early Voting Turnout
National early voting totals suggest that turnout at the General Election will be higher than 2018 turnout levels, which reached a 40-year high at 49% of the total voting-age population.
The United States Elections Project reveals that so far, Montana (31.1%), Georgia (30.6%) and Oregon (26.8%) are seeing the highest early voter turnout, relative to their total number of voting-age citizens as estimated by the U.S. Census. Meanwhile, as of November 6, about 19% of Californians have voted.
What's on the California Ballot?
This year, Californians may vote on:
7 ballot propositions
Statewide candidates for U.S. Senate, Governor, Lieutenant Governor, Secretary of State, Controller, Treasurer, Attorney General, Insurance Commissioner, Member of State Board of Equalization, State Superintendent of Public Instruction
S. Representative in Congress, State Senator, State Assembly Member
Supreme Court Justices, as well as other local candidates and local measures
Ballot Propositions
Proposition 1: Abortion Amendment
Proposition 26: In-Person Gambling
Proposition 27: Online Sports Betting
Proposition 28: Art/Music School Funding
Proposition 29: Dialysis Clinic Changes — The CalChamber opposes this measure because it would dramatically increase costs, which will be passed on to all Californians in the form of higher insurance premiums and higher taxes for government-sponsored health care.
Proposition 30: EV/Air Pollution Income Tax — The CalChamber opposes this measure because layering more taxes on top of the current personal income tax rate of 13.3% will inevitably drive more high earners out of the state and decrease General Fund dollars.
Proposition 31: Flavored Tobacco Ban