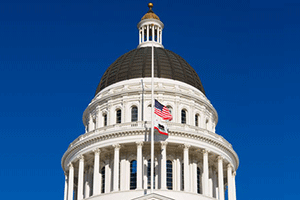 Governor Gavin Newsom has vetoed three California Chamber of Commerce-opposed bills and signed a supported bill this week.
The Governor also signed a CalChamber job killer bill, AB 2183 (Stone; D-Scotts Valley), into law.
Vetoed Bills
The Governor has vetoed the following CalChamber-opposed bills:
AB 2106 (Robert Rivas; D-Hollister): Would have imposed new permitting requirements on stormwater discharges from commercial and institutional facilities that may expose permittees to citizen lawsuits. Would have constrained State Water Board discretion in addressing stormwater that may have unintended consequences on regulated entities.
AB 2146 (Bauer-Kahan; D-Orinda): Would have imposed restrictions on use of pesticide important for combatting citrus disease and circumvented science-focused regulatory processes.
SB 974 (Portantino; D-La Cañada Flintridge): Would have increased premiums for employers and employees by mandating plans and insurers provide coverage without imposing cost sharing for follow up screening mammography and medically necessary diagnostic breast imaging.
Signed Supported Bill
The Governor signed the following CalChamber-supported bill yesterday:
SB 851 (Portantino; D-La Cañada Flintridge): Clarifies the rules for computing the California other state tax credit when an entity elects to pay the Pass-Through Entity Tax (PTET) and obtains Pass-Through Entity Tax Credits (PTE Tax Credits). The bill ensures that when a pass-through entity elects to pay the PTET, individual members of the entity will not lose their individual OSTC's as a result that election.