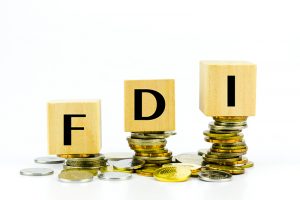 International economies continued to be beset by the detrimental effects of the COVID-19 pandemic last year, reducing the amount of foreign direct investment in the United States.
This led to California losing nearly 500 foreign-owned enterprises (FOE) and the more than 73,000 workers these firms employed, according to a recent report by the Governor's Office of Business and Economic Development (GO-Biz), World Trade Center Los Angeles (WTCLA) and the Center for International Business Education (CIBE) of Loyola Marymount University.
Despite these losses, the report signals there are encouraging signs of recovery. After reaching alarming highs in 2020, unemployment rates in the United States began their return to pre-pandemic rates and vaccinations allowed industries and businesses to reopen their doors with lowered fears of infection. Foreign direct investment (FDI) saw a strong rebound, rising 77% year-over-year to $1.65 trillion in 2021 across the globe, according to United Nations Conference on Trade and Development (UNCTAD). FDI in the United States increased by 114% to $323 billion.
Although these are encouraging signs, the report points out that there still is a great deal of uncertainty surrounding international trade and investment. The war between Russia and Ukraine could have wide-ranging effects across Eurasian continents and beyond. Labor and supply chain bottlenecks, inflationary pressures and rising energy prices also are persistent challenges.
FDI in California
California remains an attractive location for foreign direct investment from around the world, with an estimated 17,966 foreign-owned firms operating in California in 2021. These firms employ an estimated 630,159 residents, who earned approximately $64.1 billion in wages last year.
Japan remains the foremost investor in California, with 3,523 firms employing 105,053 residents and paying nearly $11 billion in wages. The United Kingdom remains in the second spot, with France, Canada and Germany making up the rest of the top five.
Southern California's 10-county region is the primary location for the state's foreign direct investment, with 10,934 FOEs and 405,465 Californians employed by these firms.
The 15 counties of the Bay Area contribute 5,680 establishments and nearly 190,000 employees, with the remaining 1,352 FOEs and 35,000 workers residing in Greater California.
When comparing industries, retail trade supports the largest number of FOEs in California at 4,285; manufacturing, wholesale trade, and professional and business services all have close to 3,000 firms located in the state. The manufacturing industry remains the top employer by far, with just fewer than 235,000 Californians working in manufacturing FOEs, earning a cumulative $25.7 billion in wages.
To access the Foreign Direct Investment in California, 2022 report, click here.