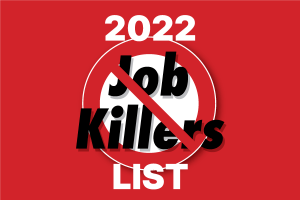 Three California Chamber of Commerce job killer bills will continue to move through the legislative process after passing a key policy committee deadline last Friday. Strong opposition from the CalChamber helped to stop one job killer bill from advancing, while amendments have removed the most onerous aspects of another job killer bill and the job killer tag will be removed.
CalChamber policy advocates will be reviewing the amendments made to other legislative proposals in the coming weeks to determine if additional bills will be added to or removed from the CalChamber's job killer list.
One Bill Stalled, One Amended
Job killer bill AB 2840 (Reyes: D-San Bernardino) has stalled and is likely dead for the year. The bill would have circumvented the California Environmental Quality Act (CEQA), created an unprecedented ban on warehouses and logistics use projects irrespective of whether there are any project impacts, usurped local authority over land use decisions, exacerbated supply chain problems, and forced union labor for proposed private projects that are not banned.
The CalChamber has removed the job killer tag on AB 2188 (Quirk D-Hayward) due to amendments. Before amendments, the bill would have effectively prohibited pre-employment drug testing, harming employers' ability to keep their workplace safe and drug free. In addition, the bill would have prohibited use of traditional marijuana tests, such as urine and hair testing, and compel employers to utilize saliva-based testing, without accounting for the massive market shortage of saliva-testing presently in effect.  After amendments, the bill protects pre-employment testing, protects employers with federal contracts from conflicts of law, and provides for delayed implementation to allow sufficient supply of testing to be produced prior to enforcement.
Remaining Job Killer Bills
The job killer bills that remain active after last Friday's deadline are:
AB 2183 (Stone D-Scotts Valley): Limits an employee's ability to independently and privately vote for unionization in the workplace, by essentially eliminating a secret ballot election and replacing it with the submission of representation cards signed by over 50% of the employees, which leaves employees susceptible to coercion and manipulation by labor organizations. Also, unfairly limits an employer's ability to challenge the cards submitted by forcing employers to post an unreasonable bond, and then limits an employee's ability to decertify a union, by forcing them to go through the ballot election process instead of submission of representation cards. Also includes an unnecessary presumption of retaliation that is effectively unlimited in scope because it would apply for the duration of an election campaign, which could last for a year or more.
SB 1044 (Durazo; D-Los Angeles): Allows employees to leave work or refuse to show up to work if employee feels unsafe regardless of existing health and safety standards or whether employer has provided health and safety protections and subjects employers to costly PAGA lawsuits if they dispute the employee's decision or need to have another employee take over any job duties.
SB 1162 (Limón; D-Goleta): Undermines employers' ability to hire, imposes burdensome administrative and record keeping requirements, and subjects employers to a private right of action and penalties under the Private Attorneys General Act (PAGA).