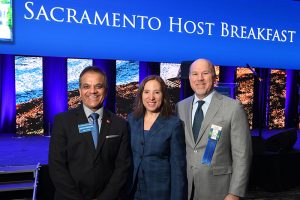 California Lieutenant Governor Eleni Kounalakis and California Chamber of Commerce Board Chair Kailesh Karavadra shared their perspectives on the state's accomplishments and challenges at the 96th Annual Sacramento Host Breakfast yesterday.
The annual gathering, which was attended by close to 1,000 civic and business leaders from throughout the state, offers decision-makers in California finance, government, education, agriculture and industry the opportunity to exchange views, establish and renew friendships, and create statewide atmospheres of good will and understanding at a common table.
Governor Gavin Newsom was originally scheduled to attend the Host Breakfast, but was forced to cancel last week after contracting COVID-19. In his stead, Kounalakis attended the breakfast and presented remarks.
California Positivity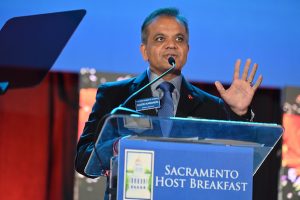 Karavadra said he wanted to inspire listeners to "move away from these binary conversations" that turn into a "yes/no, agree/disagree, support/oppose and so on."
Karavadra went on to highlight some facts to illustrate why people want to come to California. Among those were the California State University and Community College systems; the strength of California agriculture as the nation's top supplier of many products; the volume of imports and exports going through the state's ports; and Silicon Valley, with more than a third of the venture capital funding in the nation, "the heart of innovation in the world."
California has its fair share of challenges, he said, including taxation, housing, water, fire, homelessness, transportation, inflation, food insecurity, the digital divide, and many more.
"We are facing complex and exponential challenges that have no simple solutions for scale and urgent impact," Karavadra said. "Sadly, if we don't come together to tackle these issues, they will continue to grow exponentially."
He called for applying "new design thinking for the modern world as old and tried and tested ways will just not work." Key elements include strong public-private partnerships, recognizing that "the pace of change is so fast in this hyper-connected digital transformation world … we need to think in terms of months and years, not decades," and focusing on scale versus disparate and disjointed efforts that help only in small pockets locally.
He encouraged listeners to "be willing to let go of artificial boundaries — go outside of our comfort zone, drive accountability in our action and embrace change." He continued, "We need to have the courage to discuss and understand each other's perspectives and especially focus on unintended consequences that may impact California years down the road…not manage out of fear but build for good for the future."
Economic Strengths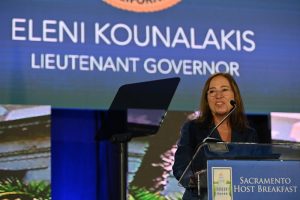 The Lt. Governor began her speech by focusing on the strength of the state's economy and talking about how it was able to recover from the unprecedented challenges brought about by the COVID-19 pandemic.
Looking back to the start of the pandemic, when California was the first state to issue a statewide stay-at-home order, Kounalakis said, "…it was almost an unthinkable decision at the time, no one knew, no one could really imagine what would happen when we unplugged the engine of the world's fifth largest economy."
Thanks to the persistence of California's frontline workers and businesses, she said, California was able to manage its way through an extraordinary time.
"Let me just say, on behalf of myself and all of the people of the state of California, thank you," she said.
She further thanked the business community for its part in helping grow the state's economy. There are many positive facts about California's economic strength, she told attendees. Just two years ago, the state had lost 2.8 million jobs and it was predicted the state would see a $54 billion budget deficit. Today, however, not only does the state have an unprecedented $98 billion budget surplus, but it also has regained more than 91% of the jobs lost during the pandemic.
By many accounts, California is leading the country, Kounalakis said. The state's gross domestic product (GDP) grew by 7.8% in 2021 and the state has retained its distinction as the world's 5th largest economy. California also has retained its place as No. 1 in two-way trade, manufacturing and agriculture.
Kounalakis said she is often asked about the state's challenges, such as inflation, home prices, wildfires and taxation, among other concerns. And she responds by pointing out that, "We have many difficult challenges in California, but a growing economy gives us a powerful tool to help us address those challenges."
State Priorities
Kounalakis outlined four main priorities that Governor Newsom is focusing on in this year's state budget.
The first priority is fiscal responsibility. The state has had a "fair share of boom-and-bust cycles," and that is why the Governor has made historic investments to help the state prepare for the next downturn, she said. The state has also significantly contributed to pay down retirement liabilities, reduce unfunded liabilities, pay bond debt and reduce budgetary debt.
The second priority is to help those who need it most. During the pandemic, the state sent $600-$1,500 checks to needy Californians through the Golden State Stimulus Program. The state also helped businesses in need by providing grants through the Governor's Office of Business and Economic Development (GO-Biz). Approximately 300,000 small businesses in the state received grants to help them offset their costs during the pandemic and get back to business, she said.
Another segment of the population in need is the homeless. Project Room Key provided 50,000 people with temporary housing, while Project Home Key has already provided 10,000 permanent units. But housing is just one aspect of the issue. Another side to homelessness is the lack of mental health services. In response, the Governor is proposing a Care Court program to help address the crisis.
The third priority is to invest in the future. One way the state hopes to invest in the future is by offering public pre-school education to every four-year-old by 2025. The budget also makes investments in transportation infrastructure, broadband infrastructure, water infrastructure, public education, and more.
Lastly, another priority that has emerged is "addressing climate change and investing in a carbon-free energy future." Kounalakis said that between last year's budget and this year's budget proposal, the state is set to invest more than $47 billion in carbon-free energy.
"From the expansion of offshore wind capabilities, networks for electric car charging stations, and hydrogen-powered equipment in our ports, the future of carbon free energy is already happening here," she said. "And again, our business community is leading the way, and we're supporting your innovation with tax credit programs to support your investments in research and development and innovation."
For a copy of Lt. Governor Kounalakis' remarks, click here.