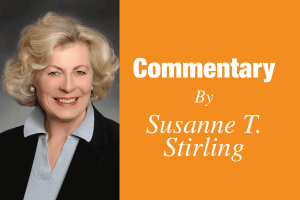 After a year of global economic recovery from the COVID-19 pandemic that has been hindered by a supply chain crisis, the war in Ukraine and rising inflation, international trade has been put to the test. But as we celebrate World Trade Month this May, the importance of international trade during these times is clear.
Maintaining and improving worldwide free trade remains more critical than ever as most companies that export have an easier time riding out fluctuations in the U.S. economy and are more likely to stay in business. World Trade Month activities each May provide many opportunities to acknowledge the importance of global trade to the economies of California and the United States.
Global Economic Outlook
In April 2022, the World Trade Organization (WTO) projected that global trade growth in 2022 would be cut almost in half from the 4.7% the WTO forecasted in October to between 2.4% and 3%. This decrease is due largely to Russia's war in Ukraine, as these two countries are important suppliers of essential products, especially food and energy. Russia alone accounts for 9.4% of world trade in fuels, including a 20% share in natural gas exports.
The International Monetary Fund has a similar outlook for 2022, as inflation accelerates, becoming a "clear and present danger" for many countries, even before the war in Ukraine broke out. The United States has reached its highest level of inflation in 40 years amidst tight labor markets. Europe has seen similar record-breaking inflation in some countries, while inflation also has crept into parts of Asia. Many central banks have moved to tightening monetary policy.
California Trade Connections
California's diverse economy relies heavily on exports and imports of both goods and services by California-based companies. The trade network is complex and interconnected, involving exports and imports through California's transportation gateways, as well as inflows and outflows of human and capital resources.
The statistics underscore the importance of our international connections. In 2021, California exported $175.12 billion to 226 foreign economies, a return to previous levels after exports decreased to $156.1 billion in 2020 as a result of the COVID-19 pandemic.
California maintained its perennial position as a top exporting state, accounting for nearly 10 % of total U.S. exports. California's top export markets are Mexico, Canada, China, Japan and South Korea.
Trade a Long-Standing Priority
With trade being a top-tier national issue, the California Chamber of Commerce continues to communicate its international trade priorities to secure a national free trade agenda.
Such an agenda is in keeping with the CalChamber's long-standing support of expanding international trade and investment, fair and equitable market access for California products abroad, and eliminating disincentives that impede the international competitiveness of California business.
About a third of CalChamber members are engaged in international commerce, and more than two-thirds are small or medium-sized enterprises.
2022 Trade Priorities
Indo-Pacific
Indo-Pacific Economic Framework (IPEF) is at the forefront of the United States' international trade agenda this month as President Joe Biden hosts a Southeast Asian Leaders summit this week (May 12) and travels to South Korea and Japan, on his first trip to Asia as President.
Many stakeholders, including the CalChamber, have recommended prioritizing the Indo-Pacific as China's influence grows in the region. The Biden administration has said it does not envision a "traditional trade agreement" for the IPEF.
They will seek fair and resilient trade, supply chain resilience, infrastructure and decarbonization, and tax and anticorruption. Many stakeholders also are pushing for a digital pact component. IPEF negotiations are expected to begin shortly this year.
The Indo-Pacific is the most populous, fastest-growing and most economically dynamic part of the world. By 2030, it will represent 66% of the world's middle class, and 59% of all goods and services sold to middle class consumers will be sold in the Indo-Pacific. Developing nations in the region will need about $1.5 trillion in investment every year for the next decade to develop the infrastructure necessary to sustain their growth.
Despite the Indo-Pacific region's growth, over the last decade, growth in U.S. exports to Asia has lagged behind overall U.S. export growth. The United States is gradually losing market share in trade with Asian countries.
Meanwhile, Indo-Pacific countries have signed more than 150 bilateral or regional trade agreements, while the United States has just four trade deals in the Indo-Pacific region — with Australia, Singapore, South Korea and Japan.
Trade Promotion Authority
Renew Trade Promotion Authority, which expired on July 1, 2021, to enable the United States to easily pursue new trade deals. Trade promotion authority (formerly called fast track trade negotiating authority) is the process by which Congress gives authority to the President and/or U.S. Trade Representative to enter into trade negotiations to lower U.S. export barriers.
Traditionally, trade promotion authority follows the conclusion of negotiations for a trade agreement; enabling legislation is submitted to Congress for approval.
Major U.S. trading partners are participating in numerous agreements, and trade promotion authority is a prerequisite to meaningful U.S. participation.
Without trade promotion authority, the United States has been compelled to sit on the sidelines while other countries negotiate numerous preferential trade agreements that put U.S. companies at a competitive disadvantage. Trade promotion authority not only opens markets and broadens opportunities for U.S. goods and firms; it helps to make the United States the leader in global trade.
Trade Agreements
Advance bilateral, regional and multilateral trade agreements which are critical to consumers, workers, businesses, farmers and ranchers.
By approving trade promotion authority, Congress can help strategically address the range of U.S. trade negotiations being pursued: conclusion to a U.S.-United Kingdom free trade agreement; a possible U.S.-European Union free trade agreement; conclusion to a U.S.-Kenya free trade agreement; and even in the long run, a possible U.S. re-admission to the Trans Pacific Partnership (TPP) — now Comprehensive and Progressive Agreement for Trans-Pacific Partnership (CPTPP) — as well as other future trade negotiations.
The United States is among the world's leading exporters due to increased market access achieved through trade agreements. Trade promotion authority is vital for the President of the United States to negotiate new multilateral, bilateral and sectoral agreements that will continue to tear down barriers to trade and investment, expand markets for U.S. farmers and businesses, and create higher-skilled, higher-paying jobs for U.S. workers.
Susanne T. Stirling is vice president of international affairs for the California Chamber of Commerce.