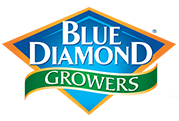 This article is a part of a series of profiles of CalChamber member companies that are contributing to the state's economic strength and ability to stay competitive in a global economy. Company leaders look both to their history and what's ahead. Visit www.calchamber.com/californiaworks to learn more about this series and read future profiles.
Blue Diamond Growers is a grower-owned cooperative that provides financial returns and stability to almond grower members while expanding markets and opening opportunities for future generations. The cooperative ships products and ingredients to all 50 states and more than 100 countries around the world.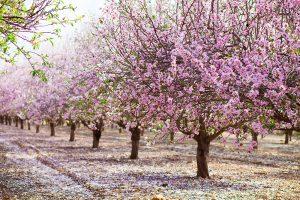 Sustaining Family Farms for More Than 100 Years
California pioneers found an ideal Mediterranean climate in the soils of the Central Valley and planted their first almonds in the 1850s, giving birth to an industry.
Nearly half a century later, in 1910, 230 California almond growers formed the California Almond Growers Exchange, leading development of California's almond industry from a minor domestic specialty crop to the world leader in almond production and marketing. The Exchange would go on to adopt the blue diamond as the symbol on its label, representing high quality and distinguishing it from Spanish and Italian imports. In 1980, the Exchange officially became known as Blue Diamond Growers.
Blue Diamond Growers is based in Sacramento, but its grower farms span from Redding down to Bakersfield. Today, the average Blue Diamond Grower family farm is less than 100 acres, demonstrating the benefits for member farms of all sizes.
With approximately 3,000 grower owners, Blue Diamond Growers represents more than half of all California almond growers.
Rising to the Challenge
While California businesses, large and small, experienced critical disruptions in labor supply and operations due to COVID-19 shutdowns and restrictions, Blue Diamond's focus on the health and safety of its almost 2,000 team members allowed its facilities to stay open and production lines to keep running through multiple COVID-19 case surges around the country.
This proved critical to the cooperative's ability to handle the unprecedented wave of almonds that arrived last year. The fall 2020 California almond harvest yielded a record-sized 3.1-billion-pound crop. Blue Diamond's strategic forecasting over the last decade positioned the cooperative to establish the infrastructure, state-of-the art equipment, and talent needed to receive, process, market and ship a crop 20% larger than any it had seen before. Both growers and employees rose to the challenge of getting quality almonds from California's Central Valley trees into the hands of consumers around the world.
The Blue Diamond team found innovative ways to engage with customers, new outlets for increasing supply, and opportunities for developing unique customer-focused solutions to drive sales and increase returns.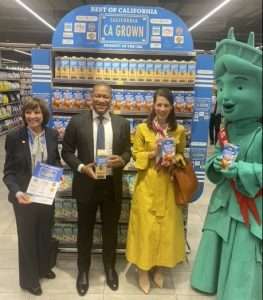 Overcoming supply chain disruptions, port congestion, and cost inflation in nearly every area of the business, Blue Diamond broke commodity shipment records with an astounding 53% jump in volume compared to the previous year, Blue Diamond broke commodity shipment records with an astounding 53% jump in volume compared to the previous year, delivering products to customers in 90 countries through 104 ports worldwide. With a goal of minimizing the potential gap between harvest and fulfillment, Blue Diamond developed a booking roadmap to match supply scenarios and navigate global logistics concerns to handle the additional volume.
In Asia, Blue Diamond saw 81% sales growth and Latin America markets posted strong growth of 38% thanks in large part to the introduction of customized consumer-focused Almond Breeze® products such as Almond Cooking Cream.
Sustainability Efforts
Water, Irrigation
Beginning with the 2020 crop, Blue Diamond's Sustainability Incentive Program has provided financial incentives to member-growers who participate in the California Almond Sustainability Program (CASP) set up by the Almond Board of California. The program educates and assesses growers on a wide array of best practices and additional water conservation opportunities.
Since the introduction of this incentive program, tens of thousands of acres have been added to the CASP program.
The 2021 drought drew attention to the ongoing impacts of weather, infrastructure challenges, and regulations on California agriculture water resources. Almonds grow on 20% of California's irrigated farmland but use only 13% of the water California devotes to growing food—less than a proportionate share. Over the last 20 years, California almond growers have reduced the water it takes to grow a pound of almonds by 33%. Thanks to the sustainability program, Blue Diamond members use efficient, low-volume drip or micro-sprinkler irrigation systems on more than 85% of their orchards. This means that Blue Diamond growers are nearly twice as likely to have high-efficiency irrigation systems than California farms overall.
Bees
The cooperative also encourages growers to take part in the Seeds for Bees® program, which urges the use of cover crops to increase the density, diversity, and duration of bee forage in California orchards, farms, and vineyards, while improving soil health. The seed mixes available through Seeds for Bees® are designed to bloom at critical times of the year when natural forage is scarce and native bees are active. Since 2018, over 6,100 acres on more than 110 Blue Diamond member farms have participated in the program.
Commitment to Community
The Blue Diamond Growers Foundation, a 501(c)(3) nonprofit organization created in 2011 and funded by donations from community and other sources, uses its Scholarship Program to invest in future agriculture leaders in California's Central Valley and the dependents of Blue Diamond employees who have demonstrated excellent academic performance and are pursuing a four-year college degree.
This year, the foundation awarded 24 high school graduates with a Blue Diamond Growers Foundation Scholarship. Over the last 10 years, the foundation has supported more than 150 students.
In 2021, Blue Diamond invested nearly $250,000 in its mission to make a difference through its corporate giving strategy. This included $115,000 awarded in community grants to 11 worthy organizations with goals centered around the Sacramento, Salida, and Turlock communities. The grants funded activities related to either community health and wellness or agricultural education for children and adults. And to help nurture the next generation of farmers and agricultural leaders, the foundation Blue Diamond promoted fundraising efforts for, and gave $25,000 in matching funds to, the California Future Farmers of America as part of the co-op's long-term partnership with the organization.
Additionally, to support American Red Cross disaster relief efforts, Blue Diamond employees and grower-owners, along with a $10,000 match from Blue Diamond, donated $26,500 to provide relief for wildfires that burned several million acres in California.
Blue Diamond Growers

President and CEO: Mark Jansen
Net Fiscal Sales: $1.6 Billion
Employee count: 1,900
Grower-owners: Approximately 3,000
Company headquarters: 1802 C Street, Sacramento, CA 95811
Company business segments:
Agriculture
Consumer Staples
Marketing