New and veteran legislators, pollsters and experts on elections and hot policy topics will gather at Disney's Grand Californian Hotel & Spa on October 26–27 for the CalChamber Fall Public Affairs Conference.
Following are highlights of the agenda.
Tuesday, October 27
• People's Voice. The opening conference session the afternoon of October 27 will provide a look at the annual CalChamber survey on California voter attitudes, presented by pollsters Robert Green, Pierrepont Consulting and Analytics LLC, and Adam Rosenblatt, Core Decision Analytics.
• Redistricting Forecast. Panelists will include Charles Bell of Bell, McAndrews & Hiltachk, LLP; attorney, author and advocate Christine Pelosi; Matt Rexroad of Redistricting Insights; and Marva Diaz of Marva Diaz Strategies.
• New Kids on the Block. First-term legislators speaking in this afternoon session will include: Senators Dave Min (D-Irvine) and Rosilicie Ochoa Bogh (R-Yucaipa); and Assembly Members Megan Dahle (R-Bieber), Laurie Davies (R-Laguna Niguel), Suzette Valladares (R-Santa Clarita) and Dr. Akilah Weber (D-San Diego). Adam Regele, CalChamber senior policy advocate, will moderate the discussion.
Wednesday, October 28
• Private Attorneys General Act (PAGA) Reform. Senator Anna Caballero (D-Salinas), and Assembly Members Vince Fong (R-Bakersfield) and Cottie Petrie-Norris (D-Laguna Beach) will be the panelists in this morning session, moderated by Ashley Hoffman, CalChamber policy advocate.
• 2022 Ballot Measures Preview. Veteran campaign managers Adam Stoll of Winner & Mandaback Campaigns, and Christy Wilson of Wilson Public Affairs will look ahead to 2022 in a morning discussion moderated by Marty Wilson, CalChamber executive vice president, public affairs.
• Energy and Climate Issues. The afternoon discussion will feature Senators Bob Archuleta (D-Pico Rivera), Bill Dodd (D-Napa) and Susan Rubio (D-Baldwin Park), along with Assembly Members Rebecca Bauer-Kahan (D-Orinda) and Autumn Burke (D-Inglewood). The moderator will be Leah Silverthorn, CalChamber senior policy advocate.
• Mid-Session Review and Priorities Preview. Offering a look back at the first year of the current legislative session and a preview of what's ahead will be Senators Steve Glazer (D-Contra Costa), Tom Umberg (D-Santa Ana) and Scott Wilk (R-Santa Clarita), as well as Assembly Members Tom Daly (D-Anaheim), Jacqui Irwin (D-Thousand Oaks) and Evan Low (D-Campbell). Moderating the discussion will be Jennifer Barrera, CalChamber president and CEO.
Sponsors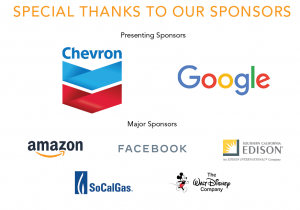 The CalChamber gives special thanks to the conference sponsors. The presenting sponsors are Chevron and Google. Major sponsors are Amazon, Facebook, Southern California Edison, Southern California Gas Company and The Walt Disney Company.
Gold sponsors are the Automobile Club of Southern California, Boeing, FSB Public Affairs, a Core Strategic Group Company, Health Net, Kaiser Permanente, Lucas Public Affairs and Trans Bay Cable.
Register by October 13
October 13 is the deadline to register for the conference. To learn more and to register, visit the conference link at www.calchamber.com/publicaffairs.