The following answers to questions posed by the California Chamber of Commerce are from Simon D.I. Soekarno, consul general of the Republic of Indonesia in San Francisco.
Indonesia-California Relations
Please describe your thoughts on the unique relationship between Indonesia and California?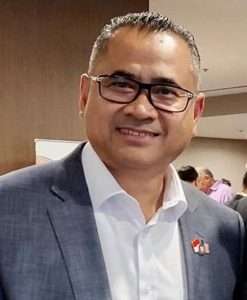 Certainly, Indonesia is conscious of the strength of California as the world's fifth largest economy, and always looks forward to maintaining good relations with California.
Not only is California a gateway for Indonesian products, but for the Indonesian community on the West Coast as well. There are more than 80,000 Indonesian people living in California (Northern and Southern California) with various occupations—from students to professionals and business sectors.
We are confident the Indonesian people can bring a positive impact to California's vibrant community and can contribute to California's growth.
Indonesia and the United States have a solid trade relationship in which both countries complement each other's industries and domestic needs.
California particularly is a strong trade partner for Indonesia. Ports in California—Oakland, Los Angeles and Long Beach—are gateways for export and import activities.
We take note that in 2019, total trade between Indonesia and California reached US$6 billion, with Indonesia's top export products including apparel, fish products, machinery, footwear and furniture.
Meanwhile, California's top exports to Indonesia included dairy products, machinery, edible fruit and nuts, wood pulp, and iron and steel. Those products are important for our people; thus it is important for both of us to work together in promoting our trade relations.
The information technology (IT) sector is also the strength in Northern California. Several big IT companies from Silicon Valley, such as Google, Facebook and Apple, have already opened their offices in Jakarta and made contributions through various programs for human capital development in Indonesia.
Young generations in Indonesia also learn a lot from Silicon Valley in building startups. We certainly hope in the future the collaborations between Indonesia and California in IT and startups can be more developed.
COVID-19 Impact on Indonesia
As countries all over the world feel the pandemic, what is the economic impact of COVID-19 on Indonesia?
As in most countries, the COVID-19 pandemic has brought challenges for the national economy in Indonesia, including for the daily economy of our people.
As a clear example, Indonesia as a world-holiday destination gets a hard hit in the tourism sector. A lot of people who depend on tourism—such as travel agents, local guides, restaurants and souvenir shops—must face economic difficulties as no visitors or customers come.
Recently, some cities have had to again impose social restrictions policy because of the second wave of COVID-19. And as of this month, the number of unemployed in Indonesia reached 10 million people.
From a macroeconomic perspective, Indonesia is resilient in facing those challenges due to COVID-19. In the first quarter of 2020, when other countries started to slow down, the economic growth in Indonesia reached 2.97%.
It is unavoidable that in the second quarter our growth contracted to -5.32% year-over-year 2019 as the global economy got a huge effect. Internally, the declining of economic growth is caused by decreasing domestic consumption, unemployment, and social restriction policy.
To tackle these challenges, the Indonesian government under President Joko Widodo has set policies for post-COVID-19 economic recovery. The state budget is prioritized for public health and public safety, protection and social safety nets for vulnerable communities, and also for business protection.
The aids or stimulus packages from the government for Indonesian people in need or those with lower income include packages of groceries, cash, incentives for electricity bills, pre-employment cards, a subsidy for employees, aids for small and medium enterprises, as well as for small villages. The Ministry of Foreign Affairs also established a Team for the Advancement of Economic Recovery to attract more foreign investments and offers various tax incentives and facilities.
We have to keep our optimism high and work together to recover our economic sector. We are fortunate that the trade volume between Indonesia and the United States from January to July 2020 decreased only 2.88% year-over-year 2019.
In addition, during this period, the value of Indonesia exports to the United States, such as machinery, furniture and wood products, fish products, fats, and coffee, tea and spice products, increased.
Therefore, I believe that as the world works together to find the best cure for COVID-19, we also have to walk together to recover our economy for the survival of our people.
Challenges/Opportunities
As one of the most populous nations in the world, and with Indonesia's rapid economic rise and emphasis on trade, what are the challenges and opportunities facing your country?
According to McKinsey, Indonesia is the 16th largest and growing economy and has one of the most consistent growth rates over the past 10 years, with GDP at $878 billion.
Given Indonesia's stable economic growth of more than 5% per annum before the pandemic, and its politically stable and maturing democracy, McKinsey also estimates that Indonesia will be the seventh largest economy in the world in 2030 and the fifth largest in 2045.
Indonesia is the fourth most populous country with 272 million people (2020), 64 million of them in the middle affluent class. It is the gateway to the Southeast Asia population of 650 million, the world's third largest market.
Among them, Indonesia has a young and tech savvy population in which 2 of 3 people are of working age and the average age is 28. A high proportion are internet users and active on social media. The digital economy is strong with a high annual growth rate.
Therefore, it is inevitable that the young population becomes our strength to develop our economy. The young generation or millennials have global connections, creativity and initiatives to think outside the box on creating new employment opportunities, including through startups, small and medium enterprises, or even large-scale companies.
I think these factors become our opportunities in the future. Therefore, Indonesia needs to maintain the chances for everybody—including our young generation—to participate in the development of the Indonesian economy. Such policies should be simplified as well to attract global players to invest and do business in Indonesia.
In that regard, I invite business communities in California, including investors, to do business in Indonesia. Indonesia has capacity and capability for productions amongst all food and beverage, textile and apparel, automotive, chemicals, electronics, and furniture products.
With an estimated US$100 billion internet economy by 2025, Indonesia offers huge avenues for digital investment. With a strategic location in Southeast Asia and untapped market opportunities, both in Indonesia and in the region, and including various facilities and friendly policies, Indonesia will be a great spot as your investment destination.
Staff Contact: Susanne Stirling