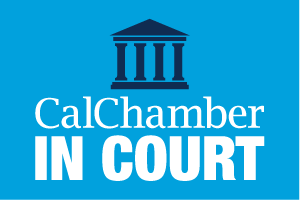 A federal judge on Monday issued a temporary restraining order to prevent AB 51 from going into effect on January 1. A hearing for a permanent injunction to AB 51 is scheduled for January 10.
In December, a coalition of businesses led by the California Chamber of Commerce filed a lawsuit to stop the new California law, which precludes employers from enforcing arbitration agreements made as a condition of employment—and makes it a crime for businesses to do so. AB 51, the lawsuit complaint points out, is preempted by the Federal Arbitration Act (FAA), which precludes any state from limiting, interfering with, or discriminating against the use of arbitration agreements to resolve claims.
In granting the temporary restraining order, U.S. District Judge Kimberly J. Mueller echoed similar concerns, stating: "plaintiffs have raised serious questions regarding whether the challenged statute [AB 51] is preempted by the Federal Arbitration Act as construed by the United States Supreme Court."
AB 51
This past October, Governor Gavin Newsom signed into law AB 51 (Gonzalez; D-San Diego), which the CalChamber had identified as a job killer. Set to take effect on January 1, 2020, the law  prohibits employers from, as a condition of employment, offering and entering into arbitration agreements with their workers, even if the workers may opt out of arbitration.
AB 51 sets substantial civil enforcement mechanisms, providing possible avenues for investigation and enforcement action by California state departments, and for lawsuits by individuals.
Especially problematic is that the law establishes the extraordinary burden of criminal penalties as well, making it a misdemeanor to violate any part of AB 51's restrictions, which is punishable by imprisonment not exceeding six months, a fine not exceeding $1,000, or both.
"It doesn't make sense to place businesses at risk for criminal penalties for a practice that has been favored by California and federal law, and consistently upheld by the courts," said CalChamber President and CEO Allan Zaremberg. "While it may not serve the best interests of the trial lawyers, expeditious resolution through the arbitration process serves the interests of employees and employers."
Due to AB 51's conflict with federal law, the coalition's complaint asks that the court declare AB 51 invalid and order state enforcers to not apply the law
Preempted by Federal Law
The U.S. Supreme Court has explained that the FAA preempts both any state rule that "discriminates on its face against arbitration" along with any rule "that covertly accomplishes the same objective by disfavoring contracts that . . . have the defining features of arbitration agreements." (Kindred Nursing Centers Limited Partnership v. Clark, 137 S. Ct. 1421 (2017)).
The FAA similarly preempts any state law, "lodging primary jurisdiction in another forum, whether judicial or administrative." (Preston v. Ferrer, 552 U.S. 346 (2008) ). Moreover, the U.S. Supreme Court has held that the FAA preempts state law rules that disfavor arbitration in connection with the formation of a contract, as well as rules that disfavor the enforcement of arbitration agreements. Restrictions that single out arbitration agreements or derive their meaning from that fact that an agreement to arbitrate is at issue "flout the FAA's command to place those agreements on equal footing with other contracts" and are therefore preempted, according to the complaint (Kindred Nursing Centers Limited Partnership v. Clark).
More Information
The coalition's complaint, which seeks only declaratory and injunctive relief, was filed in the U.S. District Court, Eastern District of California, against California Attorney General Xavier Becerra, Labor Commissioner Lilia Garcia Brower, Labor and Workforce Development Agency Secretary Julie A. Su, and California Department of Fair Employment and Housing Director Kevin Kish in their official capacities.
A copy of the complaint can be found at https://advocacy.calchamber.com/wp-content/uploads/2019/12/19-AT-1142-1-Complaint-and-civil-cover-sheet.pdf.
A copy of the TRO issued on December 30 can be found at https://advocacy.calchamber.com/wp-content/uploads/2019/12/AB51_TemporaryRestrainingORder.pdf.