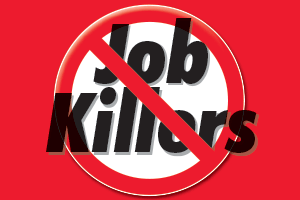 Legislation that threatens water supply reliability for millions of Californians passed the Assembly Environmental Safety and Toxic Materials Committee on Tuesday.
The California Chamber of Commerce has labeled SB 1 (Atkins; D-San Diego) as a job killer due to the significant and entirely avoidable negative consequences resulting from language in the bill.
The author's stated intent is to protect California's air, water, biodiversity and citizens from any federal changes that undermine the state's existing environmental standards.
Instead, the bill:
substantially threatens water supply reliability for millions of Californians;
forces state agencies to review irrelevant federal laws, regulations and guidelines;
instigates costly litigation through the creation of brand new private rights of action;
removes basic due process by waiving Administrative Procedure Act safeguards; and
automatically integrates federal baseline standards into California law without agency review under certain circumstances.
The CalChamber and a coalition of industry groups, state water contractors and local chambers of commerce have proposed reasonable amendments that preserve all goals in the bill, avoid all identified negative impacts, and thereby remove all opposition. Unfortunately, the amendments have not been taken.
Unresolved Issues
 Although the author has accepted some of the amendments to address the CalChamber and coalition concerns, the majority and most significant problems of the bill remain unresolved. Those flaws include the following:
SB 1 undermines the State Water Project, Central Valley Project and voluntary water flow agreements by removing the ability of the state Department of Fish and Wildlife to apply new science and adaptive management practices, thereby dismantling years of negotiations.
The bill's rigid approach to water management runs counter to the collaborative, science-based approach developed during the current and previous state administrations to enhance fish and wildlife habitat throughout California and provide reliable water supplies to communities.
SB 1's overly broad mandate will have significant fiscal impacts for California agencies, estimated to be in the tens of millions of dollars annually.
SB 1 subjects state and local agencies to lawsuits, including when reasonable persons can differ as to whether a standard/requirement is "less protective" than existing federal law. The bill also encourages such lawsuits through a one-sided attorneys' fees provision and vague/ambiguous language.
SB 1 creates a new private right of action by any member of the public to enforce labor and employment law claims. As currently drafted, the bill would allow any "person in the public interest" (proposed Government Code Section 120072) to file a lawsuit to enforce provisions of the federal Fair Labor Standards Act of 1938, the federal Occupational Safety and Health Act of 1970, and the federal Coal Mine Health and Safety Act of 1969. This extension of private rights of action to labor and employment claims brought by the general public is unwarranted and would give rise to a flood of litigation against California businesses.
Rulemaking pursuant to SB 1 will be permanent and without public notice and comment to nongovernmental organizations, businesses, the public and even state and local agencies. The bill circumvents the California Administrative Procedure Act.
As currently drafted, SB 1 provides no remedy other than litigation.
New amendments allow federal baseline standards to automatically be integrated into California law without any state agency oversight or rulemaking if there is no analogous state standard.
Key Vote
SB 1 passed the Assembly Environmental Safety and Toxic Materials Committee, 6-1 on June 18:
Ayes: Arambula (D-Fresno), Bauer-Kahan (D-Orinda), C. Garcia (D-Bell Gardens), Holden (D-Pasadena), Muratsuchi (D-Torrance), Quirk (D-Hayward).
No: Mathis (R-Visalia).
Not voting: Melendez (R-Lake Elsinore).
SB 1 will be considered next by the Assembly Natural Resources Committee.
Staff Contact: Adam Regele