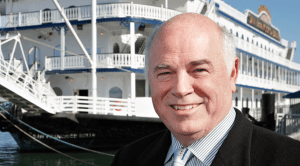 The California Chamber of Commerce today announced the election of its new board officers, including Terry MacRae as 2018 chair of the CalChamber Board of Directors. MacRae is chief executive officer, president and founder of Hornblower Cruises & Events.
Serving with MacRae as 2018 officers of the CalChamber Board are:
First Vice Chair: Grace Evans Cherashore, executive chairwoman for Evans Hotels;
Second Vice Chair: Mark Jansen, president and chief executive officer of Blue Diamond Growers; and
Third Vice Chair: Donna Lucas, chief executive officer and president, Lucas Public Affairs.
In 1980, MacRae purchased Hornblower Tours, a two-yacht charter company in Berkeley.  Under MacRae's ownership, Hornblower has expanded to become the largest dining and charter cruise company in North America with more than 70 sightseeing and dinner cruise boats operating in nearly a dozen cities.  MacRae began his career as an environmental engineer with Industrial Clean Air, Inc. He was a senior vice president and vice president of sales following the acquisition of Industrial Clean Air by Ecolaire Systems, Inc.
MacRae is the former vice chairman of the California Travel & Tourism Commission and continues to serve as a commissioner. He is a past president of the Passenger Vessel Association (PVA) and current member of the joint U.S Coast Guard/PVA Partnership Action Team. He also has served as a board member of the San Francisco Convention and Visitors Bureau and is a member of the Society of Naval Architects and Marine Engineers.
MacRae received his bachelor of science degree in mechanical engineering from California Polytechnic State University at San Luis Obispo.