Governor Edmund G. Brown Jr. and California Chamber of Commerce Board Chair Michael W. Murphy shared their perspectives on the state's accomplishments and challenges at the 91st Annual Sacramento Host Breakfast yesterday.
The annual gathering, which was attended by more than 1,200 civic and business leaders from throughout the state, also featured Sacramento Mayor Kevin Johnson as a guest speaker.
Murphy, president and CEO of Sharp HealthCare, said that in preparing his remarks, he looked back on articles written about California—some of which were written by "glass half full people, [and] some written by glass half empty people."
It should be recognized, he said, that the state's economy is still outperforming other states, and that state job growth has surpassed the rest of the country. Nevertheless, he emphasized, challenges remain and it must be acknowledged that "California's performance has been extremely uneven."
Murphy pointed to the strong economy of cities and towns along the coast, which benefit from tourism, and the information technology, biotech and life sciences industries that call those areas home, and juxtaposed it with the areas of California that have not fared as well. The state's agricultural industry had to contend with drought, and weak global growth and a strong dollar. Unlike metropolitan areas, inland areas have had slower growth.
The health care sector, like other sectors, Murphy said, is experiencing positive advances, but is also facing significant challenges. California is leading the way in biotech, pharmacy and genomics advancements, and in the last two years, nearly 3 million previously uninsured residents have gained Medi-Cal coverage. Still, there are significant unfunded pension retiree health obligations that need to be addressed, and health care costs to government and individuals are "bending very little."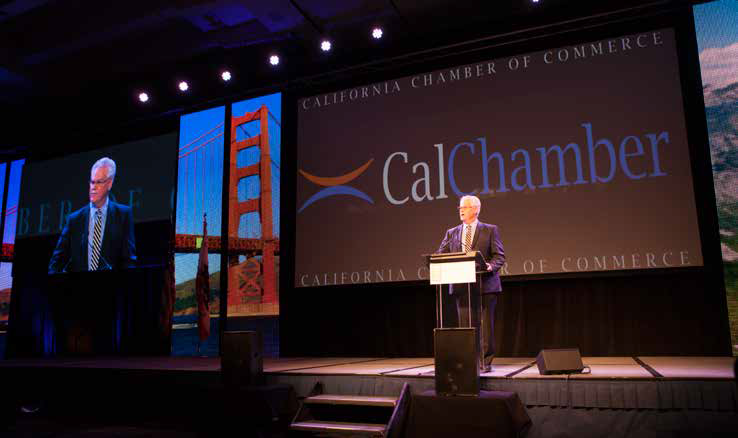 To continue the state's accomplishments and address its challenges, Murphy told attendees, engaged leadership, shared goals and values, ingenuity, and a long-term view will be required. Real progress has to be made on health care, housing, transportation and international trade.
He stressed, however, that it all has to be balanced with the overall cost of doing businesses in California in order to attract and retain the businesses that will ignite the economy.