Governor Edmund G. Brown Jr. and California Chamber of Commerce Board Chair Michael W. Murphy shared their perspectives on the state's accomplishments and challenges at the 91st Annual Sacramento Host Breakfast yesterday.
The annual gathering, which was attended by more than 1,200 civic and business leaders from throughout the state, also featured Sacramento Mayor Kevin Johnson as a guest speaker.
Governor Brown concentrated much of his speech on the state's economy, and its boom and bust cycle. While the state budget is balanced, it relies on capital gains, which are volatile and not reliable. The business cycle zig zags, he said, with recessions following recoveries—up and down it goes. Since World War II, California has experienced 10 recoveries, with the longest lasting 10 years. California is currently midway past its seventh year of recovery, he said in his remarks, which means the state is heading for a downward cycle again.
On top of an erratic revenue system, California has many obligations to the federal government, such as Medi-Cal, that limit how much the state can cut from certain programs in needy times. The state also has many fixed costs, Brown added, such as prisons, the California Highway Patrol and the Department of Fish and Game Commission. Even though the state is in a recovery, it should not embark on funding new programs, which can be hard to remove, he emphasized. The need will be there each year, and without a rainy day fund, the programs will have to be cut once the budget runs into deficits, he said. Ultimately, the state is doing better.
"So far so good. We've got several billion in the rainy day fund. We're carefully balanced in the budget. We were much worse than that," Brown said.
Brown highlighted areas where the state has made advancements, such as in education and crime. California is now directing more money for education in areas objectively identified to have greater need. Increased authority has been passed to local schools to give more autonomy to teachers, principals and local school districts. More authority also has been granted to local courts and law enforcement authorities to realign a number of crimes.
The Governor also touched on the need for infrastructure investment, which he called "building for the future." Several billion dollars are needed for road repair and other projects, he said. The main infrastructure projects Brown pointed to, however, were high speed rail and the Delta tunnels.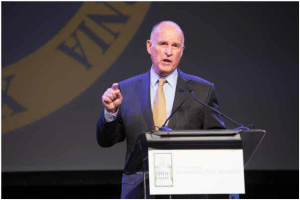 Many problems surround the Delta tunnels, including old dirt levees that are a hundred years old and will fail, he explained. And while many people assume the water in the Delta is consumed by Southern California residents, Brown pointed out that 80% of Livermore residents and 40% of Santa Clara residents depend on the Delta's water supply.
"What happens if their water is cut off with 24 hours notice?" he asked. "That's not going to be good for investment. So this, and another thing: you can't do without it. A lot of people don't want it…but everything I can tell, it's really important."