​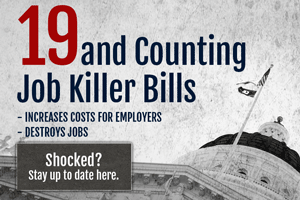 The California Chamber of Commerce presents a recap of floor votes on job killer bills before legislators went on their summer break.
Although opposition from the California Chamber of Commerce and others stopped many job killers before the interim recess, 10 job killer bills await action when legislators return on August 17 for the final weeks of this year's session.
Before the summer recess, the Senate sent five job killer bills to the Assembly. Senate committees prevented three job killer bills from advancing to floor votes.
A fourth Senate bill dealing with health care rates was amended to remove the job killer provisions, but the CalChamber remains opposed to the bill because it still threatens employers with higher premiums.
The Assembly stopped one job killer bill in a floor vote, but approved another, while a third was placed on the Assembly Floor inactive file. Assembly com​mittees stopped three other job killer bills from moving to the floor.
Both houses of the Legislature approved and sent to the Governor a bill that denies employers the basic choice of whom to hire.
For the full list of the 19 job killer bills identified to date and their statuses, visit: www.CAJobKillers.com.
The bills covered in this interim job killer vote record are listed below.
Economic Development Barriers
Increased Burdensome Environmental Regulation
Increased Fuel Costs
Increased Labor Costs
Increased Unnecessary Litigation Costs
Tax Increase Proposals Still Alive
As measures requiring a two-thirds vote of approval, tax increases are not subject to the legislative deadlines and remain eligible for consideration as long as the Legislature is in session.
The following job killer tax increases are still alive.
Download print friendly Vote Record here.
Key to Using This Section
Y means voted for bill.
N means voted against bill.
● means not voting "aye" on a CalChamber-opposed bill
— means absent.
Boldface type indicates votes in accord with CalChamber position.
The last three columns are a tabulation of votes in accord with the CalChamber position, not in accord with the CalChamber and not voting or absent.