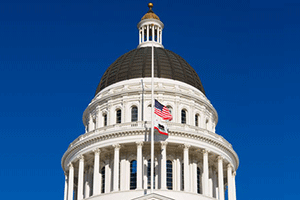 Governor Gavin Newsom last night took action on several labor and workplace-related California Chamber of Commerce priority bills, vetoing two job killer bills and three opposed bills.
One of the job killers would have imposed an onerous return to work mandate, and the other would have created a new protected class of employees based on a "caregiver status."
"We are grateful that Governor Newsom heard and understood the concerns of employers about these costly and burdensome bills. These four proposals would have created significant challenges for many California companies, adding unnecessary costs, discouraging hiring, and increasing litigation," CalChamber President and CEO Jennifer Barrera said in a statement this morning.
The Governor also signed AB 647 (Holden; D-Pasadena), a job killer bill that creates a new private right of action on grocery employers.
Vetoed Bills
The following bills were vetoed:
Signed Job Killer Bill
Job killer bill AB 647 (Holden; D-Pasadena) significantly expands statute related to successor grocery employers, including disrupting the ability for independent small stores to join together and creating a significant new private right of action.
AB 647 grants employees, collective bargaining representatives and nonprofit corporations the ability to bring an action in superior court for violations of an employee's new rights under this bill. The bill remedies include hiring and reinstatement rights, front pay or back pay for each day during which the violation continues, the value of the benefits the employee would have received under any benefit plans, and attorney's fees and costs to any employee or employee representative.