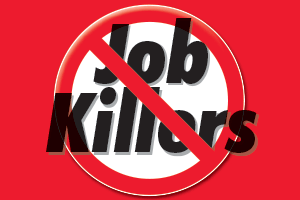 Governor Gavin Newsom vetoed SB 799, one of the California Chamber of Commerce's hardest fought job killer bills, over the weekend. The proposal would have made striking employees eligible for unemployment compensation after a strike has continued for more than two weeks.
The CalChamber has led a broad coalition of more than 110 businesses, associations and local chambers of commerce urging the Governor to veto SB 799 (Portantino; D-Burbank). A "priority bill" for the labor movement, the consequences of this radical change in unemployment eligibility would have been profound.
The Governor emphasized that "expansion of eligibility for UI benefits could increase California's outstanding federal UI debt," which he projected to be nearly $20 billion by the end of the year, "significantly increasing taxes on employers." The Governor also noted that the state treasury is responsible for the interest payments on the UI loan and to date has paid $362.7 million in interest with another $302 million due this month."
"Now is not the time to increase costs or incur this sizable debt," said the Governor.
"We applaud Governor Newsom for his swift and sure decision on SB 799," said Jennifer Barrera, president and CEO of CalChamber. "He correctly saw that we simply cannot afford to add a new program and new costs this year."
The CalChamber had argued that a new mandate to support striking workers would add millions in new liabilities for the UI Fund. If SB 799 had been in effect the previous 12 months, it would have added about $215 million to the obligations of the UI Trust Fund over this time and would be expected to grow by more than $30 million a week given ongoing strike activity. These estimates do not consider the likely case that SB 799 would encourage even more or longer strikes, since the cost to the union and to the worker would be subsidized by employers.
The bill was fundamentally flawed because striking workers are likely not entitled to unemployment compensation, under federal law. State UI law must operate in conformity and compliance with federal law, which specifically provides that unemployment compensation may only be paid to individuals who are not able to work, available to work, and actively seeking work. Unemployment insurance payments are intended to assist employees who, through no fault of their own, are forced to leave their employment. This is clearly not the case for workers who choose to join a strike.
Finally, it should be obvious that being unemployed through no fault of one's own is categorically different than going on strike. SB 799 hijacks the UI fund by decreeing that employed workers who temporarily refuse to work as a negotiating tactic are eligible for income support as if they lost their job through no fault of their own. Unlike the unfortunate employee who is laid off, strikers are still employed. They can return to a paying job when they choose.